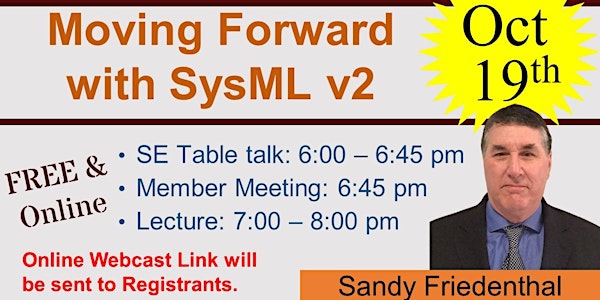 Moving Forward with SysML v2
Sanford Friedenthal explains the motivation, approach, and capabilities of SysML v2
About this event
This presentation is purely VIRTUAL/ONLINE. An online chat questions-and-answers session will also be available. Webcast Link will be sent to Registrants
Moving Forward with SysML v2
Sandy Friedenthal
Presentation: SysML v1 was adopted in 2006 and has been a key enabler of model-based systems engineering (MBSE).
Since that time, much has been learned about applying MBSE with SysML. The next generation of SysML (v2) is being developed by the SysML v2 Submission Team (SST) to provide capabilities that address the limitations of SysML v1and enable the evolving practice of MBSE. This presentation summarizes the SysML v2 motivation, approach, and capabilities as we progress towards the final submission.
Speaker: Sanford Friedenthal is an industry leader and independent consultant in model-based systems engineering (MBSE). He was formerly a Technical Fellow at Lockheed Martin, where he led the effort to enable Model- Based Systems Development (MBSD) and other advanced practices across the company. His experience includes the application of systems engineering throughout the system lifecycle from conceptual design, through development and production on a broad range of systems in aerospace and defense. Mr. Friedenthal has been a leader of the industry standards effort through the Object Management Group (OMG) and INCOSE to develop the Systems Modeling Language (OMG SysML ®) that was adopted by the OMG in 2006. He is now co-leading the effort to develop the next generation of SysML (v2). He is co-author of 'A Practical Guide to SysML' and 'Architecting Spacecraft with SysML'. He also led the effort to develop the Systems Engineering Vision 2035 for INCOSE.
Door Prize for this month: A Practical Guide to SysML: The Systems Modeling Language (The MK/OMG Press) 3rd Edition by Friedenthal, Moore and Steiner
6:00 – 6:45 pm Networking
6:45 – 7:00 pm Chapter Business Meeting
7:00 – 8:00 pm LECTURE