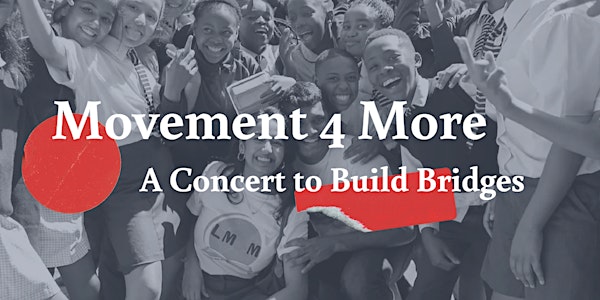 Movement 4 More
Welcome to the Movement! At a time of racial and political divide, the young people of Boston band together to Build Bridges via Music.
When and where
Location
Roxbury Community College Media Arts Center 1234 Columbus Avenue Boston, MA 02120
About this event
Literacy Movement 4 More is proud to host, with the support of a number of organizations and individuals, a social-justice-focused concert showcasing a unique blend of music and storytelling that will uplift the audience and point them towards a more inclusive and positive future. The performers, Sultans of String and Dana Masters, and special guest performer Mary Fahl were specifically chosen because of their backgrounds and demonstrated experience in social justice work and positive messages and healing through music. Our hope is to "build bridges" towards a future where people from marginalized backgrounds are included and valued for their contributions to society.
Tickets are limited, so get your tickets early! Note: Masks will be required in sections Orchestra L and R and Mezzanine L and R, and recommended overall. If you need financial aid to get free or reduced cost tickets or if you need accommodations/preferences of any kind, please email the organizer. We want everyone who WANTS to come to be able to come! Inquiries can be directed to litmovement4more@gmail.com.