Description
For the 7th year in a row, 'Wild Weill Cornell Mos' are participating in the Movember Foundation's annual Movember campaign, which challenges men to grow a moustache, men and women to be physically active and move, or host a fundraising event – all of which spark conversations and raise vital funds and awareness for men's health.
The Movember Foundation is the only global charity focused solely on men's health. Men and women sign up at Movember.com, and choose to Grow, Move or Host. Men start Movember 1st clean-shaven and grow only a moustache for the month, or men and women can commit to move every day during Movember or host an event. Participants get friends, family, or colleagues to donate to their efforts to change the face of men's health.
The Movember community has raised over $710 million and has funded more than 1,200 men's health projects in 21 countries to date. This work is helping men live happier, healthier, and longer lives through investing in these key areas: prostate cancer, testicular cancer, mental health, and suicide prevention.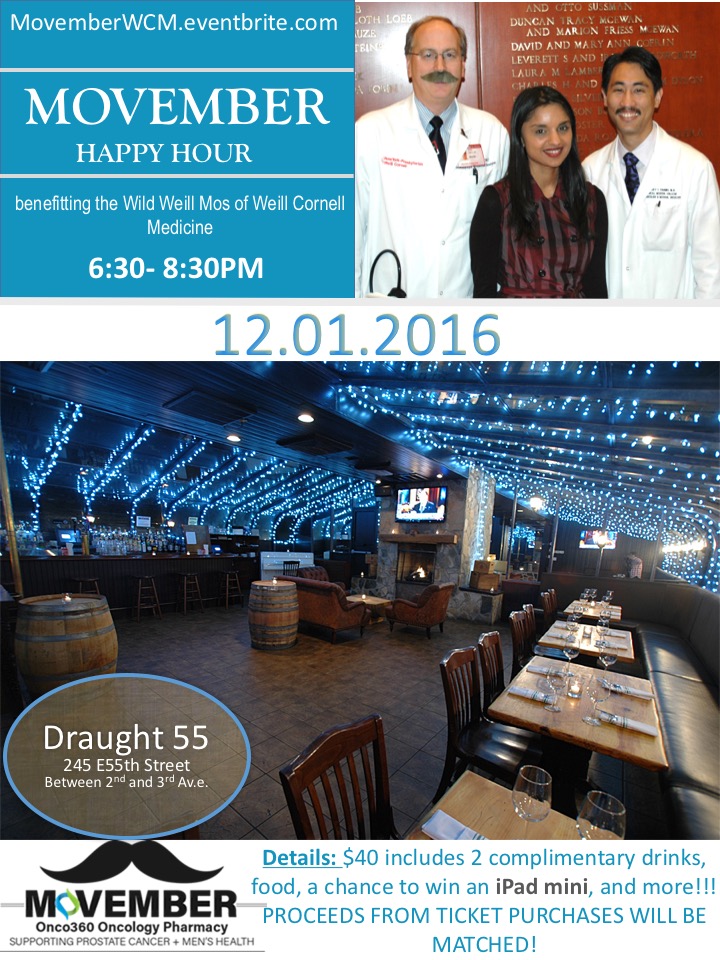 Complimentary food and beverages sponsored by
Bill Foxx of Onco360:
Chicken Satay with Honey Sesame Sauce
Mini Chili Nachos
Pigs in a Blanket with Whole Grain Mustard
BBQ Chicken Spring Rolls with Cilantro Aioli
Tomato – Caper Bruschetta with Balsamic Glazed Onions
Mini Twice Baked Fingerling Potatoes Topped With Bacon, Chive and Aligot Mash
Mini Cheese and Spinach Quiche
Vegetable Crudites