About this Event
Doors: 6:30pm
7:30pm - 8:30 Morton Subotnick "Silver Apples of the Moon Revisited"
8:30pm - 9:10 Cyrnai
9:10pm - 9:50 Crank Sturgeon
At Recombinant Festival 2019, composer Morton Subotnick will perform the legendary album Silver Apples of the Moon. The analogue performance will be augmented by visual conjurings from Lillevan, presenting the work through a new multifaceted lens.
BBC World News. Morton Subotnick, Godfather of electronic music: https://vimeo.com/156183712
Silver Apples of the Moon is the debut album by Subotnick and a showcase for the Buchla 100 synthesizer, an early analogue synthesizer that the composer helped develop. Released by Nonesuch Records in July 1967, it was the first piece of electronic music commissioned by a higher profile american record company. Subotnick would spend up to ten hours a day working on the composition, seeking sounds that other musicians would find hard to recreate.
Upon release, Silver Apples of the Moon was an instant success and received critical acclaim. The record has since gone on to be considered a milestone in electronic music. It was the first album to feature a voltage-based synthesizer, and the album's sequenced rhythms are credited with anticipating electronic dance music. The composition is experimental in style, with Part I featuring slow, calm passages and experimentation in tone and Part II featuring pulse and sequenced rhythms, the latter an innovation for the time. Today the record is considered to be Subotnick's signature work. In a 1992 list, The Wire considered the album to be among the 100 most important albums ever, and in 2009, the Library of Congress added it to the National Recording Registry.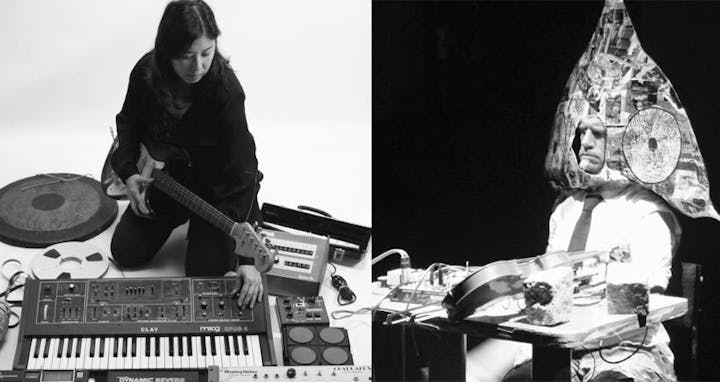 Crank Sturgeon
Crank Sturgeon is the multi-disciplinary visual and sound artist Matt Anderson, who currently resides in California (formerly Maine). His discography is among the most prolific of American sound artists, his performances incorporate elements of improvisational comedy, homemade electronics, and jarring junk noise. Positioned in a unique space within the American underground, his artistic practice encompasses elements of dadaist sound poetry, Viennese Actionist confrontation of art/non-art boundaries, and good old fashioned screaming noise dysfunction.
CYRNAI
Spanning over four decades of work, Bay Area musician, CYRNAI specializes in electronic experimental music, composing and producing with synthesizers, piano, guitar, and percussion. Her adventures in sound began at the tender age of 9, recording stories into a tape recorder and experimenting with her father's musical instruments and effects units. By the age of 16, Fok had become inspired by pioneering industrial electronic artists like Cabaret Voltaire, as well as anarcho-punk acts such as Crass. She is perhaps best known for pioneering a form of experimental music intertwining her 'handcrafted' sound designs, real life, and popular rhythm constructs.