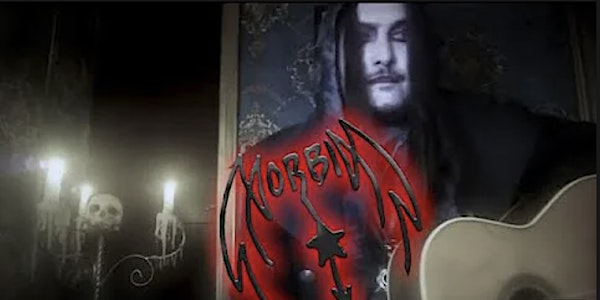 ★★★ Morbid Blackstar's First Acoustic Show in a DECADE + Q&A ★★★
After being Cancelled, Cyberbullied and taking a long hiatus, Morbid Blackstar returns to play his first Live Online show in a decade
About this event
JOIN MORBID BLACKSTAR IN THIS EXCLUSIVE LIVE ONLINE EVENT
Morbid Blackstar will be performing some original and cover acoustic Rock songs followed by a Q&A and a special gift for all who attend.
Morbid was a victim of extreme cyberbullying and ultimately Cancelled by the internet in 2014 (as seen on NETFLIX Crime Scene Vanishing at the Cecil Hotel and Mysteries Decoded S2 ep. Horror Hotel, Entertainment Tonight, VARIETY, LOUDWIRE, PLAYBOY, etc) Now his mission is to spread the word of awareness against Cyberbullying, Mental Health issues and hate crimes towards people of Alternative Subcultures.
Help him with his cause by attending to this event and sharing it with your family and friends.
Proceedings of the tickets will be donated to the Sophie Lancaster Foundation and the Metalheads Against Bullying Foundation who are now have partnered with Morbid to support their mission.
If you are experiencing cyberbullying or hate crimes please make sure to reach out to the proper law enforcement and help defeat this global digital pandemic that is affecting our world.
Dont suffer in silence, reach out for support.
Cyberbullying support sites:
★ https://www.sophielancasterfoundation.com
★ https://www.against-bullying.com
★ http://www.cybersmile.org
★ https://endcyberbullying.org
https://www.webroot.com/us/en/resources/tips-articles/how-do-i-report-cyberbullying-to-police-or-law-enforcement
-------------------------------------------------------------------------------------------------
HELP US SPREAD THE WORD!!!
DOWNLOAD & SHARE
POSTER: https://ibb.co/xJ0KZH4