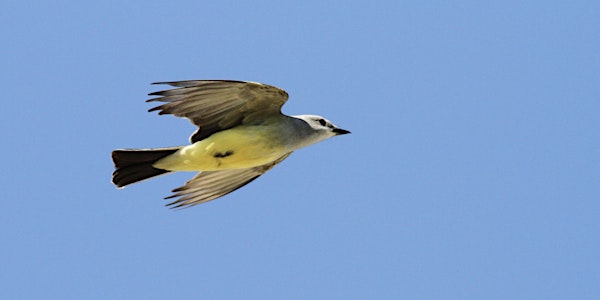 Moore Lab Spring Bird Migration Count at Bear Divide
Join us for a spring bird migration count at Bear Divide in San Gabriel Mountains
By Moore Laboratory of Zoology
Date and time
Thursday, April 13 · 7:30 - 10:30am PDT
Location
Bear Divide Vista Picnic Site 34.3605331, -118.3976486 Santa Clarita, CA 91321
About this event
The spectacle of spring bird migration is on full display at Bear Divide, a narrow pass in the San Gabriel Mountains just outside of Los Angeles, and we'll be counting thousands of birds each spring morning as they pass over a low saddle in the mountains on their way north. With thousands of migrants funneling through a narrow divide, this is truly a unique biological phenomenon!
This year's count will be led by Moore Lab researchers Kelsey Reckling and Marky Mutchler, who will be tallying the species of birds migrating through the area for twelve weeks.
Come by and observe our counters!*
JOIN US
Thursday, April 13, 7:30am to 10:30am
Sunday, April 16, 7:30am to 10:30am
Wednesday, April 19, 7:30am to 10:30am
Sunday, April 23, 7:30am to 10:30am
Follow along for live data and updates here!
*Note, the above schedule does not reflect the attendance of our partners, such as the Bear Divide Banding Station.
IMPORTANT NOTE: Driving directions are provided below in the "How to Get There" section. Please do not follow the map provided on Eventbrite. The venue listed on Eventbrite is the closest site to the Bear Divide counting area. There are also no restrooms in the area.
How to Get There
Set "Bear Divide Vista Picnic Site" (in the vicinity of Santa Clarita) as your destination, which will get you very close. The exact site location is a dirt parking area at 34.3605331, -118.3976486 (you can put these coordinates into Google Maps), a quarter-mile west of Bear Divide Picnic Site. The dirt parking area is just past the left turn for the US Forest Service Fire Station. There will be other cars parked there and people with binoculars milling about on the road. If you don't see that, you have not arrived yet. It will take at least 30 minutes to get there from most parts of west and north Los Angeles. The roads are narrow and curvy, and there can be fog on the road in the morning hours.
Please note there are no restrooms in this area, but lots of nature. Although we will largely stay in one place: bring water, athletic shoes, a sweatshirt or jacket, and a snack. We will have some pairs of binoculars to share, but please bring your own if you have them.
Bear Divide Bird Count is Led by Moore Lab Affiliates and Sponsored By:
Pasadena Audubon, Woodstar Biological, LA Birders
About the organizer
The Moore Laboratory of Zoology houses 65,000 bird specimens and 2,000 mammal specimens, most collected from 1933-1955 in Mexico. It is the largest Mexican bird collection in the world and a destination for those studying Mexican birds. Our mission is to understand how Earth's amazing biodiversity was generated through the forces of evolution, and how it's now coping with environmental changes. We blend classical museum studies like field expeditions and specimen collection and curation with the latest technologies like DNA sequencing.