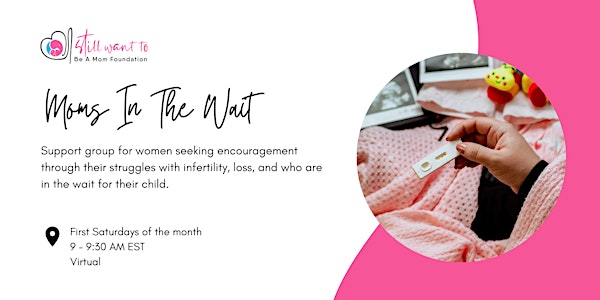 Multiple dates
Monthly Moms in the Wait Support Group
This FREE event is to encourage those struggling with infertility, loss , and/or who are in the wait for their baby.
By I Still Want to Be a Mom Foundation
Date and time
November 6, 2022 · 11am - December 2 · 6:30am PST
About this event
Who is the discussion facilitator?
Mikka Abbington is our facilitator. Mikka is a Fertility & Certified Professional Coach. Visit her site for more information- https://www.mikkarenee.com/
What is infertility?
According to the CDC, 1 in 8 couples struggle with infertility and "in general, infertility is defined as not being able to get pregnant (conceive) after one year (or longer) of unprotected sex. (6 months if over 35)" Infertility also includes those suffering from recurrent miscarriages or who already have a child and are having difficulty conceiving (secondary infertility). Both men and women can be diagnosed as infertile for various reasons.
Why should you attend?
Our goal is to provide those in attendance a community for support during their fertility journey, hope after loss, and the reassurance that they are not alone. Infertility can cause you to want to isolate yourself in shame and silence, but it's important for you to surround yourself with people who can help you keep the faith during this emotional roller-coaster.
Who should attend?
This event is open to women currently trying to expand their family but struggling with infertility or who may have paused their journey to motherhood, but still would like support.. Whether you've been pregnant in the past, never been pregnant before, or had a previous loss, you are welcome. Do you want to bring a friend or a parent with you for Support? Please bring them as well!