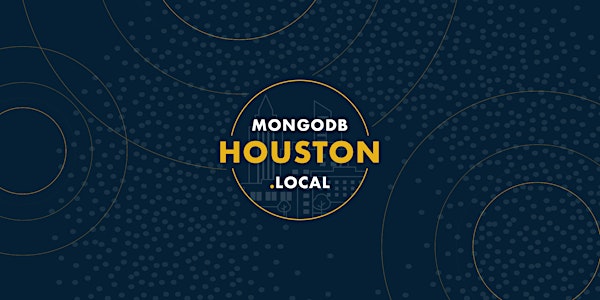 MongoDB.local Houston 2019
MongoDB.local Houston 2019
When and where
Location
House of Blues Houston 1204 Caroline Street Houston, TX 77002
About this event
MongoDB is coming to Houston! Join us for a full-day educational conference covering the fundamentals to advanced techniques of app design and performance management. You'll hear from the team that builds the database and power users running MongoDB deployments.
WHAT YOU'LL LEARN
Learn to deploy, operate, and scale your database on all cloud platforms with MongoDB Atlas
Be the first to benefit from what's new in MongoDB 4.2, including how and when to use multi-document ACID transactions, client-side field-level encryption, wildcard indexes, MongoDB Charts, and more.
Learn best practices from the experts on topics including schema design, analytics, microservices, performance, and more
Register for a day of hands-on, deep-dive technical sessions, equipping you with the tools you need to build and deploy your giant ideas.
Admission includes coffee and snacks, lunch, and access to all sessions and sponsor area. Space is limited. Reserve your spot today!
For more information including agenda and speakers, visit https://www.mongodb.com/local
Cancellation Policy:
To cancel your order, send your request to events@mongodb.com. Full refunds will be granted through July 9, 2019 via the original payment method. 50% refunds will be granted through August 6, 2019. After August 6, 2019, refunds will no longer be granted. Event registration may be transferred to another participant.