Put a twist on a classic favorite with our Modern Wreath Making Workshop!
About this event
Get into the holiday spirit as the Creative Arts Guild of Wylie instructors lead you to create a modern wreath design of live greenery on a slim brass hoop. The metal and natural elements combine to create a modern fresh look for a classic holiday favorite.
Unwind and sip on a glass of wine as you work on your holiday creation!
Check-in begins at 6:30pm, and you will receive a drink token and a Hall Pass gift card for dinner. Class begins at 7pm sharp in Tonic Bar & Lounge on the 2nd Floor of Legacy Hall.
Space is limited, so buy your ticket now!
CLASS PACKAGE INCLUDES:
All the materials needed to create one beautiful modern wreath
$15 Hall Pass gift card for dinner
1 Glass of wine or beer [non-alcoholic options available to guests under 21]
No refunds will be issued.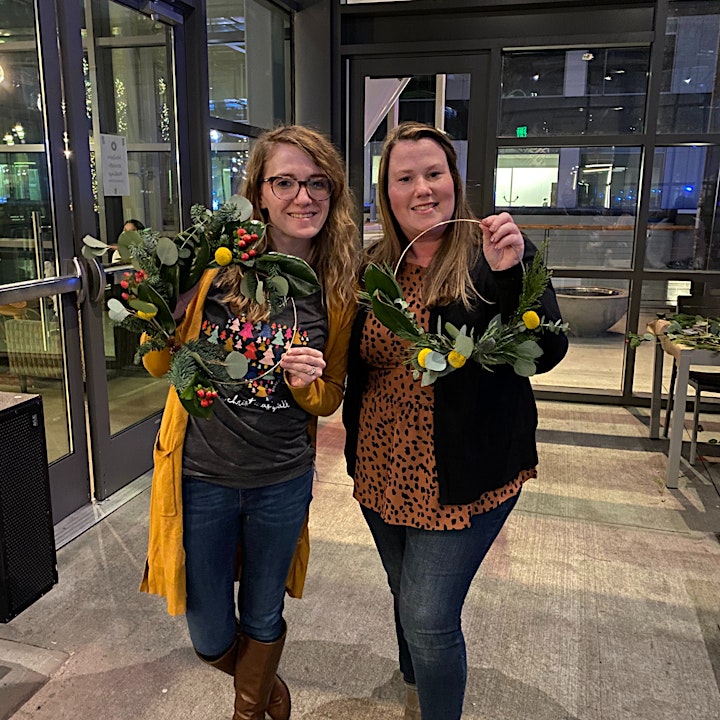 Organizer of Modern Wreath Making Workshop at Legacy Hall
Legacy Hall is an innovative, European-style food hall combining the best elements of a beer garden, craft brewery and live entertainment venue. You'll love the three-story, 55,000-square-foot space featuring nearly 20 curated restaurant stalls offering flavors from around the world. The Box Garden is the Hall's expansive outdoor entertainment venue where guests sing along to live music, watch movies, cheer on live sports broadcasts and more.
THE BOX GARDEN AT LEGACY HALL
We like our patios in Texas. That's why we created the ultimate outdoor beer garden and entertainment destination. Flow through Legacy Hall's expansive doors into the Box Garden, where you'll enjoy leisurely afternoons, drinks with friends, and late-night fun.
The Box Garden at Legacy Hall is named "Box Garden" because it's literally that – we used reclaimed shipping containers to create much of the structure. This baby will hold up to 1,500+ people along with multiple bars (you're welcome!). 
Whatever your jam, the Box Garden's sprawling courtyard with a 600 square foot event stage will have you dancing, singing, eating, drinking, and striking a pose at one of our many live music shows, festivals, holiday parties and more. We think it's the answer to, "What do you want to do today?".
If you are interested in booking a private event, head here: https://www.legacyfoodhall.com/private-parties/