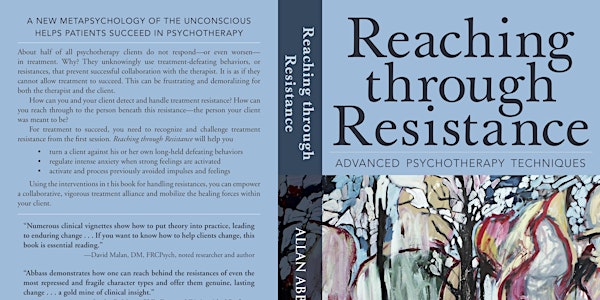 Moderate and High Resistance in ISTDP: A 3-Day IMM Allan Abbass
Event Information
Refund policy
Refunds up to 30 days before event
Eventbrite's fee is nonrefundable.
Dr. Allan Abbass's 3-day online course will use video presentations to show how to assess and treat moderate and high resistance in ISTDP.
About this event
Davanloo developed Intensive Short-Term Dynamic Psychotherapy (ISTDP) to treat resistant patients in a relatively short time. Resistant patients are those who unwittingly obstruct treatment progress by detaching and using characterological defenses in the therapeutic process thereby thwarting the efforts of the therapist to reach the patient.
Treatment with these patients often ends in misalliance, stalemate and premature drop out. In order to treat these patients, ISTDP was developed to use specific interventions at specific times in the process. These interventions, including pressure, challenge and head-on collision are required to help the patient turn against his defenses and enable access to the unconscious unprocessed feelings.
Through an in-depth video-based Immersion course, Dr. Abbass will illustrate core principles for working with moderately and highly resistant patients.
The course will cover the following elements:
-Overview of Davanloo's Metapsychology of Resistance
-Assessing and working with barriers to engagement
-Determining and working with the front of the resistance
-Psychodiagnostic assessment to determine degree and type of resistance
-Nature and timing of interventions, including pressure, challenge, and head-on-collision with resistance
-Partial and Major Unlocking of the Unconscious
-Working with the mobilized unconscious
19.5 Continuing Education credits will be available for this event for an additional $25 and can be purchased here: https://www.academeca.com/CEUReg/Order.aspx?selectedId=4066&offerGuid=3a68ba39-659a-4fa9-97b2-f3c0e8b91d92
This immersion will be held online using a secure platform. Because of this, attendance is restricted to: 1) those who are in an ISTDP or EDT Core training or supervision program, 2) those who have previously completed an ISTDP/EDT Core training program, 3) ISTDP/EDT Trainers, 4) Colleagues of these 3 groups who will attend the immersion while physically being present in the same room, and 5) those who are part of the ISTDP San Diego Community. This is all to ensure confidentiality of case materials that will be discussed.
Feedback from former participants:
"Being able to see the videos along with his live commentary and follow-up questions made the theory very accessible and easy to follow."
"Dr. Abbass provided so many fabulous and practical cases and examples!"
Allan Abbass, MD, is a psychiatrist, teacher, and researcher. He is a professor of psychiatry and psychology and the founding director of the Centre for Emotions and Health at Dalhousie University in Halifax, Canada. He is one of the foremost psychotherapy researchers in the world, and is the author of "Reaching Through Resistance" and "Hidden From View."
Date and time
Location
Refund policy
Refunds up to 30 days before event
Eventbrite's fee is nonrefundable.
Organizer of Moderate and High Resistance in ISTDP: A 3-Day IMM Allan Abbass