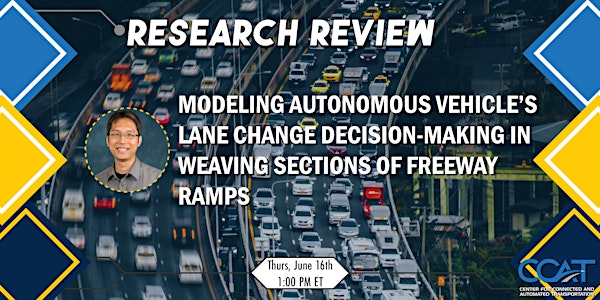 Modeling AV Lane Change Decision-Making in Weaving Sections of Freeway Ramp
The CCAT Research Review returns with a study focused on developing automated vehicle lane change decision-making!
About this event
To date, no systems can recommend when lane changes should be engaged in weaving sections of limited length to ensure that traffic stays safely and smoothly separated. In this presentation, Dr. Lin will describe the naturalistic driving data mining and modeling for the driver's lane change decision-making in freeway weaving sections. The models were further tested in automated driving with computer simulation and demonstrated in the environment of augmented reality at Mcity. This study could provide valuable insights for developing AV lane change features.
More about this research: https://myumi.ch/j26wj
---
About the speakers:
Dr. Brian Lin earned his BS, MS, and Ph.D. in Industrial Engineering from National Tsing Hua University in Taiwan. Dr. Lin has 11 years of experience in automotive human factors research at UMTRI after his Ph.D. His current research is focused on mining naturalistic driving data using statistical and machine-learning methods, driver-assist-system evaluation, driver performance and behavior assessment, and driver distraction and workload mitigation. His most recent work includes human driver's lane-change maneuvers, drivers' decisions at intersections, and passengers' motion discomfort in moving vehicles. Dr. Lin has much experience in conducting experiments to evaluate advanced automotive systems, including auto-braking, lane departure, driver-state monitoring, electronic head units, car-following and curve-assist systems on L2 automation, and lane-change and intersection assist on L3 automation on public roads, test tracks, or simulation. He is familiar with the methods to investigate driver distraction, workload, and human-machine interaction with in-vehicle technologies and safety features. He serves as a peer reviewer for Applied Ergonomics, IEEE Transactions on Intelligent Transportation Systems, IEEE Transactions on Intelligent Vehicles, Transportation Research Part F, and Transportation Research Record.