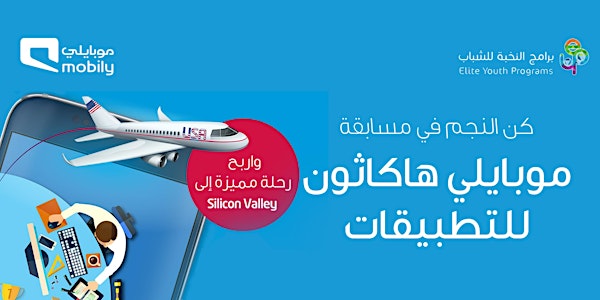 Mobily Apps Hackathon competition
When and where
Location
Mobily Lounge - Building C2X Mobily C2 Riyadh, Riyadh 00966 Saudi Arabia
Description
مسابقة موبايلي هاكاثون للتطبيقات
مسابقة تقام في إجازة نهاية الأسبوع تستهدف كل من له صلة في مجال تطوير التطبيقات ليتعاونوا سوياً لصناعة تطبيق مميز وحضورالعديد من الفقرات المميزة و ورش العمل.
وسيسافر الفريق الفائز إلى وادي التقنية (سيليكون فالي) في الولايات المتحدة الأمريكية لزيارة العديد من الشركات في نفس المجال والتعلم من خبراتهم.
الرحلة مقدمة بالتعاون مع الراعي الشريك برامج النخبة للشباب
من يحق له المشاركة ؟
جميع الأفراد السعوديين أو المقيمين في السعودية يحق لهم المشاركة كـ:
· رائد أعمال
· مبرمج
· مصمم
لمعلومات اكثر قم بزيارة صفحة المسابقة في موقع موبايلي، وفي حال وجود استفسارات اخرى يمكنك التواصل معنا على
Developers@mobily.com.sa
Mobily Apps Hackathon
A weekend competition in where stockholders involved in app development (Developer, Designer, Entrepreneur) collaborate togather on making a uniqe app on spot and attending deffirent sessions and workshops.
The winning team will go to Silicon Valley zone as a trip fully to visit companies who are in the similar fields to learn more and effectively.
The trip is presented in cooperation with the partner sponsor Elite Youth Programs.
Who are eligible to participate?
All youths who lived in Saudi Arabia are eligible to participate in the below roles:
• Entrepreneurs.
• Developers & Technical.
• Designers.
For more information, please visit the competition page in Mobily site.
For any inquiries, please contact us on
Developers@mobily.com.sa