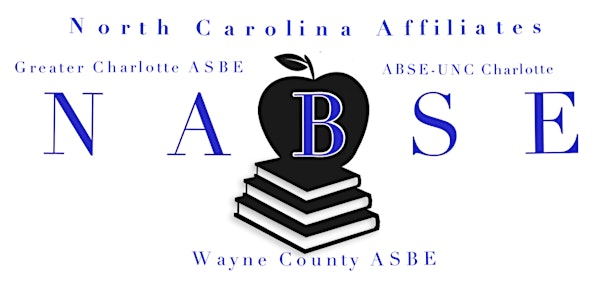 Mobilizing and Organizing in Our Communities
Ensuring Educational Equity and Racial Justice in Schools. Part of the 2021 Series of NC ABSE Virtual Town Hall Forums.
By North Carolina Alliance of Black School Educators
When and where
Date and time
Thursday, January 28, 2021 · 3:30 - 5:30pm PST
About this event
Join us!
A call to action to tackle education during COVID-19 with a focus on African American children who are failing across the country at alarming rates according to research and local data. These series of town hall forums are looking at how issues of equity and racial justice are playing out in the daily activities of schools and educators. This is an amazing professional opportunity if your school district has failing schools. There will be dynamic speakers to address:
Achieving educational equity, racial equality and social justice through work of systems change
How school leadership can increase yearly, graduation rates, test scores, attendance and ensure school districts full accreditation
Ensure every school district has a racial equity policy that yields positive results
NC DPI Superintendent invited to ensure support for this Call to Action Initiative
EVERYONE IS INVITED TO THESE FORUMS WHO WORKS WITH AFRICAN AMERICAN STUDENTS AND FAMILIES!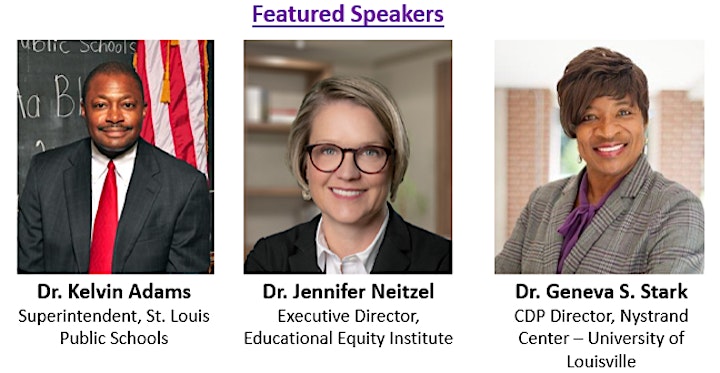 Featured Speakers:
Dr. Kelvin Adams, Superintendent, St. Louis Public Schools
Dr. Kelvin Adams is in his twelfth year as Superintendent of Schools for the St. Louis Public Schools District. He oversees the largest district in the state of Missouri with more than 22,000 students in grades Pre K-12 and is responsible for the day-to-day operations of the District's nearly 4,000 employees and $400 million budget. "Creating Great Options" for the children of St. Louis, Dr. Adams his focused vision to create single-gender classroom schools, an African – Centered Curriculum School, a nationally recognized international Welcome School for new Americans, and the expansion of early childhood classrooms by nearly 50 percent.
The results speak volumes. Under Dr. Adams' guidance, the St. Louis Public Schools has increased its graduation rate every year, improved state test scores and improved attendance rates each year and returned the district to full accreditation from an unaccredited status. Prior to joining St. Louis Public Schools, Dr. Adams held positions as Chief of Staff, Associate Dean/Interim Dean and Charter School Liaison High School Principal, Middle School Principal and Executive Director of Middle Schools.
Dr. Adams received a Ph.D. in Educational Leadership in Administration from the University of New Orleans in 2005. He earned an M.A. in Elementary Education from Xavier University in l991 and B.A. in Elementary Education and Special Education from Northeast Louisiana University in l978.
Dr. Jennifer Neitzel, Executive Director, Educational Equity Institute
Dr. Jen Neitzel is the Executive Director of the Educational Equity Institute, a non-profit organization based in Charlotte, NC that is focused on eliminating the educational and opportunity gaps within communities through systems level change. Prior to this work, she was a Research Scientist and Technical Assistance Provider at FPG Child Development Institute at UNC-Chapel Hill for 15 years. During her time at FPG, Dr. Neitzel's work focused on implicit bias; disparities in suspensions and expulsions; and culturally responsive anti-bias practices. Dr. Neitzel presents frequently at state and national conferences and is widely published in peer-viewed journals. She also is the author of The Work: Achieving Equity and Justice in Education Through The Work of Systems Change. She has served as presenter for numerous sessions on Promoting Equity in Early Childhood Education and seminars on Achieving Equity and Justice in Education. Doctor of Philosophy (Ph.D.) Early Childhood Education and Teaching, M.A. – Early Childhood Intervention, University of NC at Chapel Hill & B.A. in Child Development, University of Pittsburgh.
Dr. Geneva A. Stark, CPD, Director of Nystrand Center at the University of Louisville
Geneva A. Stark, Ph.D., CDP is the New Director of the Nystrand Center of Excellence in Education Clinical Professor, Education Leadership, Evaluation and Organization (ELEOD) Department at the University of Louisville. Dr. Stark retired from Jefferson County Public Schools with over 25 years of administrative service. She became the first and only African American to serve as President of Kentucky Association of Secondary School Principals (KASSP) and served on the board of Kentucky Association of School Administrator. She served in many roles in JCPS Human Resource Department which included District Administrator in Diversity, Equity and Poverty Department.
Dr. Stark was one of four educators recently selected to participate in Minority Superintendent Fellowship Program that qualified her to become a superintendent or executive administrator. She worked collaboratively with various departments at Jefferson County Public Schools delivering professional development services to staff on Racial Equity Policy and Implicit Bias. Dr. Stark also served as JCPS liaison that supported student voice and Black Student Unions in providing students with voice that assisted transforming JCPS and community.
Dr. Stark is passionate about organizations that promote equity and social justice in our schools, communities, and agencies. This work supports the mission and goals of the organization by providing ongoing"Diversity, Equity and Inclusion" workshops and trainings. Dr. Stark is member of Louisville League of Women Voters (LWV) and National Council of Negro Women (NCNW). Dr. Stark received her BS Degree from Xavier University of New Orleans, Master's in Education from the University of New Orleans and Doctor of Philosophy from the University of Louisville. Dr. Stark recently obtained a National Professional Certification in Diversity and Inclusion.
Event Moderator
Keith Sutton, Chair, Wake County Schools Board of Education
Keith Sutton, Moderator is an education innovator, public servant, entrepreneur and advocate for children and families who have married his passion for education to his expertise in relationship management. Sutton is the founder of Focused LLC., a firm designed to support organizations in the improvement and transformation of education. Prior to FocusED, he spent time as the Excellence Director for BEST NC, an education think tank committed to improving North Carolina's education system through policy and advocacy. A Rocky Mount, NC native,
Sutton has served through policy and advocacy. A Rocky Mount, NC native, Sutton has served his community in Raleigh for nearly two decades through work on boards and committees including the state's NAACP, Triangle Urban League, Healthy Schools Task Force, Raising Achievement and Closing Gaps Task Force, the Greater Raleigh Chamber of Commerce, the Southeast Raleigh Assembly and the Blue Ribbon Committee on the Future of Wake County. Sutton has served as a member of the Wake County Board of Education since 2009 and currently serves as the board chair. He also served as the board chair in 2013. He is a member of the Triangle East Chapter of l00 Black Men, Unity Lodge #64 of Prince Hall Masons, and the lota lota Chapter of Omega Psi Phi Fraternity.
Event Host
Dr. Betty Howell Gray, Founder & President, NC Alliance of Black School Educators
Dr. Betty Howell Gray, Founder & President, NC Alliance of Black School Educators, and NABSE Southeast Regional Representative. Dr. Gray dedicates herself to improving the quality of education and life for children and social issues that address equity and opportunity. Her journey along this road took her through the roles of teacher, director and consultant with over 38 years of service in Seattle Schools. She is currently a retired principal, administrator, serves on national boards, past board member of the Blue Ribbon Panel and professional volunteer consultant working with School Districts and NABSE Affiliates in the Southeast Region.
Dr. Gray has received numerous awards, proclamations and accomplishments including the Long Leaf Pine by NC Governor and most recently inducted into the 2020 Class of 50 Most Influential Women of Charlotte Mecklenburg by Mecklenburg Times. She organized three NABSE Affiliates since returning to North Carolina to enhance and facilitate the education and social development of all children, particularly black children. Dr. Gray also implemented the First MBK Initiative for Males of Color with NABSE's Signature Program in Partnership with Charlotte Former Mayors and CMS for five years serving over 4000 Males with success. See website ncnabseaffiliates.org for comments from the young men. Dr. Gray earned her BS from NC A&T University; MA from the University of Washington; Doctorate from Fielding University, Education Leadership and Change. She has three lovely adult children—Frederick (Rita), Cedrick, and Kimberly. She is a member of Friendship Missionary Baptist Church; listed in Who's Who in the West, Who's Who of American Women, Crown Jewels Chapter of the Links, Inc., and an active member of Alpha Kappa Alpha Sorority, Rho Psi Omega Chapter.
Educational Partner
Lynn Robson, Consultant, Zaner-Bloser
Lynn Robson is the supplemental sales consultant at Zaner-Bloser, where the mission is to help children become their best selves by providing literacy solutions that target foundational skills development and foster joyful, successful learning. Lynn partners with schools in North Carolina, South Carolina, and Tennessee to improve student success in handwriting, spelling, writing, word work, and more.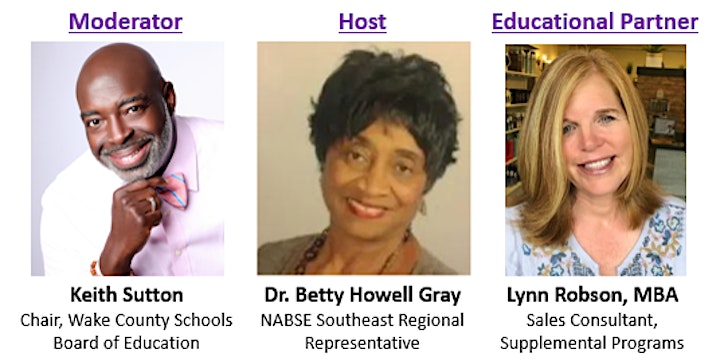 Future Action Leaders of North Carolina ABSE and Southeast Regional Conference
Please join these leaders and sign up for the Southeast Planning Committee for the April 2021 Conference by emailing ncnabseaffiliates@gmail.com.
Dr. Pamela Adams-Watkins, Principal, Massey Hill Classical High School
Latreicia Allen, Principal, William H. Owen Elementary School
Shannon Booth, Principal, Spring Lake Middle School
Dr. Marvin Connelly, Superintendent, Cumberland County Schools
Maria Pierce-Ford, Principal, Cumberland Early College High School
Cheryl Rhodes, Hope Mills Middle School
Dr. Zoletta Taylor, Principal, Douglas Byrd High School
Corine O.B. Warren, Principal, Benjamin Martin Elementary School