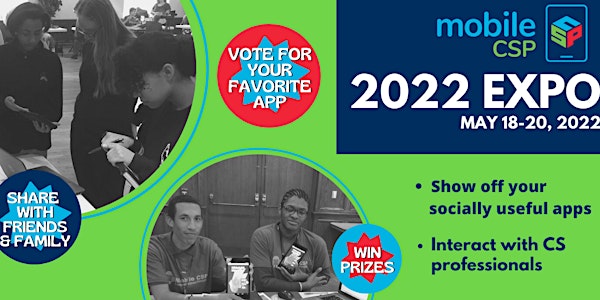 Mobile CSP App Expo 2022
Share your mobile apps with family, friends, and peers.
By National Center for Computer Science Education
Date and time
Friday, May 20, 2022 · 7 - 10am PDT
About this event
At the expo, students will have the opportunity to showcase their mobile app creations. This expo is exclusively for students that are currently enrolled in the Mobile CSP course and those who completed the Mobile CSP course during the prior Fall semester. Students are asked to submit one mobile app, per pair, into the expo. Submitted apps should have a socially useful theme when possible.
When: May 18-20, 2022
Student Registration Deadline: May 16, 2022 at 11:59PM ET
For updates please visit www.mobile-csp.org/expo
Family, friends, peers, and CS professionals will vote for the People's Choice Award/Favorite App with some cool prizes and/or certificates to be awarded at the conclusion of the event.
Save the Date: The virtual college fair and closing ceremony will be Friday, May 20, 2022 from 10:00 AM - 1:00 PM ET via Zoom.
10:00-10:30 AM ET - Welcome and Overview of CS College and Career Pathways
10:30-11:30 AM ET - College visits breakout sessions
11:30-11:45 AM ET - BREAK
11:45-1:00 PM ET - Award Ceremony with a featured speaker
Code of Conduct (view full printable version)
The National Center for Computer Science Education is dedicated to providing a harassment-free environment for everyone regardless of gender identity, gender expression, age, sexual orientation, disability, race, ethnicity, religious views, physical appearance, or technology choices. All attendees, speakers, panelists, organizers, and participants at our virtual events are required to adhere to the following expectations. We believe that all spaces whether virtual or in-person should be free from any forms of harassment, bullying, or hate. Instances of unacceptable behavior may be reported to csed@css.edu. Any indiscretions found will result in immediate removal of participants and their teacher will be notified. Students' schools will be informed of the incident and documentation provided for further discipline.
About the organizer
The National Center for Computer Science Education is a partnership of the Computer Information Systems (CIS) department and the School of Education. The Center champions, researches, and provides equitable computer science education opportunities for K16 students and educators.
The National Center for Computer Science Education serves as a national leader for education and research at a critical time when there is significant momentum through the CSforAll movement. CSS is one of less than 10 schools in the country that have both pre- and in-service teacher education in Computer Science and is considered an expert in online computer science (CS) professional development. Learn more about the programs offered through the Center as well as the staff that make them possible.