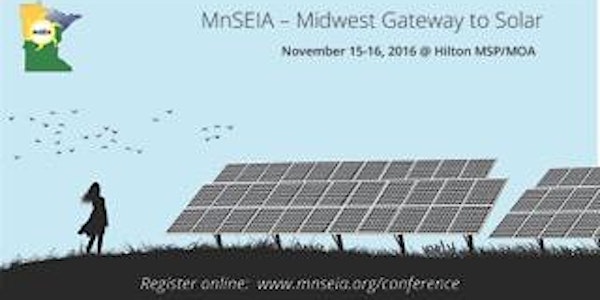 MnSEIA Midwest Gateway to Solar 2016
When and where
Location
Hilton Airport/Mall of America 3800 East American Boulevard Bloomington, MN
Description
Registration is currently closed.
MnSEIA is proud to announce the third annual "MnSEIA – Midwest Gateway to Solar" Conference. It will be held in Minneapolis on November 15th & 16th, 2016 at the Hilton Hotel located near the airport and the Mall of America, like the two years prior.
Last year our conference focused on implementation challenges from our 2013 Minnesota legislation and how our industry could overcome them. Now with the extension of the Investment Tax Credit the challenges have shifted from "how to maximize the Megawatts of solar in Minnesota with ITC expiration" to "how do we build all of the solar currently in the Minnesota solar pipeline?"
This year our conference will highlight Minnesota's solar explosion. We will also address the industry's future challenges and discuss how we can make solar more successful in the years to come. This two-day working conference will bring together solar industry practitioners from all over the country. Everyone is interested in how to be a part of Minnesota growing from 25MW to a Gigawatt in three years.
Like last year, installers, financiers, developers, distributors, manufacturers, job trainers, trade unions, utilities and government agencies will hold key topical sessions for our national audience. We will have several networking opportunities and thought-provoking keynote speakers. Our perspective and real time players at the edge of developing several market segments will share lessons from Minnesota.
Interested in sponsoring? Follow this link to learn more, or contact us at info@MnSEIA.org.