Sales Have Ended
Ticket sales have ended
Thank you so much for registering for "Black Men In White Coats" Film Screening and Panel Discussion! We look forward to seeing you on March 26th at 7:00 pm (EDT) DON'T FORGET! You will receive TWO EMAILS on Friday, March 26 by 12:00pm (EDT) with links providing access to the film and the online panel discussion for later that evening (details below). If you do not receive a link on March 26th, FIRST check your spam or junk folder for the confirmation email from "IndieScreenings" and "Malik Melodies". Otherwise please contact Anita Wallace at malikmelodies@gmail.com for assistance. SCHEDULE OF EVENTS - FRIDAY MARCH 26, 2021: • 12:00 Noon (EDT): Receive 2 emails with links to the screening and panel discussion after the film. • 7:00pm (EDT): The screening of "Black Men In White Coats" (80 mins) via private link on IndieScreening.com. Remember, the viewing link and password will be sent to you the by 12 noon on March 26th. (NOTE: The link to the film will be active from 5pm (EDT) until Saturday, March 27 at 5pm (EDT)). • 8.20pm (EDT): Zoom waiting room opens. • 8:30pm-9:00pm (EDT): Live panel discussion. The discussion will be moderated by Malik Melodies Sisterhood, Inc. Executive Board Member, Anita Wallace. Any questions contact malikmelodies@gmail.com
Sales Have Ended
Ticket sales have ended
Thank you so much for registering for "Black Men In White Coats" Film Screening and Panel Discussion! We look forward to seeing you on March 26th at 7:00 pm (EDT) DON'T FORGET! You will receive TWO EMAILS on Friday, March 26 by 12:00pm (EDT) with links providing access to the film and the online panel discussion for later that evening (details below). If you do not receive a link on March 26th, FIRST check your spam or junk folder for the confirmation email from "IndieScreenings" and "Malik Melodies". Otherwise please contact Anita Wallace at malikmelodies@gmail.com for assistance. SCHEDULE OF EVENTS - FRIDAY MARCH 26, 2021: • 12:00 Noon (EDT): Receive 2 emails with links to the screening and panel discussion after the film. • 7:00pm (EDT): The screening of "Black Men In White Coats" (80 mins) via private link on IndieScreening.com. Remember, the viewing link and password will be sent to you the by 12 noon on March 26th. (NOTE: The link to the film will be active from 5pm (EDT) until Saturday, March 27 at 5pm (EDT)). • 8.20pm (EDT): Zoom waiting room opens. • 8:30pm-9:00pm (EDT): Live panel discussion. The discussion will be moderated by Malik Melodies Sisterhood, Inc. Executive Board Member, Anita Wallace. Any questions contact malikmelodies@gmail.com
Virtual Happy Hour! This month's short video and discussion will focus on the book: "From The Browder File" by Anthony T. Browder
About this event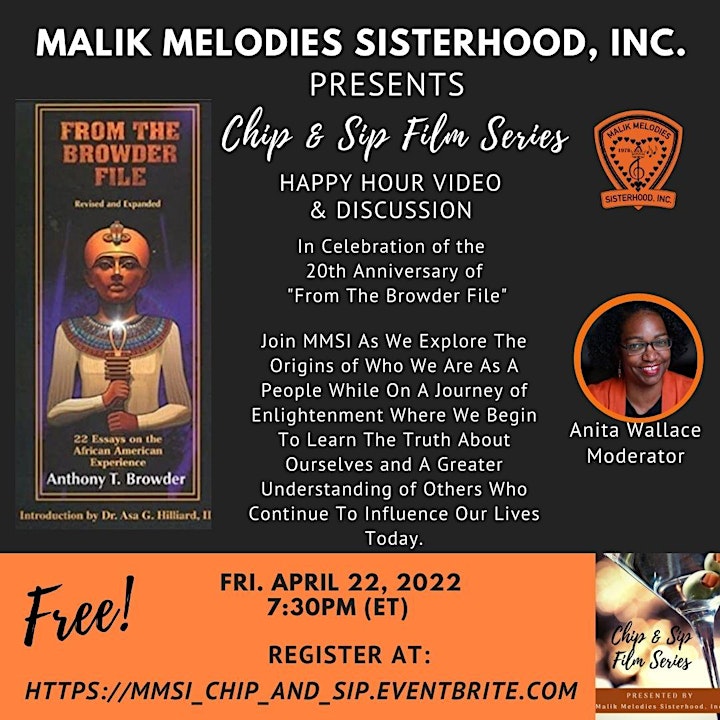 WHAT YOU NEED TO KNOW
COST: Free
However, donations are greatly appreciated!! 100% of donations received will go to support MMSI's 10th Annual Angela Pauling Memorial Scholarship. To learn more about our scholarship program and previous scholars visit: https://www.malikmelodies.org/angela-pauling-memorial-scholarship.
WHERE: Virtual on Zoom.com.
Your Eventbrite registration confirmation will provide you the Zoom.com link to the Chip & Sip Happy Hour Video & Discussion.
DO I NEED THE BOOK TO PARTICIPATE?
NO, the book is not required to participate.
Although it isn't necessary to have a copy of From The Browder File, by Anthony T. Browder for the Chip & Sip Happy Hour Video and Discussion, adding this book to your collection IS AN ABSOLUTE MUST!!
To purchase your copy of From The Browder File directly from Anthony T. Browder on the IKG Cultural Resource Center website, please visit: https://ikgculturalresourcecenter.com/storefront/
SNACKS: (BYOBB)
Be sure to bring your favorite beverage, snacks, or meal to our Virtual Happy Hour.
ACTIVITIES:
We will watch a 20-minute video together and participate in a group discussion moderated by Anita Gillespie-Wallace, MMSI Executive Board Member.
We thank you for your support and look forward to seeing you on Friday, April 22, 2022 at 7:30 pm (ET).
Bring a friend... Tell a Friend.... Family Friendly
*******************************************
CULTURE | CONNECT | CONVERSATE