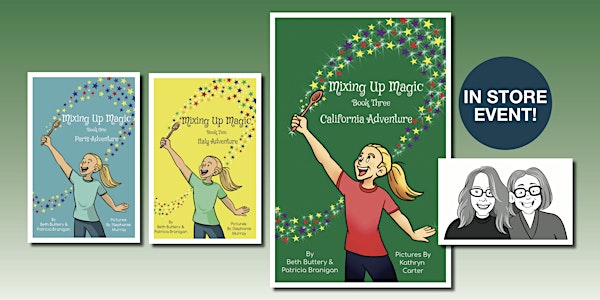 Mixing Up Magic Book 3 Launch
Mixing Up Magic Book 3 Launch
Date and time
Starts on Thursday, November 10, 2022 · 6pm EST
Location
Schuler Books 2660 28th Street Southeast Grand Rapids, MI 49512
About this event
November is Diabetes awareness month, and we're presenting an event that is a safe treat for everyone! Join the authors of the Mixing Up Magic series (for kids 7-12 and their caregivers), a fantasy series that tackles real world problems kids face every day, for an in person event at our Grand Rapids store.
About the Series:
Mixing Up Magic is a chapter book series that will both entertain and educate children as they face many different challenges. Sometimes kids have to deal with big issues and mental health is extremely important at every age. The books tackle type 1 diabetes head-on while also dealing with other issues kids face every day such as friendship, school, sibling relationships, divorce, loss, and much more.
About the Book:
Lainey and the gang are back for another exciting adventure in book 3 of the series! Lainey is having a rough time at school. Jarrod the school bully is teasing her relentlessly. Daily, Lainey is on the verge of tears and her stomach is in knots. Lainey wants to stay home from school forever! But according to Mom, that is not an option. Lainey reluctantly turns to her counselor, Miss Helen, for help. Armed with Miss Helen's suggestions and Granny's magic spoon Lainey travels to California and discovers an anti-bullying community in action. Back home, Lainey hopes to inspire her classmates to change the bullying problem for the whole school. Will they succeed? Find out in Mixing Up Magic: California Adventure!
About the Author:
Co-author Patricia Branigan is a writer, graphic designer, gardener, and mom to three amazing almost grown people. She is a Certified Drug and Alcohol Counselor. She loves to teach people both young and old all about taking care of their mental health.
Co-author Beth Buttery is a busy mom and educator. After her daughter's type 1 diagnosis, they struggled with their new normal and searched for support groups and knowledge to help them cope. They found there weren't many books specifically for kids dealing with type 1 and especially for kids who love fantasy and adventure. So Beth teamed up with her friend and author, Patricia to create their adventure series where kids can tackle real-life issues in a fun, fantastical way.
About the organizer
The first Schuler Books opened in Grand Rapids in 1982. Since then, the business has blossomed into Schuler Books & Music, three of the nations largest independent bookstores. Each location now also boasts a large selection of music, DVDs, unique gift items, as well as a full-service, gourmet café. Remaining independent and locally-owned, we continue connecting writers and readers throughout Michigan.