The Campaign to Stop Killer Robots invites you to meet our tech industry allies in New York City.
About this Event
We'll bring together roboticists, engineers, artificial intelligence and machine learning experts, and other industry professionals to mix and mingle with members of our Campaign, as well as policymakers and allies based in New York City.
.
Interested in getting involved in policy? Passionate about tech ethics? You've come to the right place.
Wondering just what is a killer robot? We'll fill you in.
Worried about the role artificial intelligence will play in warfare & policing? Come discuss.
.
We're a group of fiercely passionate advocates committed to maintaining meaningful human control over weapons and ensuring that the decision to take a human life is never made by a machine algorithm. Our coalition spans 114 organizations across 58 countries.
.
Come learn more about our mission & find out how to get involved.
.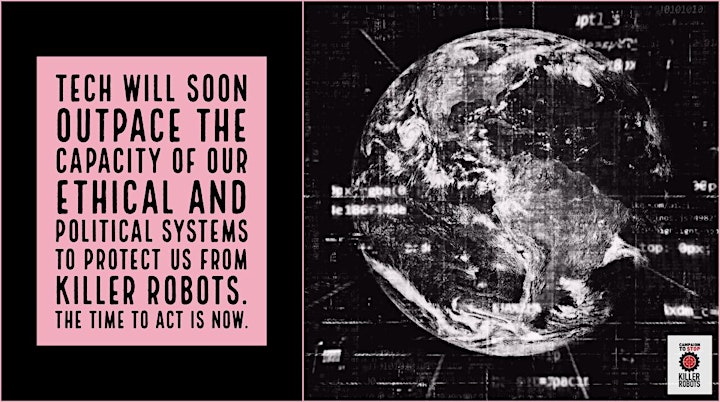 #KillerRobots #AI #ArtificialIntelligence #Warfare #HumanRights #EthicalAI #TechPolicy #TechEthics #AIEthics #InternationalLaw #TechOrganizing #TechActivism #TechWontBuildIt #AutonomousWeapons #AWS #DOD #DIUx #DefenseDepartment #Military #Innovation #VetsInTech #Robotics #MachineLearning #ComputerVision