MIT Applied Blockchain: Building a Blockchain Project from Ground Zero
Description
Applied Blockchain
Building a Blockchain Project from Ground Zero, A Multi-Part Deep Dive

Blockchain is the technology that has been called "the new internet" and ICO funding has reached $2.8 billion worldwide in 2017, far surpassing early-stage venture funding. There is plenty of buzz around this topic but what type of project is blockchain suitable for? How does one get from an idea to a demo-able product?

This series addresses these questions with insight from leading experts in this fast-changing space, culminating in the chance to pitch at the annual MIT AI conference held in April 2018.


Participants receive


4 in-person sessions in SF with experts on key topics to build a blockchain project - investors/founders, legal implications, tech, marketing/partnerships. Unlike some of our larger events where over 500 people were in attendance, we are capping registration to facilitate building projects and meaningful interaction.

FREE (if current student) or 75% off annual subscription to Blockgeeks, an online learning platform for blockchain and how to code blockchain - a $399.99 value. Subscription includes on-demand video courses, Code Challenge Engine, support forums, webinars, progress reporting, help with job placement, personal success team, and more.

Smart Contracts 101 Code Lab run by Oakland Blockchain Developers, who will also help with coding questions in Slack.

Direction to other resources for learning about blockchain and how to program for blockchain.

Slack community and support.

Access to bonus webinars with experts not located in the SF Bay.

Access to on-demand professional video of the sessions (don't worry if you have to miss a session!)

Chance to pitch at the annual MIT AI conference.
Certificate of Completion.
Decentralized Option:
In a decentralized world, we realize not everyone has the capability to attend in-person sessions in San Francisco. Therefore, we offer a video only option with access to post-production session recordings. Participants selecting this option are not eligible for email support, pitch competition, or Certificate of Completion. However, participants will be invited to participate in any bonus webinars and the Slack community.


Who Is This Blockchain Series For?

This series is for individuals interested in taking an idea and building a blockchain project. While blockchain programming experience is not assumed or necessary, we do assume a level of technical expertise such that a demo product can be built if provided direction to self-learning resources (this is not a learn how to code blockchain course). You do not have to be an engineer if you would like to team up with participants who are engineers.
The guidance provided is from experts in the space regarding various aspects that need to be considered when launching a blockchain project. Since blockchain is evolving so rapidly, this often means lively debate and commentary versus a playbook-to-ICO instruction manual.


---


Applied Blockchain:
Blockchain, Bitcoin, Cryptocurrency and ICOs
Thursday, January 11th 2017 | 6:00 pm - 8:00 pm

Whether you already have a blockchain idea you'd like to explore or are still mulling the possibilities, it's important to start with the end in mind. In this session, you will learn how blockchain investors evaluate projects, and what blockchain founders believe are the most important factors to consider.
In this session, you will learn:
What factors do investors consider when evaluating blockchain projects?

How to value tokens? How to approach crypto-economics?
Immediate liquidity – how important is it to be listed on crypto exchanges post-ICO?
What is a good target amount for a raise?
Use of proceeds – how much to hold back, how much to pay the team, use of milestones, converting crypto to fiat
From founders who have done it and are doing it – lessons learned, most important things to keep in mind during the journey and before you start
Strategies to raise money including VC, angel, ICO, or a combination
What kinds of projects are suitable for blockchain? How to build something useful?
Does my project need a token?
Panelists


---
Miko Matsumura

Founder, Evercoin Exchange. Investor

Miko Matsumura founded crypto exchange Evercoin, and invested in the Pantera Capital ICO Fund (a $100M ICO-only fund). He is a token holder in FileCoin, Brave, CIVIC, Propy, Polymath and an investor in Lyft. As chief Evangelist for the Java Language and Platform he participated in the first wave of the Internet, and is now fully engaged in the crypto-fueled Internet of value. As a 25 year operating exec in Silicon Valley, he has raised over $50 million in capital for Open Source startups. He currently advises cryptocurrency startups like Naga Group (Stock Trading), Celsius (Ether Lending), Wala (African Cryptobanking), Lottery.com (Online Lottery), Millenium ESports (ESport Gaming), Playkey (Streaming Gaming), Pundi X (Payments), WiFiCoin, Guardian Circle (Decentralized Global 911 Emergency Services) and Hub (Decentralizing Professional Social Networking). He is also an LP with Focus Ventures, a firm with over $800M under management, 9 IPOs and 44 exits. He holds an Master's degree in Neuroscience from Yale University where he worked on abstract computational neural networks. He's leads the Crypto Underground meetup in San Francisco and is a speaker at the upcoming Token Fest, Keynoting at ICOnference NYC, Blockchain Life in St. Petersburg Russia, Global Blockchain Summit, The Future of Money Summit, and Coin Agenda in Las Vegas.
Linkedin | Twitter
---
Peter Franklin
CEO/Founder at Pryze

Peter attended Duke in 2010 where he obtained a masters in computational economics for his studies in mechanism design. After years spent developing underlying technology as a lead engineer at Microsoft and Zynga for projects ranging from Azure and Clusters to Farmville, he went on to found 3 highly successful companies with world-class teams. A chance meeting with top angel Gil Penchina at a non-profit event lead the two to found Pryze. Peter Franklin is a serial entrepreneur with a passion for game theory.
Linkedin | Twitter


---
Greg Osuri
CEO/Founder of Overclock Labs

Greg is the founder and CEO of Overclock Labs, where he focuses on building a democratized future of cloud infrastructure using protocols and tools to make its foundational elements open, decentralized, and secure.
Previously, Greg founded AngelHack where he was the CTO for the world's largest hackathon-based accelerator with over 90k developers in the ecosystem and presence in over 50 cities worldwide.
Greg's obsession with programming began with writing his first line of code at 12 that turned into a life-long career in software engineering. He is the author of several prominent open source toolkits that are well-regarded by the DevOps community and downloaded over 25M times. Greg has been ranked amongst top 20 programmers worldwide on several occasions for his contributions to widely-adopted projects like Ubuntu and Kubernetes.
Linkedin | Twitter


---
Brandon Goldman
Cryptocurrency and Angel Investor
Brandon's private syndicate invests mostly in pre-ICOs and does six figure deals on a weekly basis. He has been in the cryptocurrency space since 2013 and has invested in about 80 different cryptocurrencies/tokens. He is also an angel in over 50 companies, and was previously Lead Software Architect for Blockfolio, a leading mobile app for cryptocurrency.
Linkedin | Twitter


---
Lindsey Maule
CEO and GP of Luna Capital & Head of Cryptocurrency Research at Precursor Ventures

Lindsey Maule is the CEO and Managing Partner of Luna Capital, a cryptocurrency hedge fund located in the SF Bay Area. She was formerly Head of Cryptocurrency Research at Precursor Ventures, a pre-seed/seed VC firm, and the founding partner Charles Hudson is now an advisor to Luna. She started trading and investing in cryptocurrencies in 2013 and has previous experience in financial markets, business development, and statistics. Lindsey focuses on pre-ICO and ICO investments.


---
Adam Draper
Founder & Managing Director at Boost VC

Adam Draper is the founder and managing director of Boost VC. Adam is a 2x entrepreneur and a 4th generation venture capitalist. He also has a very large comic book collection.
In 2009, the same year that Adam graduated from UCLA, he founded Xpert Financial, a secondary market for private securities. After settling millions of dollars in private security transactions and becoming a registered broker dealer, he left Xpert Financial in late 2012 and began angel investing, where he backed such startups as Coinbase, Plangrid and Amplitude.
Adam then partnered up with Brayton Williams and to change the face of global startup mentorship. The focus of Boost VC on future technology development stems from Adam Draper's dream to create an Iron Man suit.


---


Agenda
6:00pm - 6:15pm
Mingle with experts and other participants
6:15pm - 7:00pm
Guest panel discussion, FAQs (questions submitted beforehand)
7:00pm - 7:30pm
Un-conference breakout sessions – Each speaker leads a small group

7:30pm - 7:45pm
Nominated spokesperson from each group shares summary of breakout

7:45pm - 8:00pm
Individual Q&A, Wrap up conversations



---


Applied BlockChain:
Legal Considerations & Pitch Ideas
Thursday, February 13th 2018 | 6:00pm - 8:00pm

In the quickly evolving landscape of blockchain technology, associated regulations are also evolving. China famously banned ICOs and then crypto exchanges themselves. The SEC has released the broad guidance that certain tokens will be considered securities. Lawmakers throughout the world are scrambling to understand blockchain and implement effective regulation. Meanwhile, where does that leave the blockchain entrepreneur?
Join us in a conversation with lawyers in the blockchain space. The first half of session will discuss the latest developments in the legal aspects of blockchain projects, and how that might effect you as a founder.
In this session, you will learn:
What are important legal implications to consider?
Security token vs utility token and SEC stance
Where to launch your ICO? How much does jurisdiction matter?
Accredited investors only or different Reg options in the US
Use of foundations structure, like in Tezos
What you cannot say in marketing materials if you want to be a utility token
Steps to safeguard against a security designation if you want to be a utility token
The option of conservatism and deciding to treat your token as a security
Howey Test
Precedent, like the DAO
The second half of the session will allow participants to pitch their ideas and get feedback from the rest of the group, as well as recruit others to join their team.
Panelists
Experts are being confirmed but likely to include counsel from the blockchain practice of a major Silicon Valley law firm, in-house counsel at a major blockchain firm, and counsel in the start-up space with knowledge of blockchain. Please check back for updates.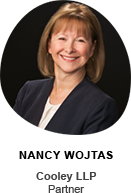 Nancy Wojtas
Partner at Cooley LLP
Nancy Wojtas has served as counsel in connection with corporate governance matters, acquisitions, dispositions, mergers, private and public offerings, joint ventures, venture capital and bank financings, proxy contests, cryptocurrency offerings and going private transactions.
Nancy began her career with the Securities and Exchange Commission in the division of Market Regulation and later served as counsel to the Chairman of the Commission.
Nancy was recognized as Lawyer of the Year in Corporate Governance in Palo Alto by The Best Lawyers in America in 2013. She has been recognized as a leading lawyer by The Best Lawyers in America in Corporate Governance from 2007-2018 and in its 2016 "Women Lawyer of the Year" awards.
Nancy is a member of the Opinions Committee of the California State Bar. Formerly she was the co-chair of the Corporations Committee of the Business section of the California State Bar. Nancy is a frequent speaker on corporate governance, securities law and token offering topics.
In addition, for the last 15 years, she has been a speaker on various corporate governance subjects at Stanford Directors' College.
Linkedin | Twitter
---


Applied Blockchain:
Technical Trends in Development
Tuesday, March 6th 2018 | 6:00pm - 8:00pm

Blockchain technology has enormous potential but also many current limitations. As it becomes more popular, scalability is a big hurdle that is being attacked in various ways. Given the potentially large amounts of money at stake, security and testing are of the utmost importance. There have already been high profile instances of code loopholes and bugs with real consequences – the DAO hack (Decentralized Autonomous Organization) which caused the Ethereum and Ethereum Classic fork, a mistake and unguarded init function which froze $162 million of ether in the Parity Multisig Wallets.
In this session, you will learn:
Most important considerations from a technical standpoint
Different programming languages and stacks in blockchain
ERC20 token standard
Scalability & speed of transactions concepts – Lighting Network, Raiden, Plasma, state channels, sharding, off-chain
Consensus concepts – Proof of Work, Proof of Stake, Casper, other alternatives
Privacy concepts – private or semi-private, default or not, popular algorithms
Testing and security – deploying to testnets vs mainnets, auditing, bounty hunting, white hats, best practices
Phishing, scams, porting numbers, 2FA (2 Factor Authorization)
Open source contributions
Local communities to join and where to follow the conversation online
Innovative technical developments and trends
Philosophical differences in developer communities
Hard forks, soft forks


Panelists

Experts are being confirmed but likely to include technical founders from blockchain projects, blockchain developers, and technical auditors/white hats. Please check back for updates.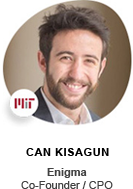 Can Kisagun
Co-Founder/CPO at Enigma
A second-layer off-chain network that aims to solve scalability and privacy in blockchain. First product is Catalyst, a platform for data-driven cryptoasset investing and research. Enigma is founded by a team of MIT alums and raised $45mm in their token sale.
Linkedin | Twitter


---


Applied Blockchain:
Marketing and Recruiting, Pitch Selection
Thursday, April 5th 2018 | 6:00pm - 8:00pm

You have a demo-able project that makes sense for blockchain, a legal strategy, and test plan in place. Now comes time to market the project and develop the right partnerships. How is blockchain marketing similar and different to more traditional start-up marketing? How do you identify and recruit advisors and members to your team?
The first half of today's session will discuss marketing and recruiting with ICO marketers, business development/partnership professionals, and recruiters.
In this session, you will learn:
Overall marketing and business development strategies
How to market your project – similarities and differences to traditional startup marketing
Timing for an ICO
Marketing materials - ICO website, pitch deck, whitepapers
Common ICO messaging platforms – Slack, Telegram
Venues for promotion – ICO listing websites, blogging as a thought leadership tool
Finding advisors
Building and recruiting a team
Working with consultants, agencies, and advisors
The second half of the session will be pitches and judging.
Participants vote which projects are selected to pitch at the MIT Conference.
Winners then have 2 weeks to get demo ready.


Panelists

Experts are being confirmed but likely to include CMOs and marketing professionals of blockchain projects, strategic development and business development professionals, and contract whitepaper authors. Please check back for updates.
.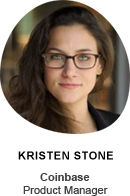 Kristen Stone
Product Manager and Head of Financial Institution Partnerships at Coinbase
Kristen Stone is a Product Manager at Coinbase, the world's most widely used digital currency platform, where consumers, merchants, developers, and traders can transact with digital currency. Her focus is on identifying, researching, and developing new market opportunities. After becoming passionate abou Bitcoin technology and digital currency in 2012, she moved across the country to join Coinbase. Since then, she has brokered partnerships and managed integrations with major financial institutions such as USAA, Braintree, and Fidelity.
Linkedin | Twitter


---


Appleid Blockchain:
Project Pitch - MIT AI Conference 2018
April 20 - 22, 2018 | 8:00pm - 10:00pm

---

Bonus Webinars in the Works
Optional webinars to expand exposure to experts not located in the Bay Area. Participation is not required to earn the Certificate of Completion.
Blockchain for social impact

Feel free to suggest ideas in the Slack!
Blockchain for Social Impact:

Anne Connelly
Founding Member, ixo foundation
Anne Connelly is the Network Lead with the ixo Foundation, an organization that leverages blockchain technology to optimize sustainable development impact using trusted data. She is passionate about harnessing blockchain and decentralized technology to transform the lives of people in developing countries. Anne is the Vice Chair of the board of Blockchain Canada and has been an active part of the global blockchain community since 2012. She previously worked with Doctors Without Borders Canada in Central African Republic and the Democratic Republic of Congo, and currently serves on their board of directors. She is Faculty at Singularity University at NASA Ames in Silicon Valley, teaching global leaders how exponential technologies can solve problems that impact over a billion people. Anne has a Bachelor of Life Sciences from Queen's University, an MBA from McMaster University, and a Fintech Certificate from MIT. She was honoured as one of CBC's 12 Young Leaders Changing Canada.


---
Federico Ast
Founder, Kleros.io
Federico Ast graduated in economics and philosophy from the University of Buenos Aires. He is a technology entrepreneur with experience in different industries. He has a PhD in management from IAE Business School. He is a lecturer in company building and writes on digital business and innovation. He is passionate about exponential technologies such as artificial intelligence, crowdsourcing and blockchain for social innovation. His work was featured in international media such as FastCompany. He developed the concept of Crowdjury, the use of collective intelligence and blockchain to transform the justice system. He founded Kleros, an Ethereum decentralized organization that uses crowdsourcing and blockchain for dispute resolution. He was a participant at Singularity University Global Solutions Program in 2016. He is host to a forthcoming Coursera course on blockchain to be launched in early 2018.
Linkedin | Twitter


---

About Audrey Chaing and Blockchaing

Audrey is a cryptocurrency trader and blockchain analyst, and runs the news site blockchaing.org. She has been trading Bitcoin since 2013 and is a member of the Oakland Blockchain Developers and SF Ethereum Developers.
Previously, she co-founded 2 companies in food tech and genetics, through which she participated in Start-Up Chile and Singularity University Global Solutions Program. She has over a decade of experience on Wall Street as an investor, trader, and research analyst at companies like Credit Suisse, Wells Fargo, and BlackRock.
Audrey has a degree in Computer Science from MIT with a concentration in Artificial Intelligence, and earned her MBA at the Wharton School of the University of Pennsylvania. She is a frequent blockchain speaker at events like Women in Blockchain, Blockchain & Cryptocurrency Meetup, SVIAccelerator InsurTech Blockchain Bootcamp, and Infinity Fireside Chats. Audrey's previous teaching experience includes MGMT 806 : Venture Implementation, for the Wharton Executive MBA Program, a lean startup sprint class culminating in a pitch session to the Sand Hill Angels.


---
Our Partners & supporters
---
Event Sponsor

Where to learn more about blockchain and how to program blockchain?
Blockgeeks is supporting your learning by offering FREE access to current students enrolled in an accredited university and 75% off the price of annual plans for non-student participants in the MIT Applied Blockchain Series.
To Become a Blockchain Developer annual plan, normally $399.99/year, includes:
High quality video courses
Practice live with our Code Challenge Engine
Get help in our members-only forums
Weekly webinars with Top Blockchain professionals
Dedicated success team
Customized learning tracks to fit your team's needs
Robust reporting on individual success
Access to the entire library and bonus content
Help with Job Placements (should you decide that is what you want!)



---
About Blockgeeks
We are an online affordable Blockchain training technology educational platform for learning and teaching online where students are mastering new skills and achieving their goals by learning from developers, hardworking entrepreneurs, investors, and leaders about the rapidly evolving world of blockchain technologies
The world's brightest Blockchain advocates come here to discuss & share trends and opportunities in the world of Blockchain. Look around, join (or start) a conversation, & most importantly… be friendly and have some fun. Life is too short to waste on arguments.
Blockgeeks mission is to share and grow the knowledge around Blockchain technology. A vast amount of the knowledge that would be valuable to many people is currently only available to a few — either locked in people's heads or only accessible to select groups.
---
Oakland Blockchain Developers
We educate blockchain developers and bring projects to life. We believe that Blockchain Engineering education should be open source. We teach blockchain technologies to our community, which in turn allows that community to provide and create structure for themselves. As Blockchain technologies take over the world, we'll empower people to shape and lead that new world.