Description
SEE TRAILER HERE: https://www.youtube.com/watch?v=1Hc_dYsTMa4&t=5s
PLEASE PURCHASE TICKETS DIRECTLY FROM ECLIPSE CLICK LINK:
http://bit.ly/MisguidedBehavior_EclipseTheaters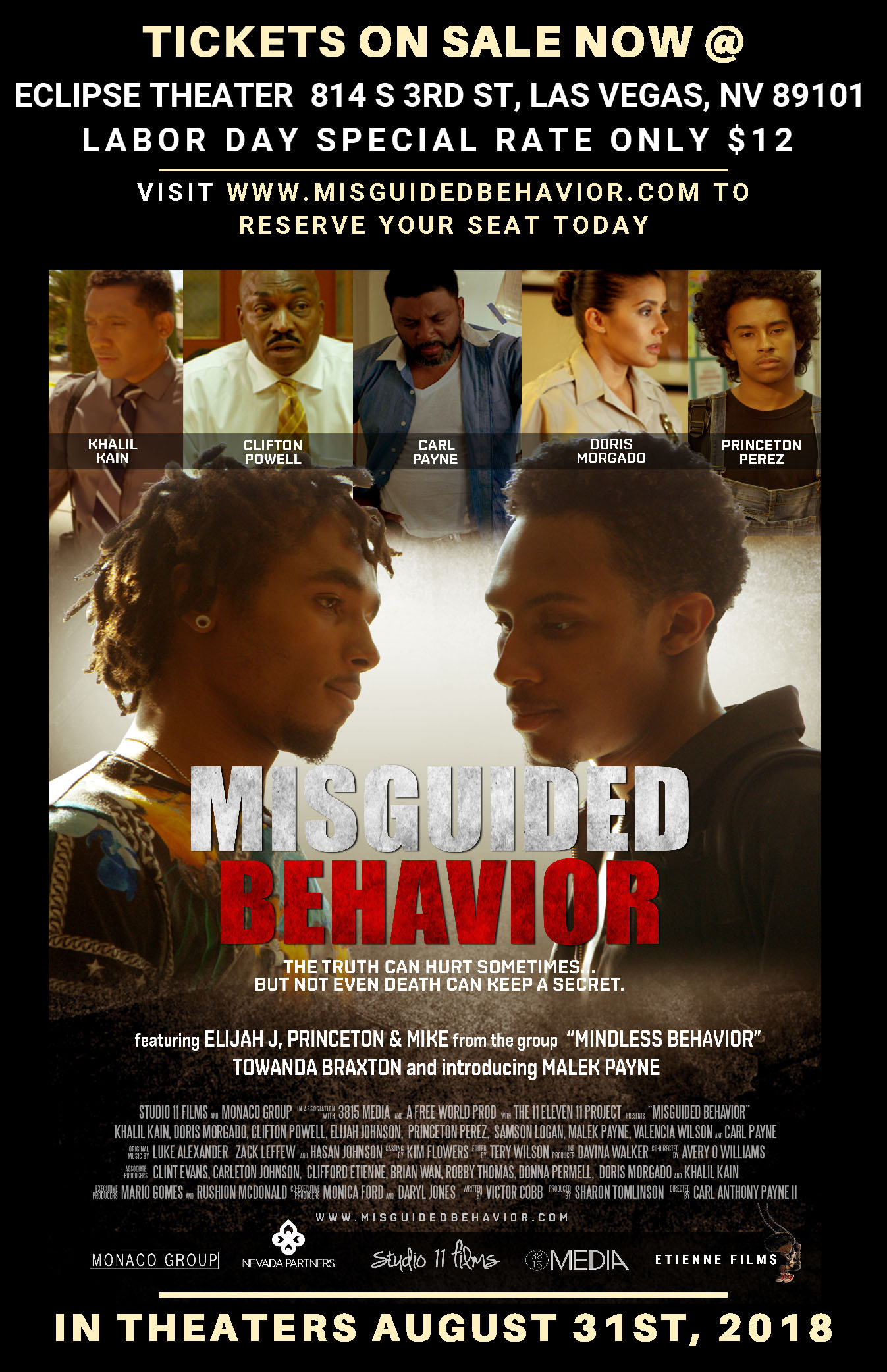 On August 31, 2018 Studio 11 Films and Etienne Films will EXCLUSIVELY release the All New Movie media outlets have been talking about that focuses on "Bullycide" - Misguided Behavior, filmed in Las Vegas Hits Theaters Nationwide October but Las Vegas has the opportunity to see it first. With a sold out premiere in 2017 we officially release the movie for all to see.
"Bullycide" feature "Misguided Behavior" brings awareness to public health crisis, creates call to action to save lives and highlights victims' untold stories of bullying.
LAS VEGAS – As the challenges of heading back to school sweep the nation, concern surrounding
"Bullycide," or bullying-related suicide, is in every classroom. A new movie filmed inside a Las Vegas high school aims to ingrain a message of accountability in students, parents and educators to prevent suicides from bullying. "Misguided Behavior" opens in Las Vegas Sept. 1 and nationwide on Oct. 1.
The film tells the tale of an intellectual high school teenager's harassment and abuse by peers that ultimately leads to death. With a cinematic twist, the movie also draws attention to the impact bullying can have on family, friends and innocent bystanders. Atlanta-based Studio 11 Films teamed up with Byron Allen's Entertainment Studios in Los Angeles, California, and Eclipse Theater in Las Vegas, to release the movie in Las Vegas first and following a nationwide release, challenging all schools to A.R.M. up against bullying.
Join us as we as we want students to recognize their emotions and make responsible decisions to handle the confrontations they face. But this is also a call to action to parents, educators and lawmakers to help our children fight and save their lives."
Studio 11 Films and Byron Allen's Entertainment Studios, which owns the company distributing the movie, partnered to make the film happen. Rachel Koehler says the message motivated their support. "'Misguided Behavior' reveals the sad reality of bullying that far too many school kids experience every day," said Koehler, who works as an acquisitions director for Freestyle Digital Media. "We at Freestyle Digital Media are proud to give this movie and its message a valuable platform from which to educate and inform regarding this important topic."
Las Vegas please support this film by purchasing a ticket and spreading the word.
#armupagainstbullying #misguidedbehavior #studio11films
www.misguidedbehavior.com