Description
Liberating Structures Immersion
St. Paul, Minnesota
February 24th and 25th, 9am - 4pm
Coffee, tea, and lunch will be provided each day.
Liberating Structures are facilitation structures that help your community move toward your purpose together – more inclusively and faster. These straightforward designs creatively engage people in shaping their own future. Join us in this two day immersion to experience the structures and learn how to bring them to your work in your organization.
---
Why do we love Liberating Structures?
Accessible and easy to use.

Every voice and every idea can be harnessed for the greater good.

Quick and easy to learn.

Provides structure for forward momentum – don't get stuck in decision making.

Who's this for?
Teams and organizations, leaders, facilitators, consultants, organizers, teachers, change agents and transformational leaders.

Those who work in complex situations and have an urgency to get stuff done.

People who have a need to hear all the voices in a system so you can make decisions.
People who use liberating structures:
Increase communication and safety.

Learn and make decisions with your stakeholders, not for them.

Respond to quickly evolving situations and marketplaces.

Engage the experience and knowledge of your team.

Create space for your best thinking.

Produce actionable and meaningful results you can apply right away.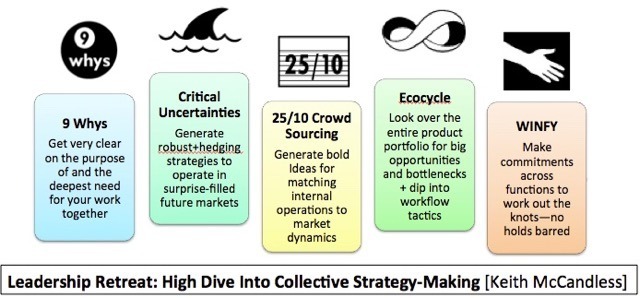 About Liberating Structures
Liberating Structures (LS) comprise a repertoire/pattern library of similarly designed methods for organizing generative interactions. There are many purposes and reasons to use LS- and the benefits are better experienced than described - but they reliably generate novel conversations with vulnerability and integrity, that give rise and give shape to new ways of knowing, relationship, intelligence, imagination, and creativity.
The LS repertoire is purposefully curated and designed to be both modular (every method stands on its own) AND inter-connected (the methods build on, connect with, and can be strung together). Beyond that, the collection of LS serves as an example of what is possible when tending more rigorously to the underlying DNA of our interactions and pay careful attention to advancing certain principles.
To learn more about Liberating Structures:
1. Check out this media review about Liberating Structures.
2. Explore the Liberating Structures matchmaker to find activities to meet your needs.
Design Team
The design team for this Immersion consists of three creative facilitators grounded in innovation. We are committed to organizational transformation through the use of liberating structures. Collectively we have experience in healthcare, nonprofit, government, academic, and corporate organizations. We are dedicated to providing an experience through this Immersion that will empower you to use Liberating Structures in your organization.
This event is organized by Breanna Trygg, Fariba Fuller, Daniel Pesut, and Jen Mein.
There are some scholarships available, please contact the organizer for more details.