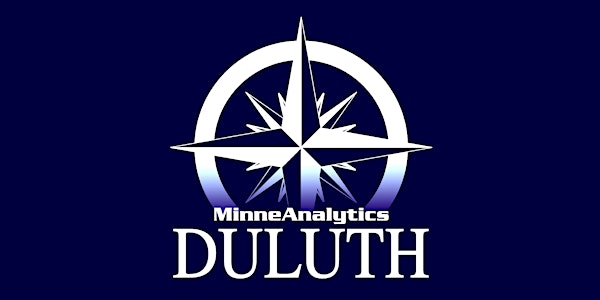 MinneAnalytics-Duluth Community Meetup
Join us for a presentation by Tom Gibbons, PhD, and connect with your peers in the analytics community.
When and where
Date and time
Wednesday, February 15 · 5:30 - 8pm CST
Location
The College of St. Scholastica, Tower Hall, Room 3121 1200 Kenwood Ave Duluth, MN 55811
About this event
Data science and analytics professionals and academics in the Duluth area are invited to join us for "Solving problems with Machine Learning" presented by Tom Gibbons, PhD. The evening will also include refreshments and networking opportunities.
Presentation
Presenter:
Tom Gibbons, PhD
Presentation Title:
Solving problems with Machine Learning
Description:
What types of tasks can a business tackle with machine learning? Starting with an overview of machine learning, we will look at what machine learning can do and how to leverage cloud resources for this. We will also look at what new graduates should know about machine learning and options for training existing staff on the newest techniques.
Bio:
Dr. Tom Gibbons teaches machine learning at the College of St. Scholastica. He has a PhD from North Dakota State University where he studied early neural network structures. He has been teaching at St. Scholastica for over 25 years and has mentored undergraduate and graduate students in a wide range of artificial intelligence and machine learning projects.
Location
The College of St. Scholastica
Tower Hall, Room 3121
Parking: Free parking after 5:00pm
About MinneAnalytics-Duluth
MinneAnalytics-Duluth serves the analytics community in the greater Duluth area/region through events and networking opportunities. If you are interested in advancing the analytics community and passionate about engagement with your peers, we invite you to join us. Contact duluth@minneanalytics.org to get in touch with the organizers.
Agenda
5:30 PM - 6:00 PM
Networking with food and beverages
6:00 PM - 6:05 PM
Introduction
6:05 PM - 6:15 PM
Topic primer and speaker introduction
6:15 PM - 7:15 PM
Presentation
7:15 PM - 8:00 PM
Closing and continued networking
About the organizer
MinneAnalytics is a 501c6 nonprofit organization of professionals in Data Science and Emerging Tech. Co-founders: Dan Atkins, Sean Larson, Glenn Trygstad, and Board of Directors: Graeme Thickins and Josh Berger.