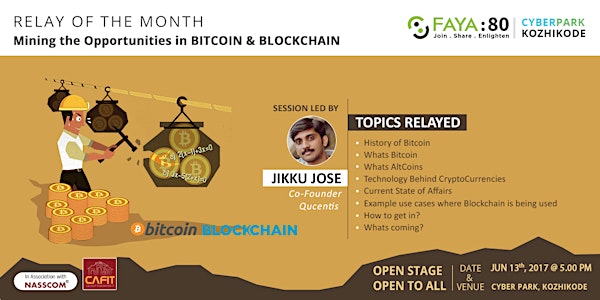 Mining the Opportunities of Blockchain & Bitcoin
When and where
Location
Cyber Park Kozhikode, KL 673008 India
Description
The digital currency has undergone a vibrant makeover with the evolution of Blockchain, the underpinning technology of Bitcoin. Blockchain and Bitcoin has taken the technology enthusiasts by awe as it revolutionises the way we do business by paving way for open finance. A Blockchain is a public ledger of all Bitcoin transactions that have ever been executed. This ledger is not stored in one place. It is distributed across hundreds or even thousands of computers around the world. It stands proof to all the transactions on the network.

No doubt, this paradigm shift in Business opens door for a gold mine of opportunities that has to be tapped by the developers and companies. The need of the hour is a session that gives awareness of the theories and concepts of Blockchain along with ideas on how to transfigure daily business using it. The October edition of FAYA:80 is designed with the motive of providing insight into Blockchain and build a futuristic eco system in Kerala.

Want to know more?? Join us for the 1st edition of Extended FAYA:80 coordinated by CAFIT on "Mining the Opportunities of Bitcoin & Blockchain" at Cyber Park, Calicut.


Topics Covered:

History of Bitcoin

Whats Bitcoin

Whats AltCoins

Technology Behind CryptoCurrencies

Current State of Affairs

Example use cases where Blockchain is being used

How to get in?

Whats coming?
Sessions:
Techbites (A session on technological advancements last month)

Mining the opportunities of

Blockchain

& Bitcoin (Speaker: Jikku Jose)

Date & Place
13th June 2017 - 5pm at Cyber Park , Calicut

About Speaker
Jikku Jose is a Ruby developer running a small startup by the name Qucentis in Kerala Startup Mission. Now working on building a framework for rapid prototyping of apps using Ruby.


About FAYA:80 (Read as FAYA PORT 80)
FAYA:80 is a monthly technology hangout, started in June 2013, for technology enthusiasts to keep at par with the updated tools and technologies. It is held on the first Wednesday of every month at Technopark, Thiruvananthapuram. The series stands for Free Knowledge Sharing and aims to provide an open platform for entrepreneurs, developers and technology professionals to analyse and evaluate emerging technologies. Conducted in association with NASSCOM, FAYA:80 has over 49 successful editions and over 2000 community members to its credit at Thiruvananthapuram.

FAYA:80 Kozhikode Chapter is the first extension of FAYA:80 with the support of Cyberpark and CAFIT, furthering the impact of technology empowerment across Kerala.