Join us for our first ever Mini MAVO on-line conference! This is a modified format of what we do at our in-person events.
About this event
Due to the current world situation and in an effort to consider the health and safety of all attendees, we are taking our originally scheduled MAVO2020 in-person event and making it into an on-line event. This will be a modified version of what we do at our in-person events. Those who have already purchased and paid in full for the MAVO2020 event, this on-line event is included at no extra cost. We will host an in-person conference that will be held on November 12-14, 2021.
Those who did not purchase tickets for MAVO2020 yet have the option to buy tickets for this on-line event that will take place on the same weekend as originally planned - November 6-8, 2020. Those who purchase tickets to our on-line event this year will have the option to buy tickets to our in-person MAVO2021 conference at a discounted price as well.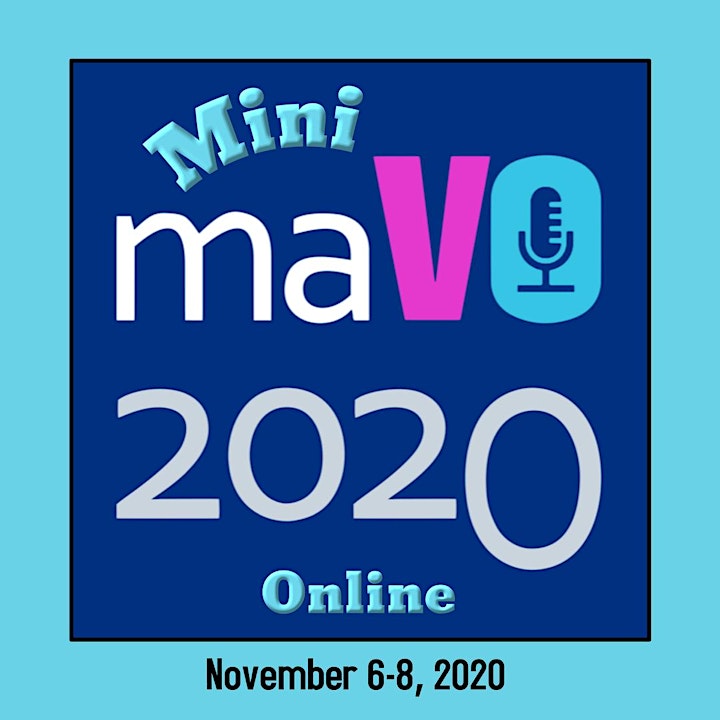 Organizer of Mini MAVO2020
Val Kelly is the Owner, founder,President/CEO/Executive Producer of
Mid-Atlantic Voiceover,LLC.Val is a Professional, bilingual-English/French voice actress who specializes in cartoons, children's iPhone apps, videogames,
radio/tv commercials, children's e-learning, etc. Val was introduced to VO in 1999 and has
been actively booking work since 2011. She has trained with excellent coaches such as Sunday Muse, Bob Bergen, Roy Yokelson, Andrea Romano; as well as Noelle Romano, Danielle Quisenberry, Everett Oliver, Sara Jane Sherman, Kari Wahlgren, Tom Dheere, Marc Scott, and David Goldberg from "Edge" studio. Val has studied acting and improv via various studios and in college since 1993 and has a wealth of knowledge about the entertainment industry as well as acting techiques. 
Val is the hostess of her "YouTube" show called "Live with Squacky" where she interviews VO industry pros as well as on-screen actors and musicians.
Some of her clients include "Hasbro toys", "Roam & Wander", "Hungry Howie's Pizza Place", "Mymoonah", "Essence Cartoon", "Theory Films", "The Foregin Candy Company". Val's voice is unique, engaging, child-like, high energy, friendly, versatile, fun! She puts 100% effort into all of her work!
Questions? E-mail Val at val@midatlanticvo.com