About this Event
**This SilentHike is SOLD OUT! We have added an additional hike on Monday, August 19th from 6:00pm - 8:00pm. Click here to reserve your spot!
Allow yourself to be carried away by the deep feeling of freedom and connection of the newest way to practice walking meditation - MindTravel SilentHike (mountains) and MindTravel SilentWalk (cities). This magical experience is led by MindTravel creator and composer, Murray Hidary.
Over the course of the MindTravel experience, you'll join other MindTravelers exploring one of the world's most beautiful gardens, parks and trails while guided by MindTravel music delivered through MindTravel headphones. The evocative, improvisational piano music ignites freedom and expansiveness that amplifies the healing and inspirational power of being surrounded by beauty.
After a short introduction and intention-setting , the group will venture forth on a guided meditative hike to the incredible views of Realization Point for a contemplative and powerful creative journey--all while enveloped in the transcendent sounds of the beautiful, original MindTravel compositions.
"...as I met with the MindTravel group and put on headphones to embark on a two-hour tour of the Getty galleries, grounds and gardens while listening to original music and a guided visit — not so much of the paintings but of my inner life — being rocked pretty much sums up what happened." -Martha McCully, The Los Angeles Times
Read more about MindTravel SilentWalk at The Getty in The Los Angeles Times here!
MindTravel will provide the wireless headphones.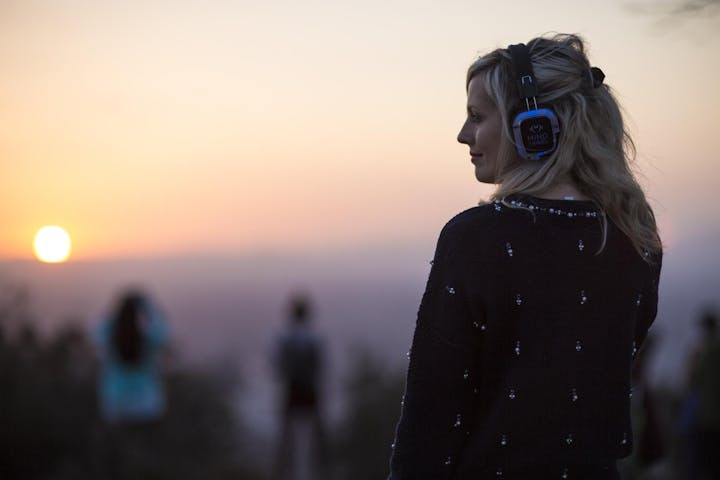 More About MindTravel
Music is a catalyst for transformation, clarity, connection and purpose. And music is at the core of MindTravel, an immersive music experience created by Murray Hidary. Hidary, a composer, pianist, visual artist, tech pioneer, entrepreneur and physics lover, created MindTravel in 2014 after finding that music helped him heal after the tragic death of his sister. Now, he is on a mission to share music's healing power with others and make it the centerpiece of a multi-sensory meditative journey.
"MindTravel is an experience like no other. Imagine a concert pianist improvising beautiful, peaceful music with imagery in the background that matches the beauty of the music — combined, it is almost meditative or trancelike." - Jason Wachob, Founder of mindbodygreen
Please reach out to info@mindtravel.com with any further questions about the event.