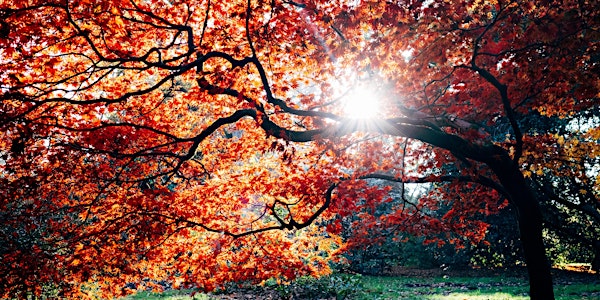 Mindful Self-Compassion Program - 10-week course
Find a kinder and more sustainable approach to life's challenges. Tuesdays 7 - 9 pm ET, Oct 11 - Dec 20, 2022.
About this event
Many of us are tired.
Join us for the empirically-supported Mindful Self-Compassion (MSC) program to pause, rest and reflect, and to gently expand your capacity to navigate life's many ups and downs with a bit more compassion, wisdom and ease.
Course Details
This course is the empirically supported Mindful Self-Compassion (MSC) program, developed by Drs. Kristin Neff and Chris Germer.
It includes 23 hours of training and practice. It is an immersive exploration of self-compassion, offering highlights of relevant research and theory, self-compassion meditations and exercises, discussions, and a retreat — with time between sessions to apply what you learn about self-compassion to your own life.
Course Objectives
The course aims to help participants to:
Customize on-the-spot practices for yourself (while in meetings or at work, with family or with friends).
Recognize and validate your own needs.
Soothe and comfort yourself in the midst of difficulty.
Balance what you give and receive in professional and personal roles.
Take designated time and space for you to restore energy.
Soften self-criticism, explore motivation with less fear of failure, and more…
Attending the MSC course is a prerequisite for MSC teacher training and for the Self-Compassion in Psychotherapy Certificate Program offered through the Center for Mindful Self-Compassion.
Course Schedule
Tuesday evenings, 7 – 9 pm ET
October 11 – December 20, 2022
3-hour virtual retreat on Sunday, November 20th, 3 – 6 pm ET
No class on November 22nd
All course sessions will be delivered virtually via Zoom
Registration Fees
Pay what you can. Choose the registration rate that reflects your current circumstances:
$495 USD – Covers the cost of the course + provides support for others to join the course
$395 USD – Covers the cost of the course
$295 USD – Available to anyone with less resources at this time.
The Mindful Self-Compassion Workbook, by Kristin Neff and Christopher Germer (2018) is included with all registration levels.
Please note, course registration is non-refundable.
About the Mindful Self-Compassion (MSC) Program
Mindful Self-Compassion (MSC) is an empirically-supported training program designed to cultivate the skill of self-compassion for personal growth. Based on the groundbreaking research of Kristin Neff and the clinical expertise of Christopher Germer, MSC teaches core principles and practices that enable participants to respond to difficult moments in their lives with kindness, care and understanding.
Course topics and practices include:
Developing your compassionate voice
Mindfulness for grounding and stability
Loving kindness for self and others
Practices to soothe the mind, body, and heart
Motivation with compassion
Transforming difficult relationships
Managing burnout and compassion fatigue
Gratitude, the art of savoring and more...
Upon completion of this course, as an MSC course graduate, you will share in these benefits:
Join a worldwide network of graduates of the MSC program, with ongoing virtual self-compassion meditation sessions offered only to MSC graduates.
Integrate self-compassion practices and teachings into your work with others, both personally or professionally.
Interested in learning more before signing up?
Please join us for an optional one-hour Introduction to MSC (free). Meet our facilitators, Emily and Heather, and get a taste of MSC and the program.
Tuesday, September 27th, 7 -8 pm ET: Register
Defined by Kristin Neff (2003), three key components of self-compassion are self-kindness, a sense of common humanity, and mindful awareness.
Kindness: With self-compassion, we treat ourselves with kindness, care, and understanding, just as we would treat a friend we cared about. Compassion also entails concern with the alleviation of suffering, meaning there is an action component to self-compassion - actively soothing and comforting ourselves when we're in pain, supporting ourselves and protecting ourselves from harm.
Common Humanity: With self-compassion we see life's many difficulties as part of the larger human experience. Acknowledging that others struggle too helps to lessen feelings of isolation.
Mindfulness: In order for us to respond to our struggles with compassion, we first have to know we are struggling. Mindfulness allows us to turn toward painful feelings and "be" with them as they are with a balanced state of awareness.
This MSC course provides the opportunity to learn and expand your experience of self-compassion. Fortunately, self-compassion can be learned by anyone, even those of us who did not learn these skills as children.
Benefits of Practicing MSC
Self-compassion helps us to connect with an inner strength that enables us to more fully embrace being human—and more fully embrace being ourselves.
Research has demonstrated that self-compassion is strongly associated with emotional strength and wellbeing, resilience in coping with life challenges, lower levels of anxiety and depression, motivation with less fear of failure, and healthy habits.
More information about MSC:
Readiness to Take the Course
Practicing self-compassion can be emotionally activating. If you've experienced a traumatic event recently we recommend waiting a few months before taking the course.
MSC is primarily a compassion training program rather than mindfulness training, although mindfulness is the foundation of self-compassion.
MSC is also not psychotherapy insofar as the emphasis of MSC is on building emotional resources rather than addressing old wounds. Beneficial change occurs naturally as we develop the capacity to be with ourselves in a kinder, more compassionate way.
While learning self-compassion, some difficult emotions may arise. MSC teachers are committed to providing a safe and supportive environment for this process to unfold.
With this in mind, if for any reason you would like to talk more about your readiness to take the MSC program, please reach out to one of the course instructors to schedule a brief consultation:
Emily: emily@selfcompassioninaction.com
Heather: heather@selfcompassioninaction.com
Interested in becoming an MSC teacher or integrating MSC into your work?
This MSC course qualifies as a prerequisite for MSC teacher training and for the Self-Compassion in Psychotherapy Certificate Program offered through the Center for Mindful Self-Compassion.
Participants are encouraged to focus on their own learning and application of the tools throughout the course. Therapists, social workers, mental health providers, teachers, healthcare professionals, and other helping professionals will be positioned to integrate aspects of MSC into their work with clients after completing the course. The course will also provide skills to reduce burnout and enhance capacity for embodied, compassionate listening and relating in professional work roles.
About the Instructors
Emily Whyte Rubin, Mindful Self-Compassion Trained Teacher
Emily specializes in mind-body-emotional health and intuitive listening and has been working in private practice and facilitating groups for the past 13 years. Emily completed her teacher training for the Mindful Self-Compassion program in Oct. 2018. She is also a Certified Daring Way™ Facilitator in the work of Brené Brown as well as an AmSAT Certified Alexander Technique Teacher with further trauma resolution training in Somatic Experiencing®. Emily continues to be a lifelong student of these practices personally and professionally. She believes that we each find our own way and aims to create a safe group environment that can offer mirrors of support and insight. To learn more about Emily, please visit www.feelingdeeply.com.
Heather Shaughnessy-Cato, Mindful Self-Compassion Trained Teacher
Heather offers integrative mind-body practices for embodied wellbeing through coaching, courses, and workshops. She has integrated self-compassion into work with clients in community settings and through her former work as a therapist. She holds a MA in Clinical Mental Health Counseling with clinical training in healthcare and higher education, is a Certified Wellness and Health Coach, Yoga Teacher, Designing Your Life Facilitator and Coach, and she formerly worked in development for non-profits and higher education. Heather continues to train in mindfulness, self-compassion, and trauma-informed practices. She aspires to create a safe and inclusive environment in her classes, with an invitation to each student to come as they are and make the practice their own. To learn more about Heather, please visit heathershaughnessy.com.
Learn more about our offerings at selfcompassioninaction.com.