Description
It's just about time for RIZZARR's monthly event! In continuation of our Millennials Change Event Series, our next event will be in partnership with Blended Collective as part of Microsoft's Entrepreneurship Week. This event will be held on Thursday, February 22nd at the Flagship Microsoft Store and is titled, "Millennials Change: Redefining Multiculturalism in Entrepreneurship."


According to the U.S. Census Bureau, Millennials have surpassed Baby Boomers as the nation's largest living generation. Interestingly, 42% of them are of African-American, Asian-American and Hispanic heritage. This multicultural group is not only carving their own path, but also on the forefront of changing industries across the globe due to their cultural backgrounds, buying habits, aspirations, and more. They are especially changing entrepreneurship, leaving unparalleled trails for upcoming generations to follow in the land of opportunity.


With this profound group of Millennials now leading the nation in dynamic ways, RIZZARR was eager to have a conversation with some of them for our upcoming Millennials Change Event. We will be speaking with five of the most successful Millennial leaders and entrepreneurs from across the country who are pushing the multiculturalism movement forward.




These admirable Millennial include

:
-Edrizio De La Cruz, Co-Founder & CEO, Regalli (Keynote Speaker)
-Karen Goldfeder, VP Business Development, DoSomething.org
-Amanda E. Johnson, Co-Founder & Co-CEO, Mented Cosmetics
-Melissa Adeyemo, Independent Film Producer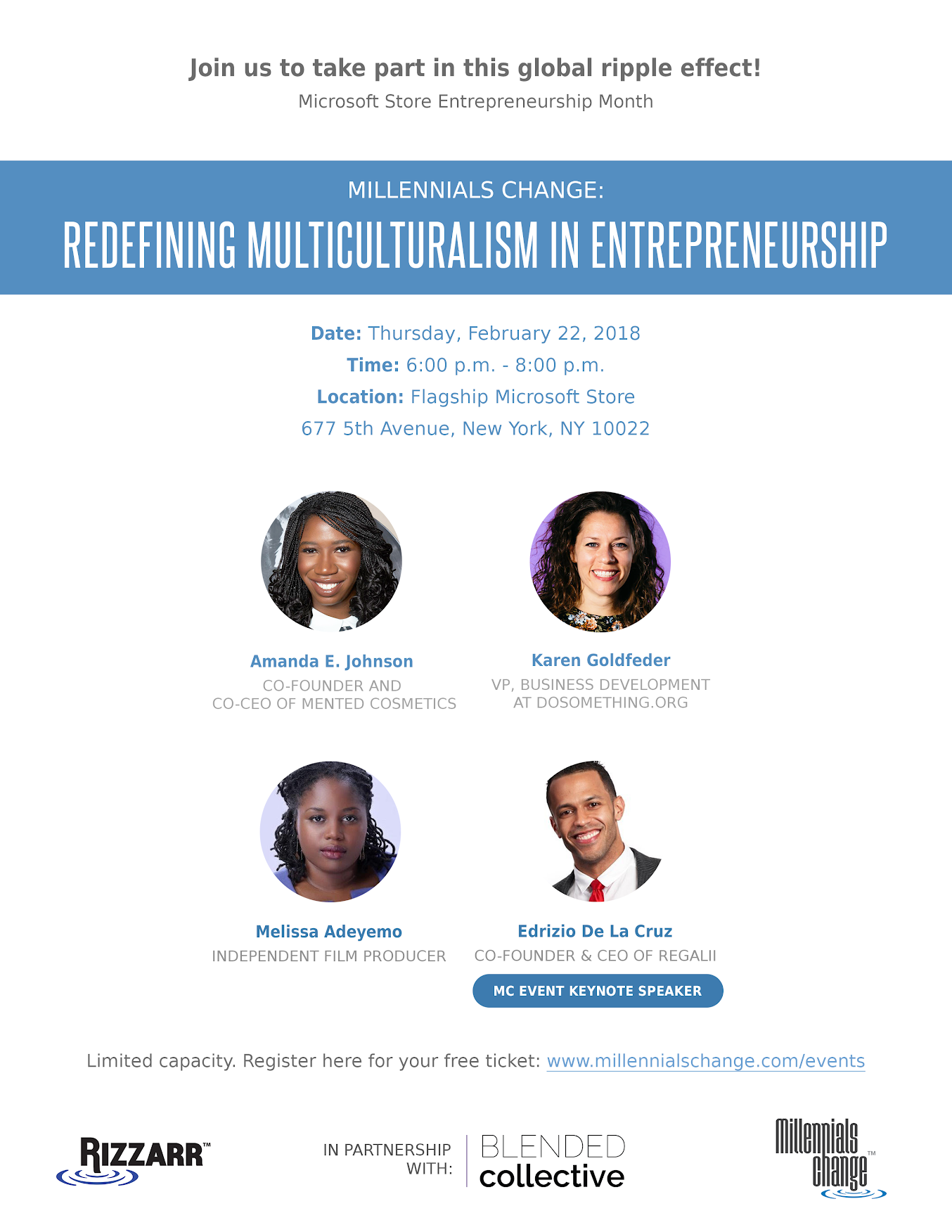 Please join us for this enlightening and empowering discussion! We look forward to seeing you!




---
About RIZZARR's partner: Blended Collective is a multicultural marketing & branding company where Authenticity, Culture, and Diversity define the core of who we are and what we do. Our services include a wide array of Brand Development & Management, Digital Marketing, and Content Strategy. We believe that consumers connect with brands the same way they connect with people. By aligning brand strategy with consumer experience, brands remain authentic and relevant as they evolve. Make sure to follow Blended Collective on Instagram, Facebook, Twitter and LinkedIn.