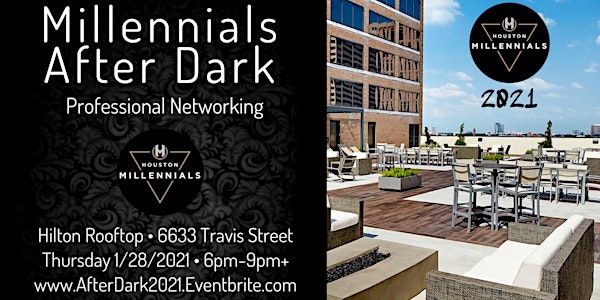 Millennials After Dark Professional Networking @ Hilton Rooftop
In an extravagant open-air rooftop, we come back to our most popular and wanted networking events - Millennials After Dark at the Hilton
When and where
Location
Hilton Rooftop Bar 9 Venue 6633 Travis Street 9th Floor Pool Houston, TX 77030
Refund Policy
Contact the organizer to request a refund.
Eventbrite's fee is nonrefundable.
About this event
Millennials After Dark
Professional Premium Networking
RSVP required, Limited Tickets
www.afterdark2021.eventbrite.com
#SeeYouaAtTheTop
In an extravagant open-air rooftop, we come back to our most popular and wanted networking events - Millennials After Dark at the Hilton Rooftop. The exotic location and style of the event brought about the most memorable experiences in 2019, as voted per a national poll, but with new modern fire pits, dainty furniture, and more attention to detail and service, we plan the comeback in 2021.
As the biggest transfer of power and money is happening right in front of us now, come meet & greet the new and current wave of movers and shakers in the Greater Houston Area from very diverse industries. From influential connections, to interactive photo-booths, drinks, selfies, surprises and top tier professionals. Join an evening of premium networking in an iconic building! Arrive early and expect traffic like last time.
*Due to COVID-19, this event is now a private function with STRICT LIMITED TICKTING. Masks and temperature checks are asked or provided at the door. You MUST have a RSVP ticket to enter the event as it will also serve as a waiver. As the new generation shaking it up in town with massive responsibilities, we can safely and responsibly network as it is an essential part to our professional growth.
WHO: Houston Millennials
WHAT: Professional Premium Networking
WHEN: Thursday, January 28, 2020
WHERE: Hilton Medical Center Hotel
ADDRESS: 6633 Travis Street, 9th floor
TIME: 6pm - 9pm+
PARKING: $15Paid valet/$7garage, free street
ADDITIONAL: Happy Hour during event
TICKETS: General, VIP, STAR & Vendor
SPONSORSHIP OPP: Contact POC
POINT OF CONTACT (POC):
Ivan (832)713-4577
PARTNERS & FEATURES: (so far)
Happy hour during event (15% off)
Temp checks & mask required at entry
Multiple Professional photographers
Millennial DJ Nathaniel Red
Exclusive photographer and bar for VIP
2x Selfie Photobooths - HALO ring light & Gif photo booth
Main Bar & 2 satellite bars with Credit Card capabilities at all – NO drink tickets
GENERAL, VIP, STAR tickets
Additional valet drivers for the event night (2-3)
Free Drink Savers with your name
2 Parking spots at front of hotel for exotic cars
Extra staffing of bartenders and banquet staff
Elected Officials & Business Leaders
more coming soon
SPECIAL THANKS/VENDORS:
Hilton Hotel & Bar 9
DJ Nathaniel Red
Modern Ink Gallery
Gold Quest Group - Real Estate Lender
Parodi Group Investors & Wholesalers
J Raphael Photography
TICKETING:
GENERAL $20: general entrance to rooftop bar private event. Complimentary tickets for the Holidays! (Resume Dec 28)
VIP $40: VIP private section and photographer. Includes food and 1 drink.
STAR $160: VIP entrance and table per 4 people – VIP, reserved table, food & 1 free drink. Only 4 available.
ENDOR options available: www.afterdark2021.eventbrite.com
EVENTBRITE RSVP & SPONSORSHIP:
www.afterdark2021.eventbrite.com
NETWORK
Millennials now make up the strongest and largest purchasing power the United States 🇺🇸 and the world has ever seen.
The future that millennials forge everyday is unconventional, and so are the ways millennials network and relate.
We are now changing the world. We are company owners, lawyers, surgeons, activist, students, social media influencers, entrepreneurs, energy professionals, investors, rocket scientists, teachers, tech geeks, and elected officials. But we are still much more than a suit.
It is because of that exciting nature of this networking event that, on day one of its creation, the RSVPs came in by the hundreds!
We invite you to connect with us. Bring your business cards and social media ready to connect yourselves with Houston's most ambitious professionals.
If you have a Houston Millennials lapel pin, make sure to wear it
EVENT FAQs:
MUST have mask (or we can provide one)
RSVP via Eventbrite
All ages welcome (21+ ID's will be checked by HPD)
Please drink responsibly
Use of Uber or Lyft encouraged
Wear your HM Lapel Pin
No dress code, just remember first impressions are everything!
ABOUT US
We are a Nationally Awarded Organization that promotes Millennial advancement. We function through an Executive Board and 6 Standing Committees.
JOIN-ABLE COMMITTEES:
• Membership & Networking
• Civic Engagement & Politics
• Communications & Social Media
• Business & Procurement
• Community Outreach & Volunteer
HOW TO GET INVOLVED:
LIKE THE PAGE:
www.facebook.com/HoustonMillennials
JOIN THE GROUP:
www.facebook.com/groups/HoustonMillennials
COMMITTEE FUNCTIONS:
• Membership & Networking: Recruits & retains membership and organize After Dark social networking events
• Civic Engagement & Politics: Educates millennials to run for public office, GOTV efforts, and candidate forums
• Communications & Social Media: Use technology to mass communicate & keep our social media on point
• Business & Procurement: Career growing events & tips and how generate a respected circle of millennial businesses
• Community Outreach & Volunteer: Charity work in local community and partner in giving back situation and organizations
HM's GOALS
• Embrace our generation
• Maximize influence & impact
• Act for Millennial interest
• To assist millennials network
• Develop talent and abilities
• Help millennials achieve their goals
• Provide a unified millennial voice
• Identify and elevate the next wave of leaders
SHARE TO GROW
Embrace your generation and social media. Share this event and help bring awareness, your friends, and more younger professionals that need the opportunity. We are not here to exploit each other, hence the event is free. The connections are real, the drinks are on you.