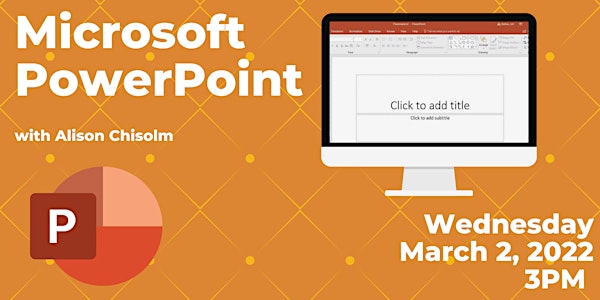 Microsoft Suite: PowerPoint
PowerPoint with Alison Chisolm
Date and time
Wednesday, March 2, 2022 · 12 - 1pm PST
About this event
About this Event
Everyone should understand how to use at least one presentation software well. PowerPoint is the OG of the group – it came before Keynote, Slides and Canva. It does everything they do and much more than you probably know. Plus it's part of the Microsoft Office Suite so you probably have easy access to it and can use it in conjunction with Word and Excel. So what are you waiting for? Come find out the tips and tricks that will make your next presentation wow them! We'll cover the tips and tricks for basics like layout and design, plus some more advanced things likes transitions, animations, rehearse, and record. Get your answers for FREE and skip the Google search!
About Alison Chisolm
Alison Chisolm is an entrepreneur, teacher and coach. Right now, she is the co-owner of a software company as well as the director for the workforce development and entrepreneurship programs at River Valley Community College. She mastered PowerPoint back in the 90s and has never looked back. Yes, she uses other presentation software too, but when the chips are down, she depends on PowerPoint. She can teach you the basics as well as tips, tricks, and shortcuts that will make producing a stellar presentation easy peasy.
This workshop is presented in partnership with River Valley Community College, Coös Economic Development Corporation and is made possible by NCIC with support from CDFI and funded in part through a grant with the U.S. Small Business  Administration.
About the organizer
Celebrating over 20 years of local impact, Grafton Regional Development Corporation (Grafton RDC) is a 501(c)3 non-profit organization dedicated to supporting our business community and the economic development goals of the 39 municipalities we serve.
Our mission is simple: to strengthen local businesses and communities, grow the economy, and foster community support networks that create jobs and build wealth within Grafton County.
Among the many partnerships we've developed, Grafton RDC supports startups and growing businesses through our two business incubators, the Enterprise Center at Plymouth and the Dartmouth Regional Technology Center - a partnership with North Country Council, Dartmouth College and the NH Division of Economic Development.