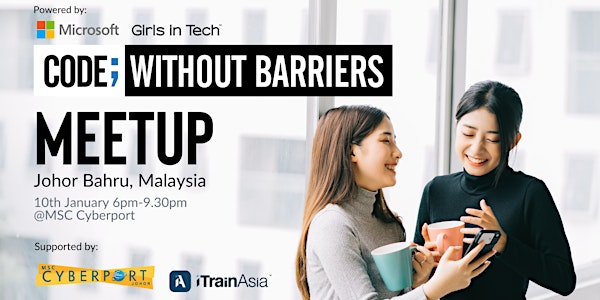 Microsoft and Girls in Tech present - Code; Without Barriers Meetup Johor
Microsoft and Girls in Tech comes together to address the gender gap in tech through the Code; Without Barriers Meetup in Johor
When and where
Date and time
Tuesday, January 10 · 5:30 - 9pm +08
Location
MSC Cyberport MSC Cyberport Tower, Level 30, No, 5, Jalan Bukit Meldrum, 80300 Johor Bahru, Johor Johor Bahru, Johor Bahru 80300 Malaysia
About this event
Technology continues to have a growing impact on every person and organization. Yet gender and minority gaps continue to exist in the tech industry, limiting the potential for more inclusive innovations. To drive a change, Microsoft in collaboration with Girls in Tech APAC is launching its Code; Without Barriers meetup program to foster more diversity and inclusion in the developer community and beyond. The meetup is created to provide a platform to support, mentor, upskill and increase the exposure of women in their tech community.
Agenda (subject to change)
6:00pm - 7.30pm   Registration, refreshments and networking ​**(Muslim can perform their prayer from 7.15pm to 7.30pm)
7:30pm - 7:40pm   Introduction by Cyberport
7:40pm - 7:50pm   Introduction by Girls in Tech
7:50pm - 8:00pm   Introduction by Microsoft
8:00pm - 8:30pm    Sharing session by Power Platform Technical Specialist @ Microsoft Asia Pacific, Le Shin Lim - Power Platforms and Automation
8:30pm - 9:00pm   Sharing Session by Chief Technology Officer @ Cybersolution Technologies Sdn. Bhd., Arina Binti Ramlee - RPA Design & Strategy For Digital Transformation
9:00pm - 9:30pm   Closing Q&A, Next Steps and Group Photo
Audience
Girls in Tech Members
Computer Science students
Open Source Dev Community
Startup owners and tech enthusiasts
Anyone who wants to support a more inclusive tech space
Speakers
Arina Binti Ramlee - Arina is an avid developer and speaker. She is currently the CTO of Cybersolution Technologies. Prior to that, she was the Software Development Engineer in Test for Microsoft Corporation in Redmond, Washington for 7 years and back to Malaysia via TalentCorp initiatives. She brings with her a Global Corporate experience in Software Testing teamwork culture as well as outsourcing services in software assurance, quality control, system architecture analysis and Intellectual Property valuation. A software engineering graduate of University of Washington, Seattle, she is also an ISTQB certifiedtester (CTFL and CTAL) and Microsoft Certified Professional (MCP). She actively provides consultation services to incubators and start-ups as well as critical enterprise-wide software development and deployment.
Le Shin Lim - Power Platform Technical Specialist @ Microsoft Asia Pacific https://www.linkedin.com/in/le-shin-lim/
ABOUT GIRLS IN TECH
Founded in 2007 by Adriana Gascoigne, Girls in Tech is a nonprofit organization dedicated to eliminating the gender gap in tech. We have more than 60,000 members in 50+ chapters around the world.
Girls in Tech started with an idea: There is a strong, smart and outspoken girl within all of us. We exist to make sure that girl is heard. Because when every voice, every perspective, every personality is honored and respected, we do better work and live richer lives. At Girls in Tech, we are passionate about inclusivity, because we know that tech today requires people of all skills and backgrounds. Whether you're a data analyst, a creative, a strategist, an entrepreneur or a coder, you are needed.
To learn more about Code; Without Barriers, visit: https://aka.ms/AboutCWB and to join the community: http://aka.ms/CodeWithoutBarriers
JOIN US!
Interested in joining our community? Let's join forces! Click this link to become a member.
As a member, you'll have access to in-person and virtual events and workshops designed to help you grow professionally and personally. Plus, find a mentor, build meaningful relationships, and take advantage of our opportunities to find a job that's right for you.
Please note that this event will be filmed and photographs are being taken for the purposes of producing future online materials for Girls in Tech. By registering for the event or entering the event premises, you hereby acknowledge and consent to these recordings.
About the organizer
iTrain Asia Pte. Ltd. with its headquarters in Singapore is a Digital Tech Certification Exam Body registered with IMDA - Info-communications Media Development Authority of Singapore (formally known as IDA Singapore) that provides latest digital tech certification exams, course materials and also trainings via its Authorised Training Partners (ATP). Its certifications are currently being rolled out to Individuals, Corporates and also Universities throughout 26 countries in Asia.
iTrain Asia has trained and certified more than 50,000 candidates to date.
Digital Tech Certification Exam Portfolio:
1) ANDROID CERTIFIED ASSOCIATE DEVELOPER (ACAD)
2) IOS CERTIFIED ASSOCIATE DEVELOPER (ICAD)
3) BLOCKCHAIN CERTIFIED ASSOCIATE DEVELOPER (BCAD)
4) CERTIFIED DATA SCIENCE SPECIALIST (CDSS)
5) CERTIFIED IOT SPECIALIST (CIoTS)
6) CERTIFIED DIGITAL MARKETING SPECIALIST (CDMS)
7) CERTIFIED CYBER SECURITY SPECIALIST (CCSS)
8) MACHINE LEARNING CERTIFICATE (MLC)
9) DEEP LEARNING WITH NVIDIA GPUS CERTIFICATE (DLC)
10) CERTIFIED PYTHON PROGRAMMER for DATA SCIENCE (CPPDS)
11) CERTIFIED R PROGRAMMER for DATA SCIENCE (CRPDS)
12) FINTECH FOUNDATION CERTIFICATE (FFC)