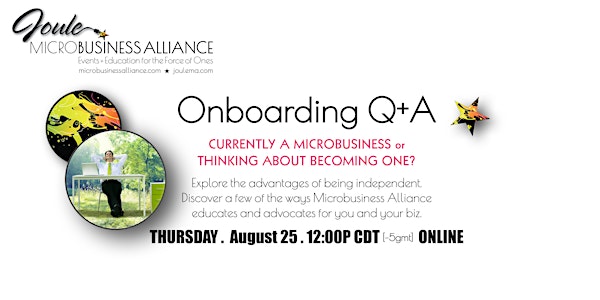 MICROBUSINESS ALLIANCE . Onboarding Q+A
Have or Want an Independent Lifstyle? THIS IS FOR YOU. Learn how Microbusiness Alliance educates and advocates for you and your biz
About this event
Onboarding Q+A
CURRENTLY A MICROBUSINESS or THINKING ABOUT BECOMING ONE?
Thursday . August 25 . 12:00P CDT [-5gmt] . ONLINE
Explore the advantages of being independent. Discover a few of the ways Microbusiness Alliance educates and advocates for you and your biz.
What's a Microbusiness?
A single digit firm of fewer than ten. Most of us are a force of one.
We're also known as a Startup, Side Hustle, Nonprofit, Independent Contractor, Self Employed and Entrepreneur.
Sneak a peek at shocking stats from our soon to be published Microbusiness White Paper.
Have a fresh look at the many advantages of Microbusiness and an Alliance membership.
Take a guided tour of the featues at your fingertips and benefits you can use every day.
Get all of your questions answered along the way.
No hard sell. We'd rather inspire than convince you.
If you're a Microbusiness or thinking about it – this is for you!
COST: First visit? Come as our guest. Members always complimentary.
Microbusiness is a lifestyle and livelihood that connects us no matter where we live. Since 2010 Joule has introduced and connected thousands of Microbusinesses. We've welcomed Micros from London, Bangladesh, New York, California, Texas, Florida, Minnesota, and more – across the street, the nation and the globe in person and online.
Reviews:
They really understand the challenges of being a business of one. Mario - NY
Being independent has actually given me a more secure future. Jessie - CA
This community supports each of us and advocates for all of us. Serena - GA
Having something in common makes meeting other members easy. Kris - MN
Hosted by Joule Microbusiness Alliance.