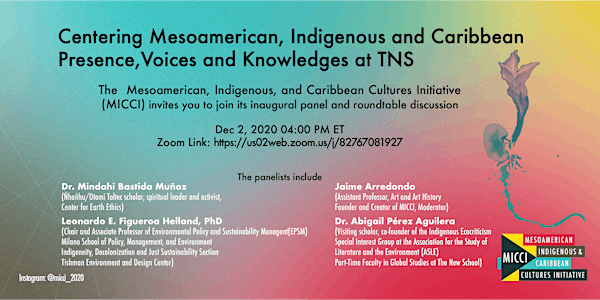 MICCI's Inauguration and Roundtable Discussion
Please join us on December 2 , where we will be having a soft launch and introduction of our team at MICCI
About this event
The Mesoamerican, Indigenous, and Caribbean Cultures Initative (MICCI) invites you to join its inagural panel and roundtable discussion on why it is indispensable, timely, and indeed urgent for us to center and amplify the presence, voices, and knowledges of Mesoamerican, Indigenous, and Caribbean peoples acrosse university spaces today.
Our panelist, who will be having an invoking discussion covering some of these topics and the purpose behind MICCI, are: Jaime Arredondo, Leonardo Figueroa Helland, Abigail Perez Aguilera, Mindahi Bostida, Anya Andrews, and Vanessa Xelo.
We hope to see you all at our event to learn more about MICCI and the work that our incredible team has been doing!
Zoom link to our event: https://us02web.zoom.us/j/82767081927