Description
In collaboration with Miami's cryptocurrency and blockchain groups, BlokTech presents the first ever Miami Blockchain Hackathon, the official opening ceremony for the Mining Disrupt Conference 2019. Become apart of movement toward decentralization and better transparency.

Create a socially-conscious app or eco-friendly program relating to cryptocurrency mining within 24 hours.

Interested in becoming apart of Hackathon? Register your team by emailing us at miami@bloktech.network or robin@bloktech.network.

The winners will be announced at the Mining Disrupt Conference.
The Prize: TBA
Location: THE LAB MIAMI

Rules of Engagement: All participants must register as a team as detailed in this event description. All teams must have a team name and the legal names of the team members. Valid ID may be required to claim the prize. Free team entry into the competition. Teams must create an app or program relating to cryptocurrency mining within 24 hours or less.

SCHEDULE
6:00pm - Doors Open / Registration / Networking
6:30pm - Opening Remarks / Commencement of Hackathon
9:30pm - Closing Remarks / Post-Event Networking

POST-EVENT NETWORKING
After the Miami Blockchain Hackathon, celebrate with a hard cold beer and drinks at the J. Wakefield Brewery. A few minutes of walking through the beautiful Art District of Wynwood. Winners get drinks* on the house.

Location: J. Wakefield Brewery (120 NW 24th St, Miami)
*must be 21+ years old with valid government ID.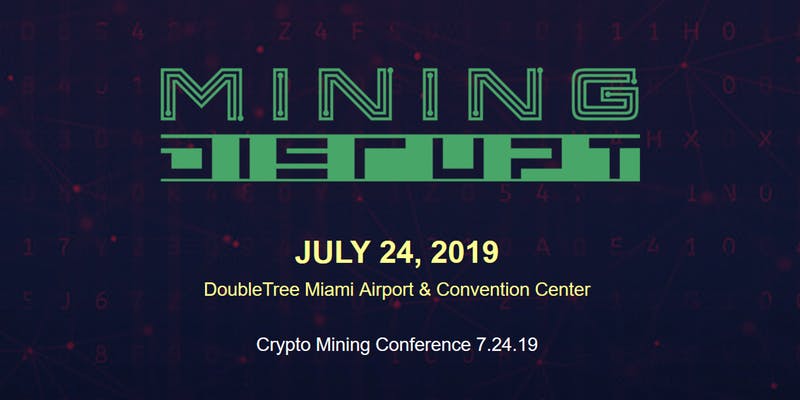 MINING DISRUPT CONFERENCE 2019
MDC organizes the premier digital asset event in the US on July 24, 2019 in Miami, Florida, where we explore the mining and disruptive blockchain economy in-depth. We are shining a light on the global developments of this new asset class, while taking a unique and widening perspective on the token industry and its opportunities.

TICKETS: www.miningdisruptconference.eventbrite.com

Meet the pioneers, the early believers, highly influential and established opinion leaders. MDC will welcome more than 1,000 entrepreneurs, investors, developers, industry enthusiasts and global media to Miami for two productive and insightful networking days.

Visit our official website www.miningdisrupt.com or join the discussion with others before the conference begins at www.t.me/MiningDisrupt