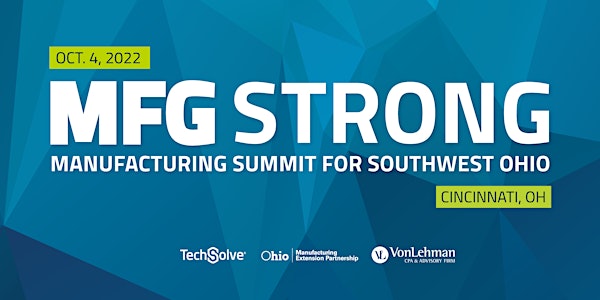 MFG Strong 2022: Robotics & Automation
Join us for the premier workforce summit for manufacturers in Southwest Ohio.
When and where
Location
TechSolve, Inc 6705 Steger Drive Cincinnati, OH 45237
About this event
MFG Strong is the premier manufacturing summit for Southwest Ohio. Created by TechSolve, this event provides information on critical resources that our manufacturers need now to drive industry advancement in the United States. Rotating topics and themes annually allow MFG Strong to make resources more accessible to support sustainable growth, increase competitiveness, and boost Ohio's manufacturing into the future.
2022 Theme: Robotics and Automation
With focus on robotics and automation, 2022 MFG STRONG will take a strategic look at how manufacturers can do work easier, faster, and more accurately than ever before. Whether you are new to the topic or have already started your digital transformation, MFG STRONG is a highly valuable experience with features from trusted industry partners.
During this immersive, half day event, hear from specialized experts as they share their insights on technology adoption readiness, scalable technology solutions, KPI and data management, and funding opportunities that make automation solutions more accessible for your business. You will also experience the capabilities of robots and data acquisition in real-time at TechSolve's M. Eugene Merchant Technology Development Center.
Event Schedule:
11:30 AM – 11:55 AM (25 min) - Check-In and Pick Up Lunch
12:00 PM - 12:10 PM – (10 min) - Welcome Message, David Linger ​
12:10 PM – 1:00 PM (40 min) – LEAN for Automation, TechSolve
10-minute break​
1:00 PM – 1:40 PM (40 min) – Ready to Automate, Now What?, KC Robotics
5-minute break
1:45 PM – 2:25 PM (40 min) – How Manufacturers Can Automate with Zero Capital and Performance Guaranteed, Formic
10-minute break​
2:35 PM – 3:35 PM (60 min) – Manufacturing Panel Discussion
5-minute break​
3:40 PM – 4:50 PM (70 min), Break Out – Tech Demo, Data Acquisition & Machine Utilization Presentation, Juxtum
4:50 PM – 5:05 PM (15 min) – Technology & Training Funding Resources, TechSolve
5:05 PM – 5:10 PM (5 min) – Closing Session and Grand Prize Giveaway, TechSolve
5:10 PM – Happy Hour Start
Ticket Price:
Individual: $80.00
Bundled (2 or more): $72.00
Thank you to our event sponsors!
Ohio Manufacturing Extension Partnership
VonLehman