A "Memory Parlor" devoted to undersold stories of the movement towards equality
About this event
2021 marks the 100th anniversary of the unveiling of an important monument to equality and human rights: the Portrait Monument to the Suffrage Pioneers (Lucretia Mott, Susan B. Anthony and Elizabeth Cady Stanton). The monument was sculpted by Adelaide Johnson (1859-1955) and completed in 1920. It was unveiled in the Rotunda of the U.S. Capitol on February 15, 1921 to mark the passage of the 19th Amendment which granted U.S. women the right to vote. The placement of women in the U.S. Capitol - symbolizing the central involvement of women in the political process - had been a goal of Johnson's in the early 1890s. It took her almost 30 years to achieve this vision.
It was in a "Suffrage Parlor" in Washington D.C. in 1886 when Adelaide Johnson, at the suggestion of a friend, first decided to sculpt Susan B. Anthony. "A "Memory Parlor" is a nod to the earlier "Suffrage Parlors" and to the recognition that we need spaces to cultivate our understanding of history. Memory Parlors are inspired by the Lyceum Movements of the 19th Century, in both the U.S. and Europe. These adult education movements allowed for "social intercourse and the exchange of intellectual products."
At this inaugural Memory Parlor, Sandra Weber, foremost expert on the Adelaide Johnson's Portrait Monument, and author of "The Woman Suffrage Statue" discusses the forces that compelled her to research Johnson's monument; Candice Russell and Hope Elizabeth May discuss their involvement in creating a replica of the statue (on display at Art Reach) as a means of stimulating dialogue and reflection through which the connection between the past and the present is brought Forward into Light; and Dr. Nikita Murry discusses how this statue helps us form a more inclusive public memory.
The Cora di Brazzà Foundation, in partnership with Art Reach of Mid-Michigan creates this 2021 Memory Parlor as part of the Foundation's "Forward into Light" initiative which focuses on the linkages between the Women's Suffrage movement and the Peace Through Law Movement.
For more details visit memoryparlor.com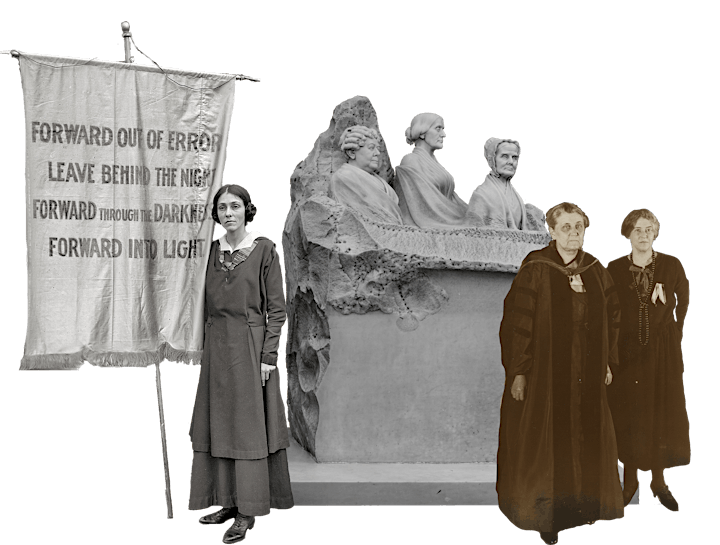 Organizer of Memory Parlor Commemorating Women's Equality Day