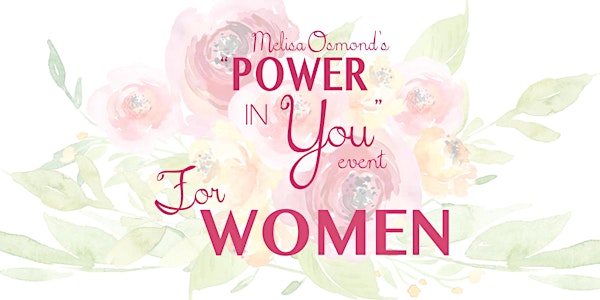 Melisa Osmond's Power In You - March 26, 2022
We are so excited for "Melisa Osmond's Power In You Event" for Women!!! Get your tickets soon. They will sell out fast!!!!
When and where
Location
TalonsCove Golf Club 2220 South TalonsCove Drive Saratoga Springs, UT 84045
About this event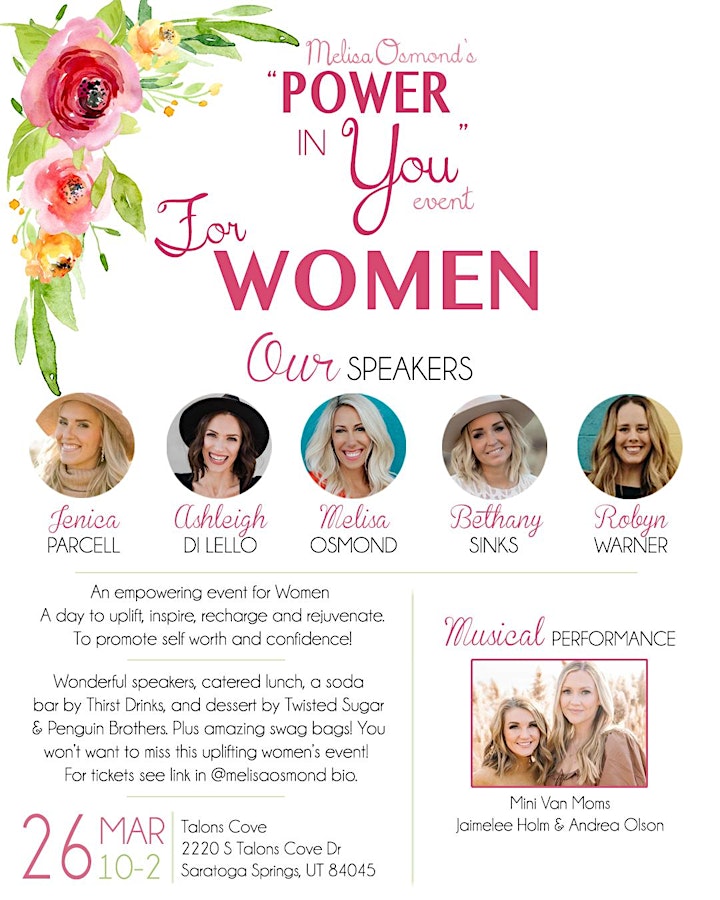 I'm so excited for our first "Melisa Osmond's Power In You Event" for WOMEN!
My previous sold-out events have been a mother/daughter event. I have received so many requests to put together an empowering event for women. So I am so excited to announce my first event specifically for all adult women 18+.
With the last several events we have been able to empower hundreds of women with teen and tween daughters and granddaughters. This event will empower all women from early college years to empty nesters and everything in between. This includes moms that have only had boys or if you have never had children. This is for ALL women in all seasons of life.
Our speakers represent all the seasons of life that women find themselves in. This includes single women in early adulthood discovering their identity as well as young moms starting a family and juggling emotional challenges that inevitably come with young children and difficult times. Or women raising teenagers and all the emotional rollercoasters involved with that stage in life as well as women in their empty nester years wondering what to do now that your kids are grown! You will learn tools and be empowered in whatever stage of life you are in, experience emotional healing, and learn skills for overcoming obstacles in your life.
We will speak on embracing power to overcome infertility, power of emotional healing and mindset, overcoming anxiety, power of embracing your self worth, power of finding YOU in your grandmother years and preparing for all seasons of your life. We will have the great opportunity to hear from an assault victim and find the power in overcoming physically and emotionally challenging events in your life and finding the power and tools in self defense, physically and emotionally. We will also be honored to have an amazing musical performance from the Mini Van Moms.
Because all women need a day, a day to build self worth, self confidence and self positivity. Ultimately, all women need a day to find the "Power In You''!!!! Come to this event ready to recharge and feel empowered, inspired by the brilliant line up.
The speakers are absolutely amazing and I am so proud to be speaking alongside the following amazing women:I'm so excited for our first "Melisa Osmond's Power In You Event" for WOMEN!
The speakers are absolutely amazing and I am so proud to be speaking along side the following amazing women:
Melisa Osmond - Mother of 3, Founder of "Power In You Event", Entrepreneur, Public Speaker, TV Contributor, Youth Advocate
Jenica Parcell - Mother of 2, Infertility Life Coach, Podcast Host, Public Speaker
Bethany Sinks - Mother of 4, Grandma of 3, podcaster, home interior blogger, Public Speaker, Uplift Retreat Creator
Robyn Warner - Mother of 4, Talk Show Host, Assault Warrior, Entrepreneur, Founder of S.A.F.E. by Robyn
Ashleigh Dilello - Mother, Mind Coach, and Creator of Bio Emotional Healing®
Jamie Lee Holm & Andrea Olson - Sisters, Recording Artists, Known as The Mini Van Moms, They got their first record deal at 17 and have traveled the world touring and performing.
We will share on power of kindness, power in loving you, power in positivity, and power in staying strong. We will share on the power tools to use when life is hard. This will be amazing for you. The tools will help inspire you and teach you how to navigate how to handle all of the feelings and emotional hardships women have. You are going to be in heaven!!!! My goal is to make every woman feel like a Queen. Self love is the perfect way to spend the day.
We will have an amazing catered lunch, dessert, and soda bar (included with all tickets)
And delicious refreshments from:
Soda Bar from Thirst Drinks
Desserts and treats from Ruby Snap & Twisted Sugar
Ice Cream Bar by Penguin Brothers
Of course everyone will take home the most incredible swag bag ever created. It's literally full of amazing brands and products, and so much more!!
All the items in this amazing swag bag are from brands that all share in the belief to uplift and strengthen ourselves. We all share one common goal, to find the Power In You!!
and MANY more!!
One thing I know for sure is no one's life is perfect. There is power in uniting and power in sharing and so much power knowing you are not alone through the hardships of life. There are many trials, but so much joy too. We will share the good and find that "Power in You" to always hold on to!
This is for every Woman out there. Grab your mom, your grandma, your sisters, your girlfriends and come be inspired and empowered. This is the perfect Christmas gift! You don't want to miss this. I can't wait to meet you and see you there.
Love, Melisa XOXOXO
Doors Will Open at 9:30am and The Event will begin at 10:00am! Get Ready to have the most uplifting, fun, and Inspiring day!
Reviews:
"Power in You" was everything I needed and more! This event changed my mindset and I left feeling so empowered, beautiful, and strong! I took so many notes that I use everyday now. It was amazing and I would definitely go again!" -Sarah Arkell
"Loved this time together to listen to uplifting messages...be sure to head over to @melisaosmond for information for her next event, such a fun day." -Caroline Armelle
"Today I had the pleasure of attending the power in you event, that Melisa Osmond was the mastermind behind and organized. Their message of self worth and the power we all have inside us, didn't leave a dry eye in the house." -Brittnay Hale