Description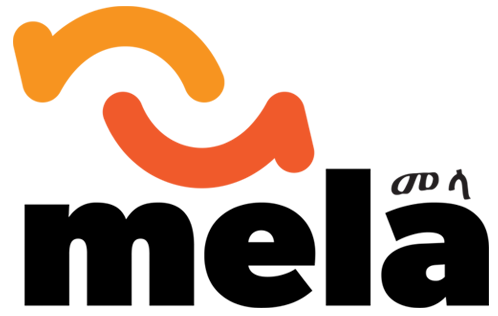 African Diaspora, within the continent and living abroad as well as all citizens can now seamlessly pay for bills with Mela – the Kifiya remittance payment platform in partnership with Mastercard.
Mela is a digital remit to pay platform for Africans living abroad, enabling them to pay for utility bills, school fees, health insurance, bereavement contribution, airtime to up and other household expenditure to their loved ones back home.
Kifiya and Mastercard cordially invites you to celebrate the official U.S. launch for Mela on Saturday, December 9th 2017 at 4pm in Arlington, VA. The event will launch the service allowing firsthand experience and feature a panel moderated by Solomon Kassa, Senior Tech Consultant, Producer/Host of TechTalk With Solomon on EBS, and Mela Brand Ambassador.
Guest will also enjoy beer and wine refreshments and delicious appetizers while listening to jazz entertainment by local band, Kino Musica and Special Guest Comedian Meskerem Bekele.
Come out, learn and network with fellow professionals looking for better financial solutions in Africa.
Event Details:
Mela Official U.S. Launch Event
Date: Saturday, December 9th 2017
Time: 4:00pm-7:00pm
Location: Applied Predictive Technologies 4250 N. Fairfax Dr. Suite 1100 (11th floor) Arlington, VA 22203
Dress: Techy Casual & Business Attire
Street & Garage Parking Available
Event Hashtag: #MelaLaunch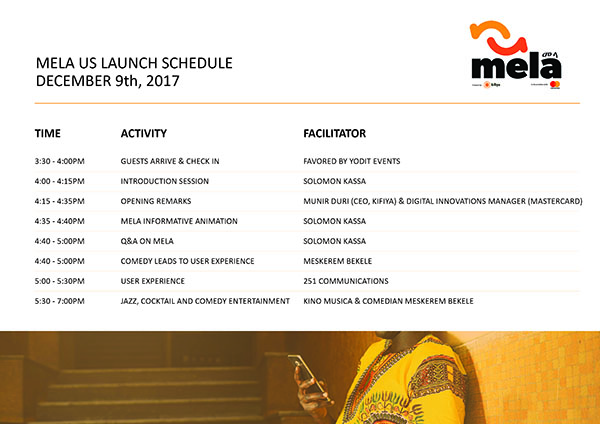 1. Log on to www.melapay.com
2. Enter the unique customer number reflected on the bill i.e. telephone, water and electricity.
3. The current balance due will be immediately available.
4. Click pay and enter your card details – including account number, expiry date of card and the CVV number
from the back of the card and click pay and checkout.
5. Confirmation message will be sent via email to the payer or can print receipts depending on your choice
and the payee will receive SMS message
6. Logout
Kifiya Financial Technology is a digital finance and payment services' provider which leverages innovative technology to build and enable distribution channels that make financial and non-financial services affordable and accessible. For more information on Kifiya visit: http://www.kifiya.com/