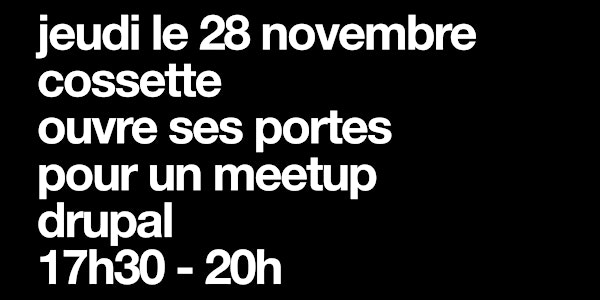 Meetup Drupal chez Cossette (Novembre 2019)
Le 28 novembre, retrouvez nous à Cossette pour parler de Web Decoupled avec Drupal et d'autres technologies !
When and where
Location
Cossette 2100 Rue Drummond Montréal, QC H3G 1X1 Canada
About this event
Le 28 novembre, nous nous retrouvons chez Cossette pour un meetup Drupal avec 3 présentations de 15 min chacune à propos du web découplé avec Drupal (mais pas que).
Rejoignez nous à Cossette dès 17h30 pour du réseautage et les présentations. De la nourriture et des rafraichissements seront proposés.
Au programme:
17h30 Accueil
18h Bienvenue de Cossette et présentation de Claire Desbois - Création d'un middleware avec le traitement des données venant de Drupal et d'ailleurs avec différents systèmes de création d'API: JSON API, REST, GraphQL (en français)
18h20 Albert Albana - Invalidation immédiate de la cache en utilisant les cache tags et démo du module Purge qui permet d'avertir d'autres systèmes dont varnish, cloudflare ou consommateurs découplés de nos données que les caches ont été invalidées. (En anglais ou en français en fonction de la demande du public présent)
18h40 Robert Ngo - Présentation d'une application React Native + Drupal 8 construite pour un réseau hospitalier majeur avec informations sur les vaccinations, rendu PDF, push notifications et cache offline avec une base locale SQLite (en anglais)
19h Discussion et réseautage.
__________________
On November 28, Cossette is hosting us for our upcoming Drupal meetup! There will be 3 presentations of 15 min each on the decoupled web with Drupal (and more!)
Join us at Cossette at 5:30 pm for networking and presentations. Food and refreshments will be served.
Here's the plan:
5:30PM: Doors open
6PM: Welcome to Cossette and presentation by Claire Desbois: Creation of a middleware with data processing from Drupal and elsewhere with different API creation systems: JSON API, REST, GraphQL (French)
6:20PM: Albert Albana - Immediate invalidation of the cache by using the cache tags and demo of the Purge module which allows the warning of other systems including varnish, cloudflare or decoupled consumers of our data that the caches have been invalidated. (In English or in French depending on the demand of the public present)
6:40PM: Robert Ngo - Presentation of a React Native + Drupal 8 application built for a major hospital network with information on vaccinations, PDF rendering, push notifications and offline cache with a SQLite local database (English)
7PM: Discussion and networking.
Looking forward to seeing you!