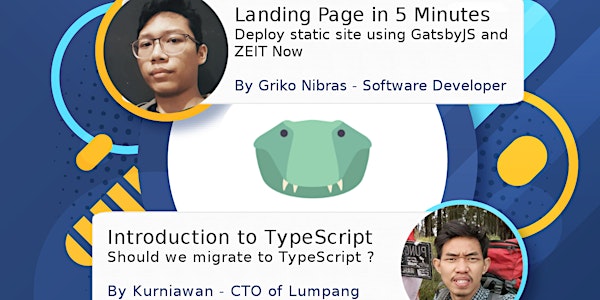 Meetup #2 - Introduction to Typescript and Landing Page in 5 Minutes
Meetup kali ini akan membahas tentang Static Site menggunakan GatsbyJS, Deployment ke Zeit Now, serta pengenalan dasar tentang TypeScript
When and where
Location
DILo Surabaya Kompleks AJBS Jalan Ratna No.14 Surabaya, Jawa Timur 60111 Indonesia
About this event
Hai hai warga Suroboyo, apik kabeh kan?
SurabayaJS akan mengadakan Meetup #2 yang mana meetup kali ini akan membahas tentang Static Site menggunakan GatsbyJS, Deployment ke Zeit Now, serta pengenalan dasar tentang TypeScript.
Penasaran dengan bahasan kali ini? Dunia teknologi udah berjalan jauh bray, jangan sampai kalian stuck di tempat dan ketinggalan jaman. Yukk mari buruan daftar dan jangan sampai kelewatan Meetup kali ini ya 🙂
Pemateri akan disampaikan oleh :
1. Griko Nibras (Software Developer)
Seorang Full Stack Developer yang sehari - hari nya suka ngulik Reactjs. Visit https://griko.id/
Materi : Landing Page in 5 Minutes (Static Site using GatsbyJS and deploy to Zeit Now)
2. Awan Kurniawan
Seorang Backend Developer dan Mobile Developer yang sekarang ini sedang bekerja di Lumpang sebagai CTO.
Materi: Introduction to TypeScript (Should we migrate to TypeScript?)
Banyak hal baru dan keren yang akan di sampaikan oleh pemateri kita yang keren keren ini. Ingat, teknologi terus berjalan dan jangan biarkan dirimu stuck di tempat 🙂
Informasi lengkap :
Hari dan Tanggal : Kamis, 20 Juni 2019
Pukul : 18.00 WIB - Selesai
Tempat : DILo Surabaya, Kompleks AJBS, Jl. Ratna No.14, Ngagel, Gedung Coneco, Kota SBY, Jawa Timur 60246
Jangan lupa join dan follow akun kita yaa, biar kalian tidak ketinggalan info terbaru dari kami :
Telegram : https://t.me/surabayajs
Instagram : https://www.instagram.com/surabaya.js