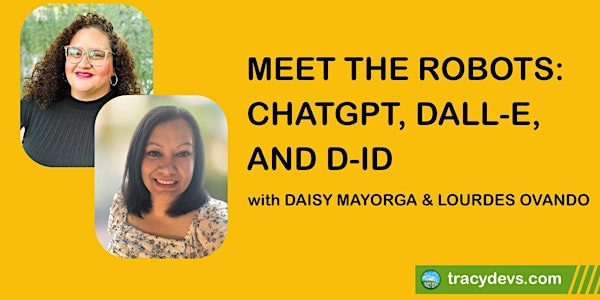 Meet the Robots: ChatGPT, DALL-E, and D-ID
Learn about the future of AI with ChatGPT, DALL-E, and D-ID at this event featuring Lourdes Ovando and Daisy Mayorga.
By Tracy Developer Meetup
Date and time
Friday, June 16 · 6 - 8pm PDT
Location
2311 N Tracy Blvd suite a 2311 North Tracy Boulevard #suite a Tracy, CA 95376
About this event
In this workshop designed especially for kids, you'll get an introduction to the world of AI and discover how ChatGPT, D-ID, and DALL-E work. Through interactive demos and exercises, you'll learn how AI can help us solve real-world problems and see how these technologies are changing the world around us. Whether you're new to AI or already a fan, this workshop is a great opportunity to learn and have fun.
Speaker(s)
Daisy Mayorga - Software Development Project Manager at Bitwise Industries
Lourdes Ovando - Business Intelligence Analyst in the Medical Industry
About Daisy Mayorga
I'm Daisy Mayorga, a passionate technologist and new co-founder of yüda, a company dedicated to Empowering Equity in Emerging Technologies. With my Bachelor of Science degree in Computer Science from California State University, Monterey Bay, and experience as a Google Developer Group organizer and Women Techmakers Ambassador, I've been a champion for inclusion and diversity in technology, working tirelessly to create a more equitable community.
As a project manager at Bitwise Industries, I oversaw multiple projects and ensured their successful completion. Additionally, I helped grow the training team and onboarded multiple project managers, furthering Bitwise's mission of empowering underrepresented communities through technology.
Prior to Bitwise, I spent 14 years at the world's largest winery, E & J Gallo Winery, where I gained extensive experience in manufacturing, distribution, training, media, Lean Six Sigma, safety, and development. Working in the industry, I got to experience first hand how the fourth industrial revolution shifted the job market in manufacturing to focus more on automation rather than manual labor.
I've also worked on award-winning technology projects, including the development of Spottr, a location scouting app for photographers. With a focus on creating a more equitable and just future through technology, I'm thrilled to join Yuda to drive change and empower underrepresented communities.
Personal Note: I was born in Honduras. Became a US Citizen at 18. I grew up in the Bay Area and moved to Modesto. I have a 6 year old daughter who is a fashion icon and my super hero.
About Lourdes Ovando
Lourdes Ovando is an experienced software engineer and data analyst with over a decade of expertise in the healthcare and higher education sectors. Currently serving as a business intelligence analyst, Lourdes is passionate about using data to drive meaningful insights and decision-making. As a Women Techmaker Ambassador, she is dedicated to inspiring and empowering other women to pursue careers in technology.
Location
WorkVine209
2311 North Tracy Blvd, Suite A, Tracy, CA 95376
Parking and Basic Information
The venue has plenty of no-cost parking. The event will be held in a conference room within the main building which can be found next to In-Shape.
About the organizer
This is a group for anyone interested in software development, whether that be web, mobile, or game development and everything in between.

We cover a very wide range of topics not specific to any particular programming technology. Some topics that might be covered include, but are not limited to, Node.js, PHP, Go, Angular, Vue.js, Docker, Unity3D, Internet of Things (IoT), Java, TypeScript, NativeScript, Android, and iOS.

The Tracy Developer Meetup is family friendly. All ages and skill levels are encouraged to come and participate.

The group is always looking for speakers. If you're interested in sharing something awesome with this group, shoot us a message