Meet, Mingle & Movie Screening of Taming Wild with the star, Elsa Sinclair...
Description
Horse Crazy Market presents Elsa Sinclair!
Internationally known Freedom Based Trainer, appearing in the Midwest for the very first time!
Elsa Sinclair is a professional horse trainer and instructor who brings to the horse world a unique and powerful perspective! Elsa's enthusiasm for developing human — equine partnerships so that they fully enjoy the process of learning and growing in the same direction was birthed from a simple question:
What if horses were given a choice? Would they let us ride them?
It all started with a question, that became a project, that became a crowdfunding campaign, that became a film, that became the "Freedom Based Training Program". Elsa spent a year on this journey with Myrnah, a five-year-old Mustang mare off the range. No tools, no ropes just the two of them and the language they developed together.
Come and meet Elsa, mingle, and watch the movie Taming Wild!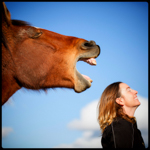 5:00 — 6:00 Mingle
6:00 — 7:30 Meet Elsa and Movie Screening of Taming Wild!
7:30 — 9:00 Questions, Brief Demonstration in the Leatherdale Arena
Complimentary hors d'oeuvres, wine and other beverages will be available throughout the evening.
Taming Wild will be available to purchase on Friday and Saturday at Leatherdale, or come back on Sunday to Horse Crazy Market at the Minnesota State Fair Colesium where Elsa will be spending the afternoon answering questions.
Portion of Proceeds are going to our Wild Partners!