The workshops last one day and will include 2 workshop sessions on two difficulty levels, each one 2.5h long (including some short breaks).
About this Event
UPD: To join the workshop please follow the link.
After registering, you will receive a confirmation email containing information about joining the meeting.
Meet IT Coding Workshops
The workshops will consist of mixture of teaching and problem solving. Each topic is accompanied with rich lists of problems that participants will tackle and discuss during the session.
Workshop on "Everything about Hashes" will be taught by Emilio Domínguez.
Workshop on "Dynamic Programming Optimizations" will be taught by Anton Tsypko.
This is a zoom event. You should already get an invitation in an email from the organizers. If you have any questions, you can reach the coordinator on pawel.burzynski@meetit.eu
Please note that the following times are in CET (GMT+1) time zone. Remember to check out your time zone.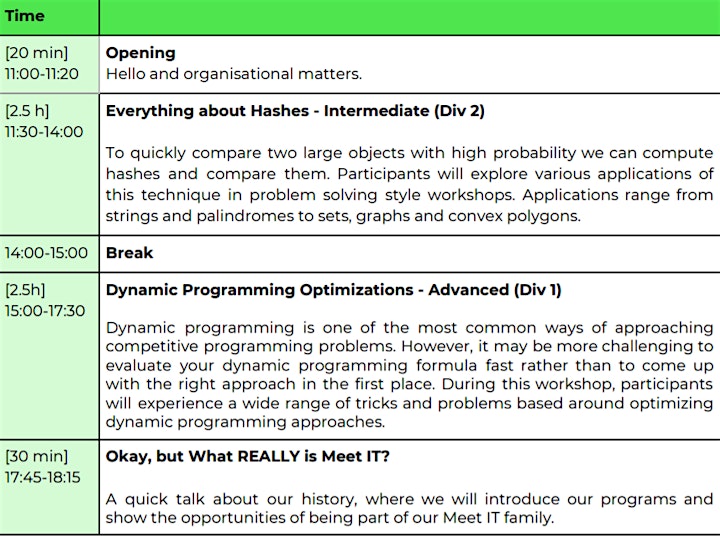 How Meet IT works?
We are a family of enthusiastic and motivated young people passionate about programming and mathematics. We build a community where people learn together, motivate and help each other.
Our values
We teamwork, not compete,
Active learning is more effective than passive,
We all work on the same goal: a better education for everyone,
We don't teach people; we show them how to discover by themselves,
We are curious, ask questions, and explore,
1 hour practicing is worth more than 10 hours watching someone else present how the work should be done
How to join?
To get to know more about what we do visit our website. To join the community and get notified about our events follow us on Facebook and join Meet IT family group.