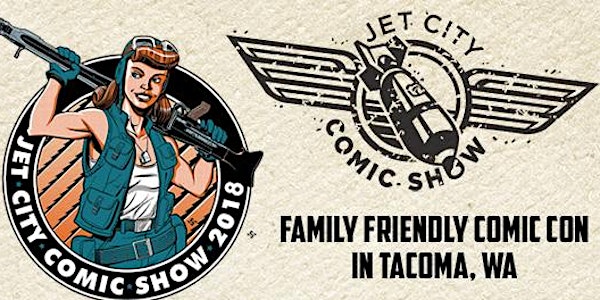 Meet Comics4Kids INC at JET CITY COMIC SHOW Nov 3-4 2018 Tacoma WA
When and where
Location
Greater Tacoma Convention & Trade Center 1500 Broadway Tacoma, WA 98402
Description
Comics4kids, Inc. will give out free comics to the kids and talk all things comics with parents, teachers, dealers, celebrities, and general do-gooders! We do not sell anything at shows! We will just give the kids comics for free!

Meet Comics4Kids INC - Dale & Spidey:
Comics4Kids INC will also grade and appraise comics, advise buyers and sellers, and accept donations!
Enjoy our 20% discount from CGC Grading fees when submitting books to be encapsulated! CGC Charter Member # 0063 (July 1999)

Dealers and Collectors donate us some comics for tax relief!

SHOP Comics4Kids INC store located at: 743 Broadway Tacoma WA at the MIDDLE FLOOR MERCHANTS of Sandford & Son Antiques! Open Fridays, Saturdays, and Sundays noon-5pm!

SATURDAY November 3rd and Sunday November 4th come in to the store and receive 50% off your entire purchase price! (Stack'em up! We have Posters 1977-present, Pulp Magazines 1933-1945, Toys 1966-2000, and Comic Books 1939 to Present!) Especially Venom, Deadpool, and Others we can't give to the kids!

Come say "Hi" to Tommy!

Your purchases at the store will help us buy comics for the reading library and many more kid friendly comics to give away for free!! We are a volunteer staff!


Please be sure to visit Perry Plush on the web at Zanaducomics.com ! You'll be glad you did!
Comics4Kids INC is a Pacific Northwest-based comic book reading Library and National non-profit literacy organization that has IRS 501 (c) 3 tax exemption status. EIN 20-2882260
Comics4kids INC collects donated comic books and then screens them and distributes to children for free. This is part of our mission to improve literacy and encourage imagination through comics. This is made possible by fundraising and generous donations made by our supporters. All contributions are welcome and essential to advancing our efforts!
Assisted by Vice President Damien Moore, Sgt. At Arms Mason Knox, First Vice President & Chief Executive Officer Heidi Spidey, Volunteer Coordinator Extraordinaire Anne Myrick, Treasurer Deborah Petri, and Vice President Jerry Sims, President & Chairman of the Board Dale Moore rounds out the literacy champions who are also Overstreet's Comic Book Price Guide Advisors and industry luminaries with over 100 years' cumulative experience in the field, having been readers, collectors, writers, artists, consultants to film (Ixtlan Entertainment), publishers (Green Pirate Press), store owners and everything in-between including two years as Grading Department's Quality Control Expert at Comics Guaranty LLC (CGC)
Comics4Kids INC is a recipient of a 2018 Bob Clampett Humanitarian Award !! Congratulations to our fellow recipient FREDERICK JOSEPH of The BLACK PANTHER CHALLENGE!! Check out his latest project(s) at www.wehavestories.org
https://www.comic-con.org/awards/bob-clampett-humanitarian-award
W E C A N ' T D O I T A L O N E !
Comics4kids INC
(206) 337 7436
comics4kids@aim.com
www.comics4kidsinc.org
The JCCS Story:
Jet City Comic Show began during a changing of comic book convention landscape 2009. As more Comic-Con's become more Hollywood driven and rising costs for fans and vendors, JCCS was started to put the focus back on comic books in the Seattle/Tacoma area.
The goal of Jet City Comic Show is to provide an affordable experience for fans and families. In addition to promoting the comic book industry and expand the awareness of comic books and their creators. But the absolute most important thing for us is for everyone to have fun and enjoyable experience!
Jet City Comic Show will be located at the Tacoma Convention & Trade Center in Tacoma, WA (about a mile off of I-5). The Convention Center is located in the financial and art district in downtown Tacoma, where's there's free street parking as well as paid parking at the convention center ($5 for 4 hours or $10 for all day parking). There's also the option of free parking at the Sound Transit parking lot near the Tacoma Dome, then ride the Sound Transit for free to the convention center, there's a stop on the adjacent corner.
Covention Center Address:
The Greater Tacoma Convention & Trade Center
1500 Broadway
Tacoma, WA 98402
Jet City Comic Show is held on the 5th Floor in the Exhibition Hall
Driving Directions From I-5 Southbound/Northbound:
At Exit 133 (City Center Exit) turn RIGHT onto the ramp toward I-705/ City Center.
Keep LEFT to stay on ramp toward I-705/ City Center.
Turn LEFT onto ramp toward A Street/ City Center.
Keep LEFT to stay on ramp toward S. 15th Street/ Pacific Avenue.
Follow S. 15th Street two blocks, the GTCTC will be on your left at 1500 Broadway.
To access onsite parking, Turn LEFT on Market Street.
Turn LEFT again on S. 17th Street to access Parking Lots *A, B, D & E.
*Please note, VAN ACCESSIBLE parking is available in PARKING LOT A in the garage.
Parking:
The GTCTC's parking lots accommodate a total of 400 parking spaces. The parking lots can be accessed off of Market & 17th Street. *Please note, VAN ACCESSIBLE parking is available in PARKING LOT A in the garage. On site parking lots are operated by Republic Parking, and managed by the City of Tacoma.
Additional parking is available at the Tacoma Dome Station, which can be accessed via Sound Transit's light rail system (complimentary), with a pick-up and drop-off station at the Greater Tacoma Convention & Trade Center.
Parking rates follow and are subject to change at any time:
$5.00 ….. 0-4 Hours
$10.00….4 + Hours/ All Day
There are also other parking garages nearby as well as plenty of street parking, including free street parking a few blocks south.
About the Individuals Who Put on JCCS:
James Taylor – Co-Promoter
james@jetcitycomicshow.com
James Taylor has been working as a artist in the comic book industry since 1997, working on well over 100 comic books over the years. Most recently co-creating and publishing anti-bullying book The Bully's Bully. James is owner of the Seattle area indy comic book publisher Rorschach Entertainment which began publishing in 2003. In addition, he contributed much of the advertising and print design for Emerald City Comicon until 2009.
With those years of experience in the comic book industry, James has also work as a designer in the tech and publishing industries and his current day job is Marketing Manager for one of the largest fishing gear suppliers in the world.
www.jtinks.com
www.rorschachdesign.com
www.rorschachentertainment.com
Brian Meredith – Co-Promoter
brian@jetcitycomicshow.com
Brian is one of the original founders of the Emerald City Comicon, as well as one of the founders of the Comic Stop chain of stores (Lynnwood, Everett, Redmond and the U District) in Washington. With the dissolution of the chain, Brian re-branded the Lynnwood location as Subspace Comics and runs it with his wife, Amy Meredith.
Brian has also been self-publishing comics off and on for many years, having created a few comics such as Sprecken, Lucifer Fawkes, Steve Lawlis , Mash Tun, and with his daughter, Doctor Zombie.
www.subspacecomics.com
www.modernpulp.com
www.microbrewcomics.com
Staff:
Amy Meredith – Media Contact
info@jetcitycomicshow.com
Amy is currently general manager of Subspace Comics in Lynnwood, WA. If you're in the media and interested in media passes or interviews please contact Amy.
THINGS TO DO
at Jet City Comic Show
Meet the Creators:
We'll have around 100 different comic book creators (writers and artists) at the show this year. You'll have a chance to meet/talk with the guests as well as discover upcoming creators. Get autographs, sketches or find that unique comic book or product.
Peruse the Dealers:
Search for that rare comic book you've always dreamed about owning while diving into a variety of boxes of comics from one of our great dealers. Or find a comic book that you can then go and get signed from one of the guests.
In addition to comic books you'll find all kinds of pop culture items such as posters, toys, games, jewelery, DVDs and much more!
Publishers:
You'll find some publishers at the in Exhibitor Booths as well as in Artist Alley. This is a great way to find a new and unique comic book and possibly even meet the creators.
Panels:
Sit in on some interesting lectures at the show and learn about some cool things happening in the industry as well as learn about being a creator. Panels will be down on the 4th floor (exhibition hall is on the 5th floor).
Costumes:
Cosplay is becoming a cornerstone of comic book conventions all around the world. It's a great chance get dressed up and have your picture taken with fans. Not to mention it's a blast to get dressed up and being a part of the convention.
When getting your picture taken please try to be courteous to the dealers and stand off to the side rather than blocking the aisles.
Plus the costume contest with cash prizes!
Parties:
I think we also have an after show party being put on by one of the local shops. We'll let you know details as soon as we can.
The night before the show we hold a Drink-n-Draw at the Harmon Brewery starting at 7pm for local creators to get away from their drawing boards/computers and socialize and support one another creatively.
Both are great ways to have fun and meet some new people.
Convention Exclusives:
Every year we have a JCCS merchandise table (attached to the ticket booth) where we have convention exclusives where the proceeds are donated to a charity.
There's also likely to be some creators in Artist Alley that'll have their own exclusives for the show. Keep an eye on our website and Facebook page for further details on that.
Free Stuff
We have two eight-foot tables at the entrance which will have business fliers (some including coupons), comic books, posters and more for you to snag up.
Plus if you're one of the first 200 attendees at the show you'll get a free print at the ticket booth from guest Michel Gagne then you can go over to his table and get it autographed.
Gaming:
Not only are there dealers that sell board games, role-playing games, miniatures and collectible card games… we also have actual gaming at the show.
New Friends
One of the cool things about a comic-con is that the exhibition hall is filled with people (young and old) who love pop culture and comic books. So it's a great opportunity to meet others with similar interests and hopefully build a great friendship.
The most important thing is to have fun!