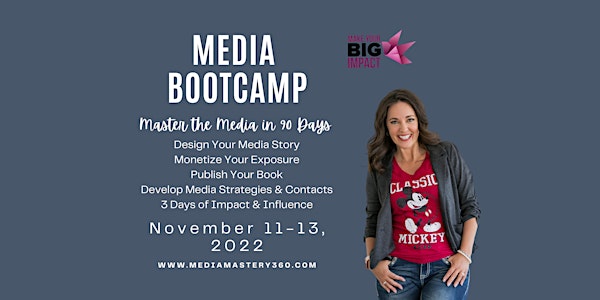 Media Mastery Bootcamp - 3-Day Live Event
Are you ready to master the media and create more publicity? Attend the 3-Day Media Mastery Bootcamp for your most visible year!
When and where
Location
Hyatt Regency Denver Tech Center 7800 E Tufts Ave Denver, CO 80237
About this event
Are you ready to speak on more stages? To be interviewed on more shows?
Attend the 3-Day Media Bootcamp to Prep for your MOST Visible Year!
3-Day Media Mastery Bootcamp to Create Your Media & Marketing Strategy
Would you like to get booked on more stages?
Get featured in the media?
Get your story out to the masses?
At the Media Mastery Bootcamp, you'll learn the O.P.A. method on how to:
Attract Leads
Build your Contacts & Followers
Enroll Clients
and Make Money every Month
Without continuous media exposure, and publicity with OTHER PEOPLE'S AUDIENCES, it's a constant struggle to get people to say,
"I've heard of You",
Refer you,
and most importantly, Do business with you.
Without media exposure, you never get to unleash your entrepreneurial spirit on the world, to make the IMPACT you want to make, or the INCOME you thought you would.
This is why I'm so glad to offer you a 3-Day Media Mastery Bootcamp to create the Exposure & Impact Solution, to teach you how to create more exposure and attract more clients.
Do you feel ready to respond to a Call for Speakers?
Do you know how to leverage a podcast interview for even more interviews, and most importantly, to grow your own list?
During this 3-part workshop you're going to create:
How to use position yourself to attract media
How to get clear on your media story to make your big impact
How media exposure can help you build your network one to many vs one to one
How to create "evergreen" media, so can attract leads, even when you're not LIVE.
How authors get free publicity
How to build and grow your media database every day
How to write a pitch, who to send it to, and how often to send it
This is a LIVE, Interactive Course, hosted by 15-times Best Selling Author & Media Exposure Specialist, Angel Tuccy.
Here's what you can expect at The Media Mastery IMPACT Bootcamp:
Here are just some of the things you will learn:
1) The Absolute Simplest To Find Journalists Who are ALREADY Looking For Your Topic
2) The Success Strategy of a Beginner with Zero Skills to Attract Media
3) Proven Pitch Methods, including SENDING out your first pitch
4) Get your book published in less than 90 days
5) How to create an organic best seller campaign
6) Booking 100 interviews a year and being featured on 1000's of news desk sites.
7) How to fit media marketing into only a few hours A MONTH.
8) When and how to use "The 3 Pitches" (Press Release, Media Pitch, Pitch Reply)
9) Group dynamics of putting together your News Angle
10) You will walk away ready for more stages!
_______________________________
3-Day Media Mastery Bootcamp -  November 11, 12, 13, 2022
Denver Tech Center
Powerful Workshops
Media Resources
Develop Media Strategies & Powerful Contacts
Author Spotlights Sessions
Speaking Opportunities
3 Days of Impact & Influence
_______________________________
Day One:
General Session 12:00pm - 7:00pm - Surefire Ways to Attract the Media
Day Two:
9:00am-12:30 Session 1 - Publicity & Publishing
12:30-2:00pm Lunch Break (Lunch is Included)
2:00-7:00pm Session 2 - Publicity & Publishing
Day Three:
9:00am-12:30 Session 1 - Monetizing Your Exposure
12:30-2:00pm Lunch Break (Lunch is Included)
2:00-5:00pm Session 2 - 100's of stages and thousands of media opportunities
5:00pm Day Three Ends
_______________________________
Tickets are $1297 for Access to All Sessions, Including Your Media Textbook.
Morning Coffee and Lunch are included on Day 2 and Day 3.