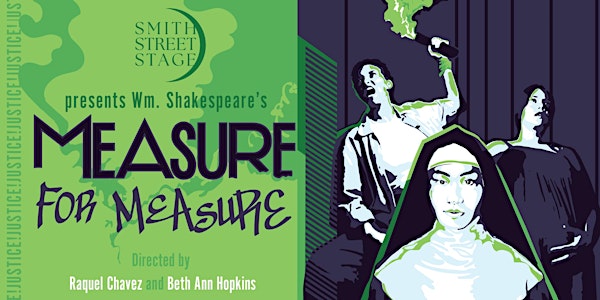 Measure for Measure
"Abuse of power comes as no surprise."
When and where
Location
The Mark O'Donnell Theater at The Entertainment Community Fund Arts Center 160 Schermerhorn Street Brooklyn, NY 11201
Refund Policy
Contact the organizer to request a refund.
Eventbrite's fee is nonrefundable.
About this event
SMITH STREET STAGE
presents
MEASURE FOR MEASURE
by William Shakespeare
Directed by Raquel Chavez & Beth Ann Hopkins
A growing feminist liberation movement raging against the oppressive patriarchal status quo takes Vienna by storm. After a sudden regime change, the conservatives newly in power react aggressively, invoking antiquated morality laws to strip their constituents of bodily autonomy and quell the resistance. Isabella is radicalized after seeing her brother Claudio and his lover Juliet among the first incarcerated in the crackdown. She hatches a plan to rebel against the oppressive campaign led by Angelo, the Duke's deputy, but will have to decide: Can peace be wrought without justice?
PERFORMANCES
Previews: Sept. 28 & 29
Performances: Sept. 30, Oct. 1 & 2, 5–9, 12–15
All performances at 7:00 p.m.
The Mark O'Donnell Theater
Entertainment Community Fund Arts Center
160 Schermerhorn Street, Brooklyn, NY 11201
The Mark O'Donnell Theater is located on the lobby level; ground-floor wheelchair seating can be provided by request. All restrooms are ADA compliant and assisted listening devices are available for audience members upon request.
FEATURING
Keith Hale
Jonathan Hopkins*
Delia Kemph
Toni Kwadzogah
Mahayla Laurence
Christian Negron
Daniella Rabbani*
Nic Sanchez
Tobias Wong
Aileen Wu
("*" indicates actor appearing courtesy of Actors' Equity Association)
PRODUCTION TEAM
Stage Manager: Cynthia Vazquez
Assistant Stage Manager: Charles Cobbertt
Composer & Music Director: Neil Klein
Costume Design: Brynne Oster-Bainnson
Lighting Design: Xiangfu Xiao
Set & Prop Design: lucas a degirolamo
Fight Choreography: Jose Maria Aguila
Intimacy Coach: Leyla Beydoun
Graphic Design: Joey Shaw
Publicity: Katie Rosin/Kampfire PR
STUDENTS: Use promo code "STUDENTRUSH" to access $20 tickets
An Actor's Equity Association-approved Showcase
Complimentary tickets shall be made available to franchised agents, bona fide casting directors, professional producers, playwrights, choregraphers and directors. Such persons must be seated upon their arrival at the theatre.
Actors' Equity Association members, upon presentation of a paid-up AEA membership card, shall be admitted to the theatre, at no cost, on a standby basis.
Smith Street Stage seeks to tell classic stories in new ways through affordable, exciting and consequential theater arts. The Company holds that universally recognizable and deeply human conflicts inhere in great literature, and by exploring such texts with rigor and creativity, one may apprehend these truths and reveal anew their relevance to our lives. Such stories presented skillfully and earnestly have the power to engage philosophical issues, excite spectators of all backgrounds and predispositions, and bring communities closer. http://www.smithstreetstage.org