MCPAL Mix & Mingle. Wednesday, September 25th 5:30-7:30pm at Blue Heron. Heavy Appetizers, drinks, silent auction and live music.
About this event
Visit our website at medinapal.org or facebook.com/medinacountypal
The MCPAL program is unique in that it is staffed and supported by police officers and police departments in Medina County, Ohio. MCPAL program brings youth under the supervision and positive influence of law enforcement and expands public awareness about the role of a police officer. It is based on the conviction that young people, if reached early enough, can develop strong, positive attitudes towards officers and be more likely to respect the laws that officers enforce.
By utilizing educational, athletic, and recreational activities, MCPAL aims to give youth an opportunity to both de-stress and have fun in a safe, caring environment. Currently, the MCPAL program is held in the school districts of Brunswick, Cloverleaf, Highland, Medina and Wadsworth. Programs are typically held twice weekly at each location, with special events throughout the summer. There is no cost or requirement to participate.
Past field trips have included: Cavs game, including the High Five Tunnel at the beginning of the games, Monsters games, Gladiators games, Canton Charge games, Browns Training Camp, canoeing, Mansfield Reformatory, Science Center, Rinky Dink, Cedar Point, Laser Tag, and charter boast fishing trips.
Special events during the weekly program include monthly dinners to help build community and reinforce manners; holiday party including pizza and craft; craft classes; egg decorating; baking; healthy eating lessons; motivational and fun guest speakers; and gem display.
MCPAL is proud to be partnering with the Medina County Sheriff's Office to offer the Medina County Law Enforcement Explorer's Program. Law Enforcement Exploring is a hands on, career-oriented program open to young men and women who have completed 6th grade through 20 years old. Explorer's gives young adults the opportunity to explore a career in law enforcement by working with local law enforcement agencies. The program offers young adults a personal awareness of the criminal justice system through training, practical experiences, competition and other activities. Additionally, the program promotes personal growth through character development, respect for the rule of law, physical fitness, good citizenship and patriotism.
The majority of MCPAL's funding comes from the Medina County Juvenile Court. Additional funding is received through grants from National PAL, OCJS, Westfield Group and through fundraisers such as golf outings, Fall Mix and Mingle, and silent auctions. MCPAL continues to collaborate with Medina County police departments, local school districts, county agencies, and businesses with the intention of expanding and offering more programs and services throughout the county.
MCPAL strives to reduce crime by creating trust and understanding between youth and police officers ultimately benefiting our communities at large.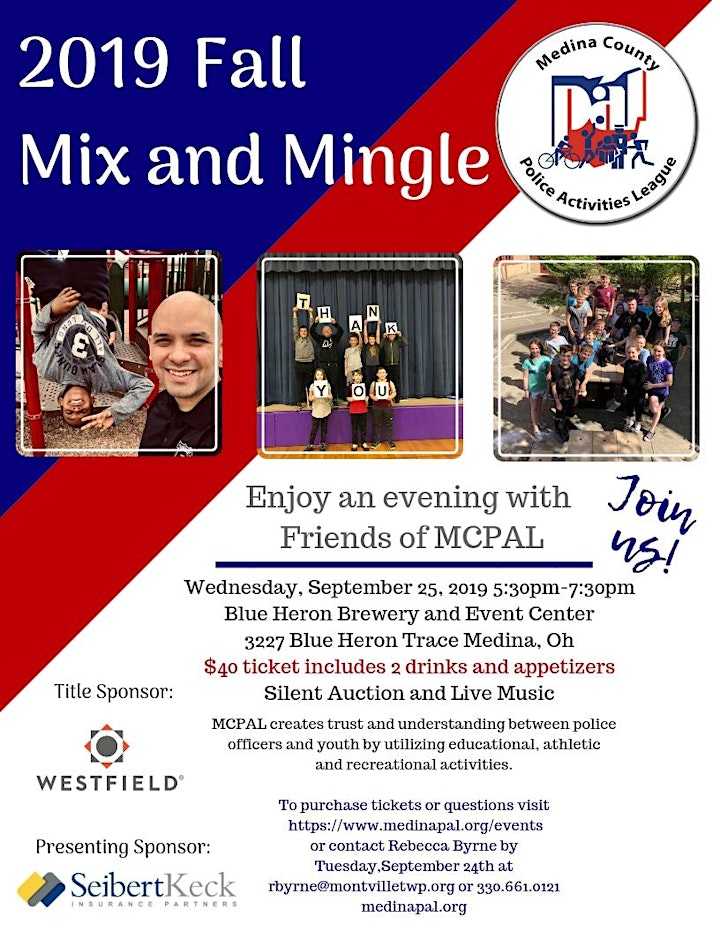 Organizer of MCPAL Fall Mix and Mingle
MCPAL serves as a community youth crime prevention program by building trust, understanding and respect between police officers and youth through educational, athletic, and recreational activities. MCPAL meets after school in 10 schools throughout the school year, offers monthly field trips, special summer events, March Madness Basketball League and Running Clubs. Programming is offered is the Cloverleaf, Brunswick, Highland, Medina and Wadsworth School districts.  in 2017 MCPAL parneterned with the Medina County Sheriff's department to offer the MEdina County Law Enforcement Explore's programMCPAL also has a food pantry serving Medina County families.  MCPAL provides a safe, fun environment for over 500 children, ages eight to twenty in Medina County