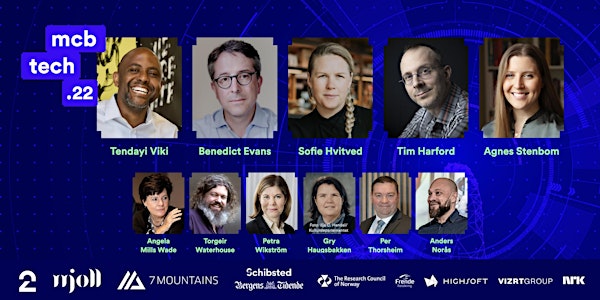 mcb tech .22
mcb tech, the future-focused conference for tomorrow's leaders.
When and where
Location
Scandic Ørnen Hotel Lars Hilles gate 18 5008 Bergen Norway
Refund Policy
Contact the organizer to request a refund.
About this event
After two years online, we can finally meet again in person for the mcb tech experience where we are joined by a stellar line-up of world-renowned speakers with expertise on innovation and the future of technology. Make sure to join us on 9 June in Bergen Norway to get a tech update from some of the brightest minds in the industry.
Program
09:00-09:30 - Registration
09:30 - Welcome by Siri Lill Mannes
Three Steps to the Future - with Benedict Evans
Panel: Europe's Big Tech crackdown: A Revolution to Rein in the Kings of Big Tech
10:30 - Break
Let us Amaze you!
Panel: Cyber Wakeup Call: How can We Prepare for the Future?
The Metaverse and the future of the media landscape - with Sofie Hvitved
Green Code 2022 - with Anders Nordås
12:00 - Lunch
Let us Amaze you!
Can disruption make us more creative? - with Tim Harford
Responsible AI: A product management essential - with Agnes Stenbom
14:00 - Break
Let us Amaze you!
From Innovation Theatre To Invincible Company - with Tendayi Viki
Q&A session with Tendayi Viki , Tim Harford, Agnes Stenbom, Sofie Hvitved and Benedict Evans
Let us Amaze you! World premiere
15:30 - Conference End
16:00 - mcb tech .22 Afterparty in Media City Bergen

From Innovation Theatre to Invincible Company
How do you manage a balanced innovation portfolio? How do you design the right innovation programs to create value? How do you create the right culture that enables innovation? Together with Tendayi Viki learn three ways you can make innovation predictable by creating a repeatable innovation ecosystem within your company.
As an extension to the conference, Viki is hosting the innovation workshop "From Idea to Business" on 8 June, read more and sign up here. Tip: If you want to attend both the workshop and mcb tech .22, you can order both tickets at a discounted price here.

Three Steps to the Future
The most exciting themes in technology today are transformative visions for 2025 or 2030: crypto, web3, VR, metaverse… and then everything else. Meanwhile, hundreds of start-ups take ideas from the last decade and deploy them over and over in one industry after another. And trying to keep up, the old economy faces waves of disruption from ideas we first talked about in the 1990s.

The Metaverse and the Future of the Media Landscape
Ten years from now, will we live a large part of our lives in the virtual world? What is the Metaverse exactly? How will web3 affect the media industry regarding the new virtual ownership with NFT's and DAO's that might be changing the relationship between the users and the producers? Is the new creator economy on the rise? What are the long-term perspectives? And not least: How should your company react?
Join Sofie Hvitved, Senior Advisor and Head of Media at the Copenhagen Institute for Futures Studies, for a rundown on some of the newest trends affecting the future of how we live, work, interact, transact and consume media.

Can Disruption Make us More Creative?
Using the latest research, and examples from music to commuting to innovation, Tim Harford explores the power of obstacles to produce creative solutions - and our instinctive resistance to what can be a painful process.
Responsible AI: A Product Management Essential
There has been much talk about the ethical risks of Artificial Intelligence (AI) in recent years, with tech companies and regulators alike assessing the downsides of the new technological opportunities. But what does it all mean in practice? In her talk at mcb tech, Schibsted's Agnes Stenbom will explain why "responsible AI" is not an end goal, but an essential part of creating AI-powered products and services that users trust, enjoy and find worth paying for – today and in the future.

Green Code 2022
Green computing is always about energy-efficient servers, hardware without hazardous materials, and other things that appeal to hardware buffs. Cloud computing is great, but what else can us programmers do to help the environment?
Back in 20109, Anders showed us how to be eco-friendly through writing better code and smarter business logic in his lightning talk Green Code. More than ten years late, in the decade where the world needs to deliver on the UN Sustainability Goals, Anders revisits his 2009 presentation to explore how we programmers can contribute to eco-friendliness by writing better code and designing better software.

Europe's Big Tech crackdown: A Revolution to Rein in the Kings of Big Tech
Europes Digital Markets Act and Digital Services Act take a hammer at Big Tech as it targets the most powerful intermediating platform (aka gatekeepers) with an ex-ante, pro-competition regime. Have BigTechs amplified disinformation and extremism with no accountability? Well, the EU believes so and is poised to do something about it with the DMA and DSA.

Cyber Wakeup Call: How Can We Prepare for the Future?
Cyber adversaries plan their attacks with both a short and a long view. And while it is difficult to see the future with crystal ball precision or even predict it, we can at least prepare for the future and work to mitigate potential threats.
There are many steps organizations can take to avoid making news headlines for all the wrong reasons. So even though there are many challenges we face, but one thing is for sure: the importance of forward-thinking cybersecurity will be a priority for years to come.

Let us Amaze You
Staying true to the previous mcb tech conferences, we bring on-stage people with cases that will amaze you. Without giving away too much before they're actually on stage: This year, we can tempt you with a world-premiere on new technology that will revolutionize the way we think of ........ well, you'll have to come and see for yourself.
Afterparty
A night to remember. The music. The food. The drinks. The location. The vibe. And - the people.
We are looking forward to finally throw a party without any restrictions, and we'll make sure that Future Week and mcb tech .22 ends with a party for the history books! Join us in the MCB Atrium, Thursday 9 June from 4:00 pm to 22:00 pm. Food and drinks will be served from 4:00 pm.
YOU are invited. Welcome!