Join us for Virtual One to One Networking! Meet with professionals one on one for 5-7 Minute rounds! Meet a maximum of 12 one to ones!!!
About this event
We are not an exclusive organization and welcome industries from anywhere in the world. If you want to expand your referral partners, get more leads and referrals and make real connections, you need to join from 11:30am to 1:00pm online!
FREE for MBX members.
Guests may attend this type of MBX event once for FREE. After the one visit, guests may attend our Monthly 1 to 1 Blitz for $10 each month or grab a MBX Membership and attend for FREE!
You can select WHO you want to meet with or leave it up to the AI to match you!
You can take notes right on the screen during the 1 to 1 and its saved to their profile
You can add your own bio/links/etc to your profile so that matches can click through to book, connect or check out your website during the 1 to 1
You will receive all the contact info of those you were matched with my email as soon as the event ends
You can also find all you matches in the system and message them for follow up/access note and schedule a 1 to 1 with them after the event ends!
DOES NOT WORK ON SMARTPHONE must be on a computer or laptop.
SPONSOR THIS EVENT!
How would be like YOUR message (ad) to be shown to all attendees between rounds for 30 seconds? (see below for an example)
How would you like to get 2 minutes up on the stage during the break to introduce yourself to all participants AND make an offer to all attendees? (see below for an example)
Well, this platform allows for really awesome sponsor spots! And they include calls to action right in the messages so attendees can click and take immediate action!
Sponsorship Message per Slot is $10 (limited to 15 message spots per event)
Stage time of 2 minutes: $25 (limit of 3 stage sponsors per event)
Sign up to be a sponsor! Use this link.
MBX is rebranding!!! Making Business Connections (formally Maryland Business Connection) is going national! Go to www.MBXevents.com to learn about CHARTER Membership perks.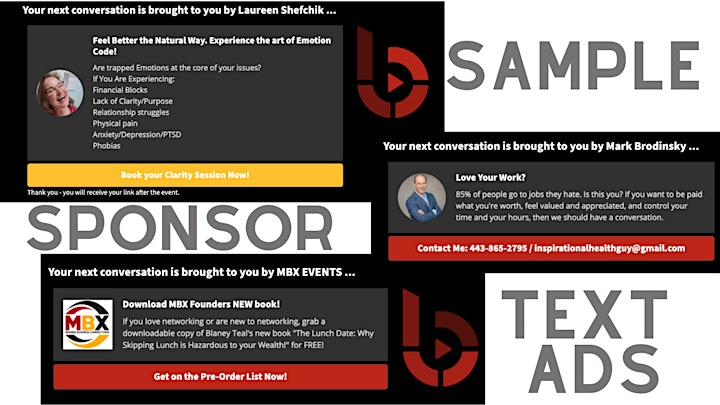 STAGE SPONSORSHIP EXAMPLES: SPONSOR NOW!
You get 2 minutes to talk to ALL attendees in STAGE MODE and make an offer to everyone. We can do interview style or I can give you the stage alone (NO SHARING SCREEN)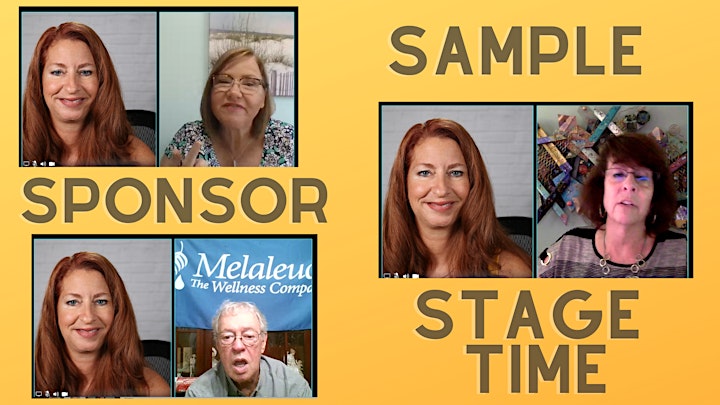 Date and time
Location
Refund policy
Organizer of MBX Virtual 1 to 1 Networking Blitz (speed networking)