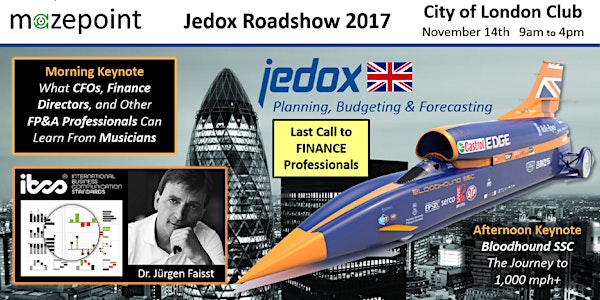 Mazepoint Jedox Roadshow: Bringing Together the Best in BI, CPM, and FP&A
Event Information
Location
City Of London Club
19 Old Broad Street
London
EC2N 1DS
United Kingdom
Description


Join us at the City of London Club on November 14th for a day of presentations providing insights to improve financial planning and analytics (FP&A) and other business processes within your organization. Our panel of International speakers will present insights, methods and tools to help you:
Improve planning, budgeting, and forecasting processes
Reduce and manage operational costs and spending
Forecast and manage cashflow and revenue
Identify, manage, and reduce corporate risks and issues
Meet compliance, audit and regulatory requirements
Prioritize effort and focus staff on value-adding activities
Facilitate communication, collaboration, and transparency
Enable faster, better, more-informed decision-making
Provide a foundation for company growth and scalability
Gain an edge in our fast-paced digital business environment
Save, time, effort and money by driving SUCCESS
A G E N D A
9:00 AM
Registration and Networking
Tea & Coffee on Arrival. Please arrive early to help avoid last-minute registration delays.
9:30 AM
Welcome
James Noble, Managing Director, Mazepoint Ltd
9:45 AM
Dr. Jürgen Faisst, Managing Director, IBCS® Institute
What Data Analysts and Financial Report Designers Can Learn from Musicians
Dr. Faisst, Managing Director of the IBCS® Institute, will provide valuable insights into improving and standardizing financial reports, analytics, and management dashboards. See how organizations like Coca-Cola, Swiss Post, T-Mobile, SAP, Credit-Suisse, Lufthansa, Philips, and Swarovski are using the no-cost IBCS® standards to improve their financial report design and to facilitate better report comprehension and decision-making across their organization. See how you can adopt the free-of-charge IBCS® standards too, using any reporting platform… from Excel to Qlik to IBM/SAP/Oracle… anyone can benefit from the International Business Communication Standards (IBCS®) and Dr. Faisst will show you how.
10:45 AM
Michael Schwan, Managing Director, High Coordination
Jedox, Qlik and IBCS: The Perfect Combination for FP&A
High Coordination will demonstrate their trueChart solution which ties together Qlik (industry leader in data discovery, visualization and Jedox preferred advanced BI partner), Jedox (industry leader in planning) and the IBCS® reporting standards for optimized report design, comprehension and decision-making. See for yourself how best practice reporting fits neatly into a demanding best-of-breed tool environment gaining a competitive edge in today's fast-paced and rapidly-changing business environment.

11:15 AM
Coffee Break and Networking
11:30 AM
Mark Rolfe, Sales Director (UKI), Jedox AG
Journey to Transformation with Jedox and Mazepoint
Organisations are being driven to transform, whether by industry pressures, or events. The CFO can and should be at the forefront of the Journey to Transformation. Jedox and Mazepoint can help drive success on that journey.
12:00 PM
James Humphry, Head of Development, Mazepoint Ltd
Julian Kestler, Senior Business Consultant, Jedox AG
Jedox: The Perfect Platform for Planning, Forecasting, Analytics and CPM
See how Jedox is leverage to enable a range of business processes and FP&A functions, and how Mazepoint helps customers like Mercedes-Benz, Toyota, Lexus, Lucozade, Nestle & General Mills, the NHS, the Foreign & Commonwealth Office, and the Home Office transform their data into meaningful, actionable decision-making information.
See how to transform your manual, spreadsheet-based planning, budgeting, and forecasting processes into high-performance, enterprise-class solutions with centralized data, access control, workflow and full web/mobile integration. Address the data segmentation and other challenges associated with spreadsheet-only processes by adding Jedox. Increase data accuracy, reduce manual effort, and minimize errors and risks in your spreadsheet-based processes.
See how Jedox helps integrate data from a range of corporate sources and how Jedox quick-start models and Mazepoint Solutions can be used to optimize thr management of Cost Centres, Resources, Sales, Financials (P&L, Cash Flow, Balance Sheet, etc.) and more, across a range of industries.
1:00 PM
Networking Lunch
2:00 PM
Special Guest Speaker
Peter Charles, Director of www.petercharles.com
Hear a story of a company that transformed the way it handled its data and in the process, turned around its business. But, like in all good mysteries, from the beginning the protagonists were on the trail of a completely different problem. Find out how good use of data enabled a man on a horse to work and play.
2:30 PM
Noel Paton, Regional Sales Manager (EMEA), Xactly Corp
Predicting Revenues, Costs and Cashflow and Optimizing Compensation Plans
Xactly will present insights into combining sales, finance and other corporate data to better manage sales performance and incentive compensation. Together with Jedox, see how Xactly can help plan and predict revenues, costs and cashflow to stay ahead of the competition in today's rapidly-changing sales environments.
3:00 PM
Tony Parraman, Head of Sponsor Liason, Bloodhound SSC
Bloodhound SSC: The Decade-Long Drive to 1,000 mph
Hear the inspiring story of teamwork, collaboration, technology, and people and how all have come together to tackle a range of challenges over the past decade to put the Bloodhound SSC team on track to achieving the ultimate milestone in automotive high-performance, 1000 mph, setting a new world land speed record.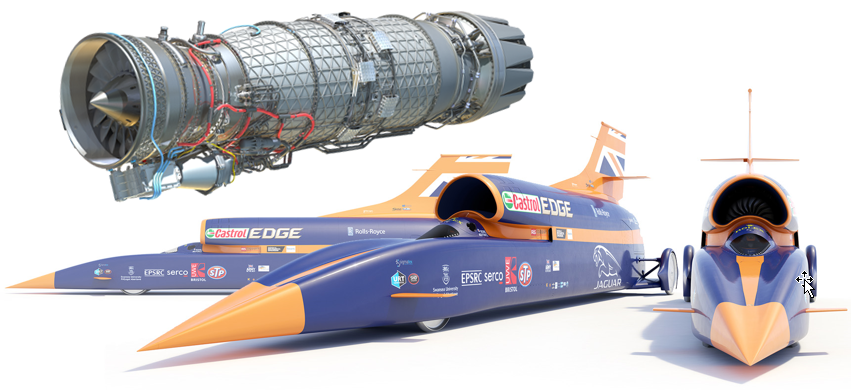 4:00 PM
James Noble, Managing Director, Mazepoint
Closing Remarks & Session End
Date and time
Location
City Of London Club
19 Old Broad Street
London
EC2N 1DS
United Kingdom