Description

Join Mazepoint, and our partner Jedox, as we bring together "The Best in BI, CPM, and FP&A" for an exciting day of presentations, networking, and information exchange specifically for FP&A and other business professionals.
WHO SHOULD ATTEND
CFOs and other C-Level Executives, VPs/Directors of Finance and other FP&A Professionals. Professionals searching for solutions for Integrated Planning & Analysis, Sales Planning & Forecasting, HR Planning, or other Business Intelligence or Corporate Performance Management solutions.
OPENING KEYNOTE
Dr. Juergen Faisst - IBCS® Institute
"What Data Analysts and Financial Report Designers Can Learn from Musicians"
Imagine if every composer, from Mozart to Gershwin, used their own music notation? Thankfully, for sheet music, blueprints, schematics, traffic signs, etc. we avoid chaos with well-accepted standards. But surprisingly, in financial reporting, there is no common standard resulting in a wide range of different report fomats across companies and even departments within the same company. Our event will open with an inspiring keynote presentation by International speaker Dr. Juergen Faisst, Managing Director of the IBCS® Institute, who will provide valuable insights to anyone in the FP&A field wishing to improve and standardize their financial reports, analytics, and management dashboards.

Whether your team creates reports with Qlik, Cognos, SAP, Jedox, Excel, or any other tool, this presentation is vendor-nuetral, and will help anyone wishing to make their reports easier to undertand and more valuable for executive decision-making. The presentation will showcase real-life "before and after" examples highlighting how companies like BMW, Daimler, Credit-Suisse, Philips, Lufthansa, Roche, SAP, and others have leveraged the royalty-free IBCS® standards to optimize financial reporting and analytics processes across their organisation.


Dr. Faisst's presentation is sure to forever change how most attendees will think about financial report and dashboard design, and business communications in general, and the talk will set the stage for a full day of exciting, additional presentations.
AGENDA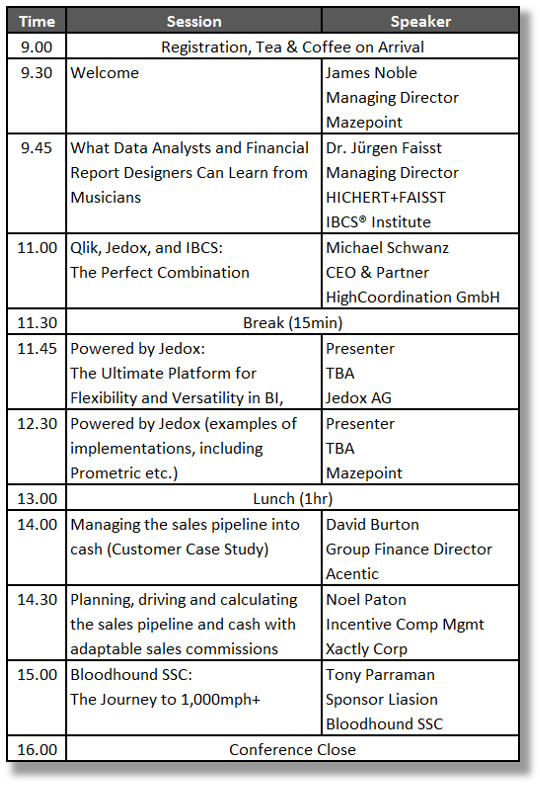 CLOSING KEYNOTE
Guest Speaker and Key Member of the Bloodhound SSC Team
"Bloodhound SSC:The Journey to 1,000mph+"
Our event will close with an exciting keynote presentation by the Bloodhound SSC team, describing the decade-long journey to set a new world land speed record of 1,000 mph+ early next year.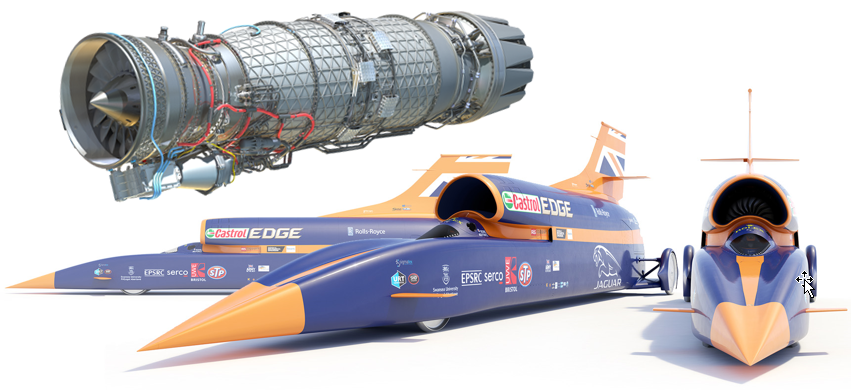 Hear the inspriing story of teamwork, collaboration, technology, and people and how all have come together to tackle a wide range of challenges, and putting the Bloodhound SSC team ontrack for achieving the ultimate milestone in automotive high-performance early next year... 1000 mph+. (www.bloodhoundssc.com).
---
ADDITIONAL PRESENTATION DETAILS
Michael Schwanz, Managing Director, High Coordination
"Jedox, Qlik, and IBCS… The Perfect Combination"
Jedox/Qlik/Mazepoint Partner High Coordination will showcase the power of the "Best of the Best" approach, with client examples incorporating combined Jedox/Qlik technologies, as well as IBCS® standards, enabled with the High Coordination trueChart Qlik add-in.

See how to super-charge your Qlikview or QlikSense enviroment (and other Data Discovery platforms) with integrated high-performance budgeting, planning and forecasting, and powerful financial reporting and analytics powered by Jedox and trueChart.
Jedox Presenter TBA
"Powered by Jedox: The Ultimate Platform for Flexibility and Versitility in BI, CPM, and FP&A"
Jedox will showcase the latest and greatest version of the Jedox Suite demonstrating the flexiblity of Jedox for planning, analysis, and reporting. Jedox will highlight the versatilty of their platfom, and why it is the perfect foundation to build solutions to address a wide range of business problems.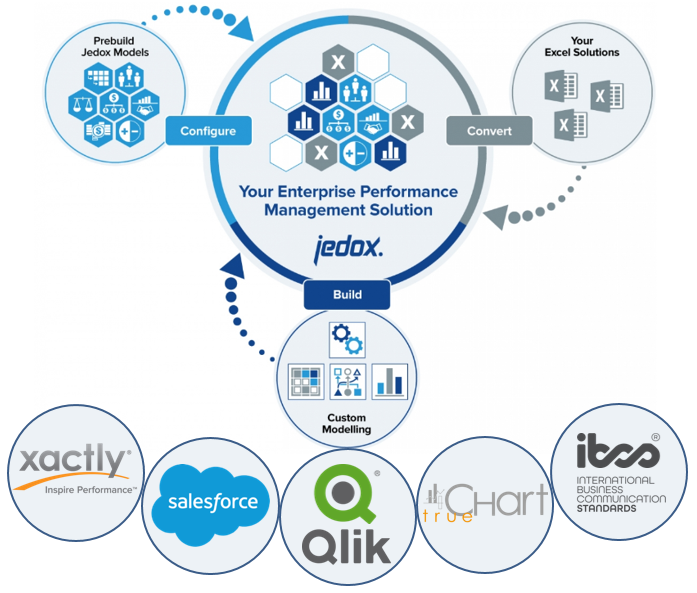 Topics will include Jedox's Qlik integration strategy and strong partnership with Qlik, as well as the wide range of Jedox connectors for bi-directional data flow between Jedox and almost any other system.
Various Presenters
Case Studies in Pipeline Management, Sales Commission Management, and More
Hear customer success stories including a presentation by Acentic on managing a new business pipeline into cash (case study), and a presentation by Xactly on planning, driving, and calculating pipeline/cash and sales commissions in combination with Jedox.