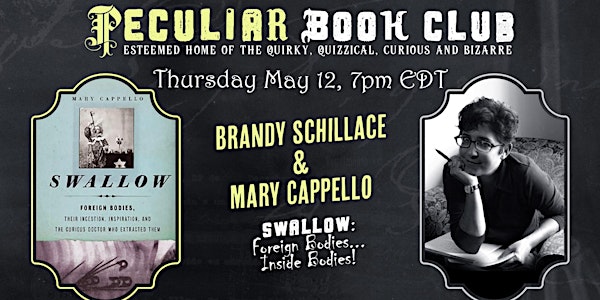 May 12th: Two Marys, a Gulp and a Swallow
Featuring Mary Cappello's SWALLOW and the weird human habit of gulping things we shouldn't! (With special guest Mary Roach).
Refund Policy
Contact the organizer to request a refund.
Eventbrite's fee is nonrefundable.
About this event
Foreign Bodies--Inside Bodies!
An American half-dollar. A beaded crucifix. Tooth roots shaped like a tiny pair of pants. A padlock. Scads of peanut kernels and scores of safety pins. A metallic letter Z. A toy goat and tin steering wheel. A Perfect Attendance Pin. Somehow they all went down some human's gullet and in Chevalier Jackson's collection at the Mutter Museum . WHY you ask? Mary Cappello has answers!
Mary explores what seems beyond understanding:the physiology of the human swallow, and the baffling psychology that compels people to ingest non-nutritive things. Cappello uncovers a history of racism and violence, of forced ingestion and "hysteria," of class and poverty that left children to bank their family's last quarters in their mouths. Here, the seemingly disparate but equally marvelous worlds of the circus and the medical amphitheater meet in characters ranging from sword swallowers and women who lunched on hardware to the sensitive, bullied boy who grew up to be the father of endoscopy.
Special Guest!
I first heard about Mary Cappello's book from another Mary--Mary Roach! As the author of Gulp, adventures in the alimentary canal, we've asked her to join us for a short spell to chat with Mary C about all these swallowing adventures!
GET SIGNED BOOKS!
Get signed copies of the book at:
BE WEIRD WITH US
Stay for the zany shenanigans, specialty book-theme cocktail (definitely not poisonous), Davey the Master of Disguise, comic duo FingerGuns and LadyPaws, and music from Charming Disaster and our "Peculiar in the Field"!